Preston man remembers moment meeting Neil Armstrong and receiving rare autograph
A Preston man has recalled the special moment he met the legendary astronaut Neil Armstrong.
Watch more of our videos on Shots! 
and live on Freeview channel 276
Visit Shots! now
Preston and District Astronomical Society (PADAS) Vice Chairman, Dermot Gethings met the first man to walk on the Moon in a Florida motel on the Apollo 17 launch day in 1972.
Dermot later received an autograph from the astronaut – a rare gift as Armstrong was known for saying no to these.
NASA's International Youth Science Tour took Dermot, as well as 80 student representatives, out to Florida for the Apollo 17 mission.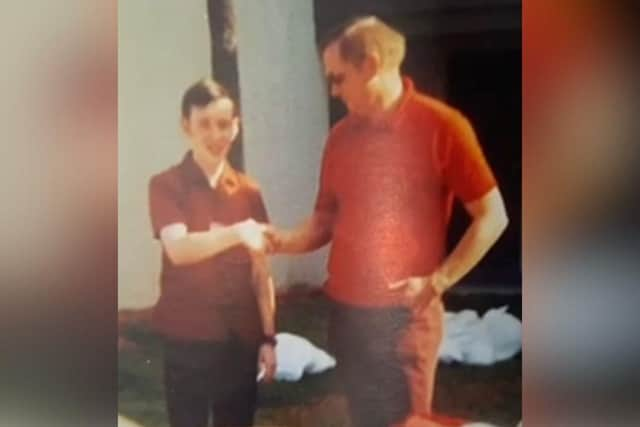 67-year-old Dermot said: "On launch day for Apollo 17, we were staying at the same motel as Neil Armstrong, and I actually bumped into him by accident, stood on his toe."
Dermot met Armstrong a second time at a meeting arranged by NASA for the tour group and received the rare autograph on a group photo, which he says is one of his most 'treasured possessions'.
Alongside meeting his 'all-time hero', Dermot and his group were also offered a tour by astronaut, Michael Collins, with Dermot commenting "I was privileged, deeply honoured, to meet some of my heroes."
Dermot was travelling to NASA as part of the International Youth Science Tour and each member was also given a Goodwill Moon Rock to present to their home countires, a piece of fragmented moon rock collected by the Apollo 17 crew.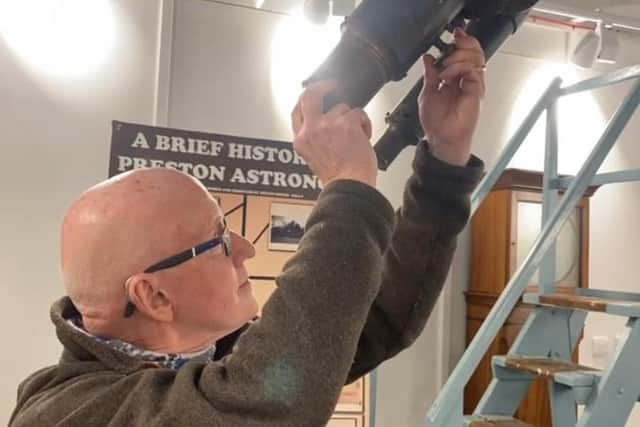 The rock was presented live from the moon by Mission Commander Gene Cernan and Lunar Module Pilot Harrison Schmitt and Dermot later presented his piece alongside Brigadier General Jim McDivitt to the UK Prime Minister Edward Heath in 1973.
Dermot now acts as the Vice Chairman for the Preston and District Astronomical Society (PADAS), which has been running since 1982 at the Jeremiah Horrocks Observatory in Moor Park.
The Observatory is currently undergoing refurbishment of the dome and motor drives for the telescope and when finished this winter, PADAS will use the telescope for their public open nights that run every third Thursday of the month.
Retired art teacher and amateur astronomer at PADAS, Nicola Robertson, said: "The telescope is a wonderful piece of mammoth engineering by one of the best scope-builders of the Victorian era.
"We really want to get more and more people looking up and knowing more about the night sky.
"Whether you're scientifically minded or not, the beauty of astronomy is that it speaks to everybody from amateur stargazers like me, to physicists and all sorts of clever people."
PADAS also wanted to celebrate the night sky in a more creative way by linking embroidery to the James Webb Space Telescope (JWST) launch.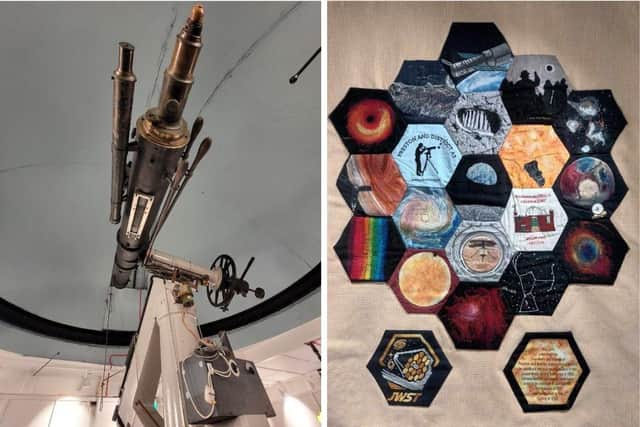 The JWST helps scientists better understand the Universe and its origins through being able to examine every phase of cosmic history.
PADAS embroidered 16 hexagonal shapes in the design of the JWST, inspired by the Royal Astronomical Society's (RAS) Bicentennial Quilt.
The JWST quilt, which will be presented at the Observatory, brought together members of the PADAS community to create a piece with a variety of fabrics and textile techniques.
Robertson said they wanted to include local stories in the artwork and indeed one of the hexagonal shapes is a footprint that represents Dermot's experience with Neil Armstrong.