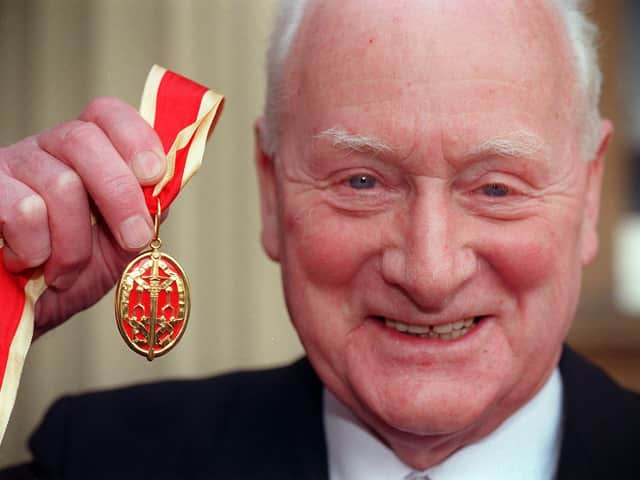 Sir Tom Finney with his latest accolade - a knighthood
Lancashire lad done good - that's Sir Tom
As Sir Tom Finney arrived at Buckingham Palace to collect his knighthood, one cloud hung over what would be one of the greatest days of his life.
The 75-year-old was still wearing the bitter veil of disappointment of a man whose team had just missed out on a its own trip to London.
Tracy Clayton who found evidence a stalker had been in her attic
Twelve hours before, the club's greatest ever player knelt before the Queen, Preston North End saw their dreams of Wembley snuffed out at the hands of arch rivals Burnley.
And as the man dubbed the Phantom Winger dropped to his right knee to be decorated by the Queen, the men, women and children gathered to see their loved ones receive their own honours, whispered in recognition of a man who delighted millions with his dazzling skills.
After gently tapping first his right then his left shoulder with her father King George VI's sword, Her Majesty congratulated her newest knight.
And just as she had done when presenting him with his CBE in 1992, she remarked on his long and glittering career which saw him capped 76 times for England and twice named Footballer of the Year.
Pigeons were found to be radioactive at Sellafield
Woman in fear after finding her home invaded by stalker
A terrified mum claims she is being stalked by a mystery intruder who creeps into her home and steals her underwear.
The 20-year-old single mother-of-two says her cupboards have been rifled and even food eaten by the stalker who strikes whenever she goes out.
She said: "The first time I rang the police they said someone had been watching too much television and laughed."
But for Tracy Clayton it is no laughing matter. The stalking started shortly after she moved into her terraced house in Leyland.
She thought her new home was haunted by a ghost until her sister caught a glimpse of the prying intruder.
Angela came home one day to see the loft hatch door quickly being shut as someone apparently hauled themselves into the attic after a sneaky look around Tracy's house.
When they later checked the loft the sisters found several pairs of Tracy's knickers plus a skirt and a pair of stiletto shoes which did not belong to her.
Police were called to try and identify the prowler and Tracy was forced to move into her parents' home for fear he may step up his sick campaign.
Tracy added: "I used to turn everything off and shut the doors when I went to work and I would come home and find my television or stereo on and my CDs all over the floor."
Sellafield pigeons in a flap after tests show they are radioactive
Hundreds of pigeons nesting near the Sellafield nuclear plant were found to be radioactive, it has emerged.
The discovery was made after an RSPCA inspector carried out a cull of 200 birds in the village of Seascale which lies in the shadow of the station.
Inspector Darryl Street took bird carcasses to the Sellafield laboratories for testing after the cull had taken place.
The tests revealed the pigeons had picked up contamination from the site.
Mr Street was tested after he handled the birds but was given the all clear.
British Nuclear Fuels, which runs the Cumbrian plant, insisted there was no risk to health from the birds.
The pigeons culled were among some 700 birds which flocked daily to a house in Seascale to be fed.
The RSCPA was called in for the cull after the bird's population spiralled out of control.
Inspector Street said: "We did the tests on the pigeons to prove to ressidents living in Seascale that they posed no significant health risk to them.
"I was quite alarmed when I was told the trace levels of radiation had been found in the pigeons."
A spokesman for Sellafield said: "BNFL is carrying out additional detailed analysis in order to determine the levels of contamination in the pigeons."