This is how Lancashire looked in 1998
A selection of your photographs from days gone by.
Friday, 5th February 2021, 11:45 am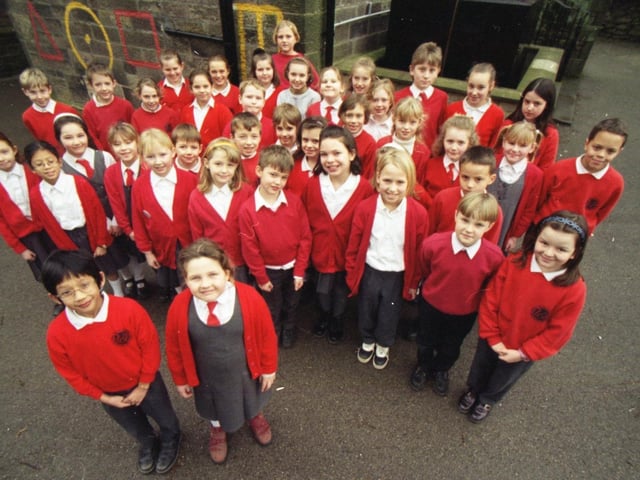 Rivington County Primary school choir
Town hall sports bosses are to set up a special junior sports league in a bid to unearth future athletes in Preston. A pilot competition is due to be held with the aim of running the leagues among schools all over Preston. The pilot will be held between pupils from Queen's Drive County Primary School (pictured), St Pius Prepatory School, St Anthony's RC School and St Peter's CE School, all in Fulwood
Youngsters at a Preston junior school have taken their lessons in humility to heart... literally. Kind-hearted staff from Deepdale Junior School and their young charges discarded their uniforms to take part in Unicef's national non-uniform day. They combined the day with its annual Eid celebrations. Pictured are (from top): Matthew Dawson, Shabana Morrea and Humairah Dedat
The weird and wonderful world of the Edinburgh Festival could be recreated in Preston. Students at the town's Cardinal Newman College are hoping to capture the excitement and atmosphere of the globally-famous arts festival when they present Nowfest, their own six-week-long extravaganza of music, theatre, dance and painting. Pictured above are some of the students taking part
She's more used to showjumping against the clock around the ring at Hickstead than having time against her in the kitchen, but international showjumper Sarah Bowen didn't flinch from the challenge. Sarah, 23, of Out Rawcliffe, near Garstang, was seen swapping saddles and bridles for ladles and food mixers on BBC2's Ready Steady Cook
Fylde electrician Nicholas Brandwood is gearing up for a journey of a lifetime across Israel. The 24-year-old from Greenhalgh, near Kirkham, is joining other cyclists from Britain for the five-day bike ride in aid of the Mencap Blue Sky Appeal
Preston Hockey Club's exciting youth policy has again born fruits with the selection of its top young stars for county duty. Back row, from left: Luke Wilson, Richard Sullivan and Rahul Bamania; middle row, from left: Gavin Phillips and Dipesh Patel; front row, Samuel Sinclair and Adam Wilson
Performers from a Chorley dance school spent four hours in fancy dress to raise money for a children's charity. Children and adults from Hathaway Academy of Dance took part in a danceathon at Eaves Green Community Centre to raise cash for SCOPE, the cerebral palsy charity
It was cartoon time at a Lancashire school when pupils dressed up as animated book characters during a fancy dress day to mark book week at Penwortham Girls High School, near Preston
A couple due to be married on the most romantic day of the year have been forced to cancel their wedding after the groom fell ill. Instead of walking down the aisle, Max Neiman will spend Valentine's Day in the same hospital - Blackpool Victoria - where he proposed to financee Gail Richardson. Max 26, of Hornby Avenue, Blackpool, and Gail, 30, of Barton Lane, Barton will now have to wait two weeks until they can marry
Newly opened hair salon i4 Style, on Bryning Lane, Newton with Scales. Anyone recognise the lady in the picture?
Caring young people put their best feet forward when they stepped in to help look after elderly pensioners. Ten air cadets have been visiting residents at the Barrisle Nursing Home in Leyland, every Saturday for seven weeks. The group has been entertaining the pensioners, taking them for walks and helping with their daily care. It is part of the community service category for the Duke of Edinburgh Award Scheme
Lancashire soliders have offered a helping hand to four Icelandic medics as part of a special international mission to Bosnia. They have been put through a programme of rigorous training by members of the 5 Armoured Field Ambulance, who are based at Fulwood Barracks in Preston. The training, held at Weeton Barracks, near Kirkham, has included basic survival techniques, military first aid and other military procedures
A man who suffered a massive heart attack when he was just 38 is getting on his bike to raise cash for the charity that has helped him back to fitness. Eddie De-Wilde, of Preston Old Road, Clifton, near Preston, is gearing up for a 140 mile cycle from Blackpool to Scarborough to boost the funds of Heartbeat
Leading Lancashire campaigner Christine Noad revealed herself as living proof that art can appear in many forms. The Kirkham-based protestor at the helm of the fight against plans to build motorway services on the M55 has used two old barrels to craft a blue boggart - the campaign's mascot - for her garden
A beer named after the newborn daughter of a brewer's friend has won the coveted best beer title at Fleetwood Beer Festival. John Smith, who runs the Hart Brewery at the Cartford Hotel, in Great Eccleston, came up with a special recipe to celebrate her birth. Her dad Andrew owns the popular pub. Pictured landlord Andrew Mellodew and his daughter Beth (centre), with Camra West Pennines regional director Ray Jackson and Hart Brewery owner John Smith
Chorley's Southlands High School pupil signs for Blackpool FC