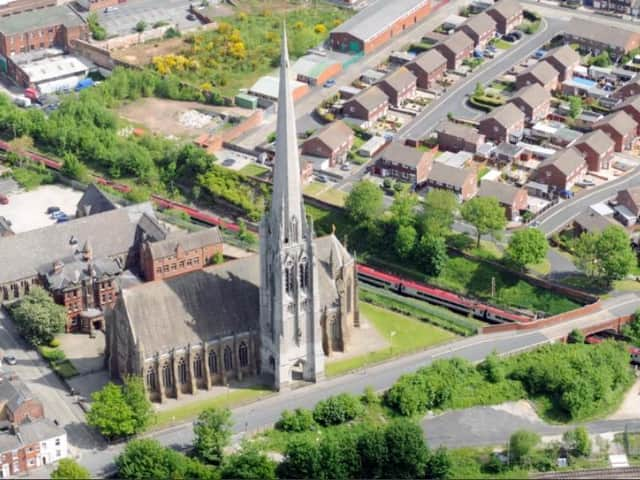 St Walburge's Church spire is the tallest of any parish church in the UK.
St Walburge's is offering to lift the mood with trips up its famous spire.
The Catholic shrine church is opening up the 309-feet landmark to the public for five Saturdays in August and September as part of its £3.5m restoration appeal.
The Rector, Canon Gwenael Cristofoli, believes the experience of viewing Preston from its highest point could help those who have been grounded for almost four months due to the Covid-19 restrictions.
Rector Canon Gwenael Cristofoli on bucket patrol due to the leaking roof.
"Initially we will only be doing it for a very limited time," said a church spokesperson. "Due to the pandemic and the fact that there are limited activities available right now, our Rector came up with the idea of giving people access to the spire.
"It is a real landmark in Preston and it is well-known as the tallest spire on a parish church in the country. So if it helps the community by giving people a really interesting place to visit, why not open it up for everyone to see the wonderful views?"
Visitors can book tickets to climb the spire's spiral staircase - all 172 steps of it - by visiting the church's website.
The iconic St Walburge's, which is run by the Institute of Christ the King Sovereign Priest and offers the traditional Latin Mass, launched its restoration appeal last month to fund urgent repairs.
The church, which is Grade I Listed, is leaking and is in a poor state of repair after years of neglect. Church elders say they need to raise £3.5m to halt the decline and carry out conservation treatments and improvements to guarantee its future.To book tickets go to: https://www.goldengiving.com/e/thespireinsummer
Preston's iconic church took four years to build and was opened in August 1854.
At 309-feet its spire is the tallest on a parish church in the UK. To reach the top there are 172 steps in a spiral staircase.
The spire was built from limestone sleepers from the nearby Preston to Longridge Railway, giving it a slight red tint during sunset.
It was the last spire to be worked on by steeplejack and TV personality Fred Dibnah. In 2007 St Walburge's was threatened with closure as part of cutbacks, but was then given a seven-year stay.
In 2014 the Institute of Christ the King Sovereign Priest took over the running of the church and now attracts a large congregation to its traditional Latin Masses.