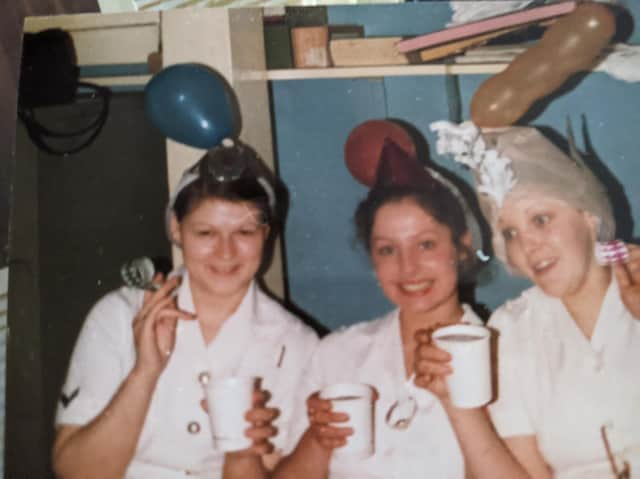 Shirley (centre) during her time as a chef at Aldershot
But she can remember the sense of shock and surprise she felt when, flicking through the search results, she stumbled across a picture. A picture of her.
"There I was," she says, having found the image on the Imperial War Museum website. "Your mind starts playing tricks on you and you start looking closer and thinking 'is that definitely me?' But I recognised my hat. During a house search, a young lad had knocked my hat off and jumped on it so it was squashed like a pancake and it never really recovered. There it was: my creased hat."
Born in Chorley, Shirley paints a grim picture of her childhood. "My relationship with my family was awful," she says. "I was brought up in between a pub and a council estate, so all I could hear was drunk men, all I could see was women with the black eyes, and all I could smell through the window was beer and pee.
"I didn't want that life," adds Shirley, now 62. "As a child, I felt completely worthless and so I was on a mission to escape. At that time, if you weren't married by 20 there was something wrong with you and you'd been left on the shelf, so all my friends were getting married and having kids. But that life wasn't for me at that stage."
Shirley's initial choice of escape route was to join the Navy as a chef, but the concept of a woman on a boat in the 1970s was far too much to bear and so she was forced to wait for a job on land. She got tired of waiting, and applied to the Army Corps and was accepted, starting basic training in the sweltering summer of 1976.
"As the train pulled away from Preston, all I felt was relief to be away at last," says Shirley. "The Army was full of lost souls looking for a home and family, and I loved it. We were all like-minded girls and I've never laughed so much."
After basic training, Shirley went to the Army catering college in Aldershot to train to become a chef, marveling at the standard of the cooking on show and feeling a world away from Chorley. Making new friends and finding herself, she felt her centre of gravity shift.
Shirley (right) in the Officers' Mess at Fulwood Barracks during her time as a Army Cadet instructor
"I'm 5'2" with a kind face more in fitting with a librarian, not a female squaddie, but your attitude changes when you're in the Army," explains Shirley. "I was once at a taxi office on my own and a man came up to me and said 'you're coming with me'. I said 'no, I'm not; how are you going to make me do that?' and he said 'by force if I have to'.
"So, I said to him 'what job do you think I do?' He asked what that had to do with anything," she says. "I took out my Army ID card and showed him. His face dropped. I leaned in and said 'now **** off before I hurt you'."
Always intending to serve the minimum period of three years with the Army, after 18 months Shirley handed in her advance notice expressing her intentions to leave after another 18 months had passed. "I always wanted to leave on a high having enjoyed it so much," says Shirley. "So I put my notice in, but the guilt came creeping in.
"The Army had given me life tools and taught me loyalty, respect, discipline, survival," she adds. "I wanted to give something back."
Shirley Pilkington's grandfather Joseph Pilkington, one of the Chorley Pals (centre, in waistcoat)
That something ended up being eight months serving as a searcher in Belfast at the height of the Troubles.
"They were always pleading for searchers in Northern Ireland," explains Shirley, who had to go on jobs which may have involved women and children and assist with searching women at checkpoints so as to prevent accusations against male personnel of inappropriate behaviour. "I didn't have a single reservation about going, but you soon realised what you were letting yourself in for.
"This was war and we were given a bulletproof jacket and a truncheon - that was it," she adds, with her work involving everything from dealing with bomb threats and being threatened with a price on her head, to assisting in house searches and keeping people safe after detonations. "You were always scared; there was a smell like after an electrical storm, static in the air all the time.
"It was terrifying; there was so much violence," Shirley says. "The IRA said that, as we were unarmed and there to look after the women and children, they wouldn't target us but, if we got caught in the crossfire, it was hard luck because, at the end of the day, we were still soldiers."
When Shirley arrived in Belfast, she was one of just 12 Women's Royal Army Corps searchers based out of RAF Aldergrove and, as a result, they were rushed off their feet, ostensibly on-call seven days a week, 24 hours a day. The work was gruelling.
"We'd go back to camp to wash our shirts and we'd be back out in wet clothes we were that busy," Shirley says. "The mental health was atrocious; there were people literally having breakdowns in front of you because of how hard it was. After two months, there were six girls left - three were posted out and three had mental breakdowns.
I saw a sergeant have a fit once, shaking with a loaded semi-loading rifle in his hand," she continues. "He could've mowed the lot of us down, and that wasn't unusual. We watched as our colleagues, who were strong people, just crumbled."
The atmosphere was so charged that Shirley says people would place bets on who would simply not return to Belfast from their leave back home. But going AWOL never crossed Shirley's mind.
"I felt guilty even going on leave because of how few of us there were," she says. "I've been asked why I did go back and risk death, and my answer is that I'd prefer to come back in a box with the rest of my colleagues who I didn't leave behind.
"What if something happened and one more would have made the difference but I was too concerned about my own safety? How do you live with yourself?"
Shirley's and her grandfather's medals
Another thing with which Shirley and the other members of Women's Royal Army Corps had to cope with on a daily basis was sexism.
"They didn't want us there," Shirley says succinctly. "Women have always played a part in wars, but men tend to say 'thanks a lot, off you go to do the breeding and feeding and we'll do the fighting'. But, after the Second World War, we realised we could contribute, which is when the WRAC was formed.
"We used to get called all sorts like Warm Round And Cuddly (referring to the acronym WRAC), but you just ignored it," she adds. "It was a man's world and a time of great prejudice. I always had something ready which was more vulgar or which made them look stupid in front of their mates so, after a while, they left us alone."
In the end, Shirley had to leave Northern Ireland a couple of weeks earlier than originally intended as she had started sleepwalking around camp, causing concern for her mental health among officers. Her time in Belfast and with the Army was over. She went home.
"It felt like a natural conclusion," says Shirley. "If I'd have stayed in the corps after Ireland, I'd have been posted somewhere else without my mates and I didn't want that.
"When I came home, I thought I was going to have a nervous breakdown," she adds. "If they'd have taken everybody out of Northern Ireland who shouldn't have been there due to mental illness, there wouldn't have been many left. Our veterans deserve rehabilitation, homes, and mental health support to ease them back into society."
After her stint in the Army, Shirley got a job as a chef and started her own catering business. When she had her son, she went back to college to become a fashion designer and even qualified as a fitness instructor whilst also spending five years with the Army Cadets as an instructor. "I've kept going," she says, humbly.
She's also learned more about a military branch on her family tree. Her grandfather, Joseph Pilkington, was one of the Chorley Pals, a battalion of soldiers from Chorley who came together to fight in World War One, and is remembered by name on the Chorley War Memorial in Astley Park. Shirley says she wears his medals with pride at parade.
Some 41 years after that picture was taken, Shirley - the first woman to be interviewed by the IWM about her experiences in Northern Ireland - says that reminiscing has brought back a deluge of memories both good and bad.
"I'm now telling everyone that I'm officially old because I'm in the Imperial War Museum!" she says. "Being in the Army was the best time of my life, but Northern Ireland was the hardest thing I've ever done.
"War brings out the worst in people."