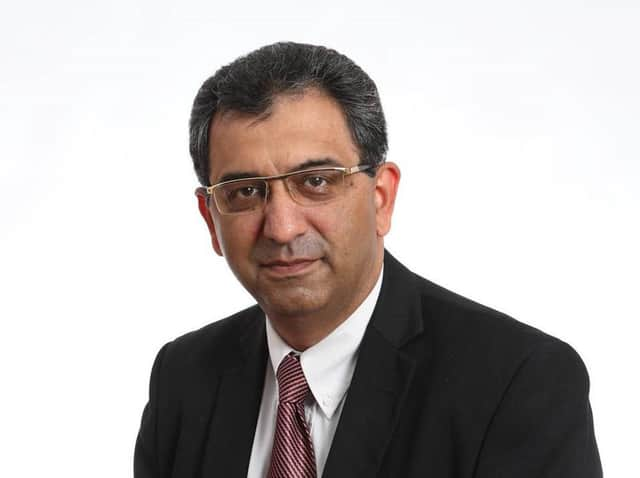 Dr Amit Kochhar, doctor of the year BAPIO UHMBT.
Dr Amit Kochhar, an Associate Specialist in Ear Nose and Throat (ENT) surgery, said it was the highlight of his career to have received this prestigious title. He received his award during a virtual awards ceremony organised by BAPIO on Saturday November 21.
The title of 'Doctor of the Year' is regarded as the highest accolade from BAPIO and recognises that Dr Kochhar has provided significant leadership for his unstinting work at local, national and regional level to promote the massive contribution made to the NHS by Staff Grade, Specialty and Associate Specialist doctors, seeking to have their contribution recognised, celebrated and rewarded.
Dr Kochhar has played a key role in improving the working experience of Black, Asian and Minority Ethnic (BAME) doctors and other colleagues through his involvement in the local branch of BAPIO, collaborating with UHMBT to learn from experiences and putting actions in place to improve. In both of these roles, Dr Kochhar has displayed a huge commitment to delivering inclusive services through inclusive employee strategies.
Dr Kochhar received a 'Special Achievement Award' from UHMBT in 2015, followed by the 'Everybody Counts Award' in 2017. He was also a Finalist in the North West Leadership Academy Awards in 2016.
In recognition of Dr Kochhar's standing, he was this year appointed as the Covid-19 BAME Ambassador for UHMBT and has been recognised by the British Medical Association (BMA) for his sterling and often demanding work as the Chairman of the BMA's committee as well as receiving a Leadership Award from Health Education England, North West.
The BAPIO committee described Dr Kochhar as "an all-rounder who does the medical profession and BAPIO proud".
Dr Kochhar said: "To receive this prestigious award was a great honour and privilege. I'm especially grateful to a few amazing people for their support and they include the leaders of BAPIO, my colleagues at University Hospitals of Morecambe Bay, the British Medical Association and especially to all SAS doctors. They told me SAS Doctors don't have a voice. BAPIO has once again proven that they do. This award is the highlight of my career and I will always cherish it."
Dr Shahedal Bari, Medical Director of UHMBT, said: "We are overjoyed that Dr Kochhar has been honoured with the prestigious title of Doctor of the Year from BAPIO.
"It is thoroughly well deserved and reflects Dr Kochhar's commitment to his work, his patients and his colleagues at the Trust.
"I would personally like to say a huge 'thank you' to Dr Kochhar for his dedication and for his excellent work as our Covid-19 BAME Ambassador. He is an inspiration to all of our colleagues and a brilliant ambassador for our Trust."