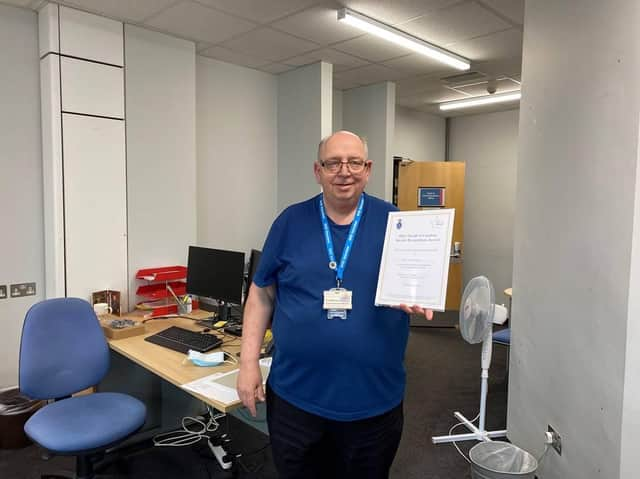 John Williamson with the High Sheriff of Cumbria Special Recognition Award.
John Williamson has been presented with the High Sheriff of Cumbria Special Recognition Award after being nominated for the support being provided to the local community.
John and the team at Bay Trust Radio responded quickly to the pandemic and adapted to allow the charity to continue operating remotely to keep the radio service on air.
This service was particularly important at a time when visiting had to be suspended at hospitals and people had to stay at home.
A project to provide patients with iPads was also recognised by the High Sheriff of Cumbria, with tablets being set up for patients to keep in touch with loved ones over the internet whilst in hospital as well as providing access to Bay Trust Radio and health and wellbeing information.
John Williamson, Bay Trust Radio's station manager, said: "I am somewhat overwhelmed by receiving this award, but I have never done voluntary work for gain but to give, what I believe is, the best radio service to the patients and staff at the hospitals we serve.
"Having been part of the team for over 30 years I have seen the radio station go from strength to strength and later this year the radio service will become available on the digital radio across the area through DAB+.
"I am so proud of the team because without them we wouldn't be where we are today."
Bay Trust Radio, based in Kendal, covers hospitals in Lancaster and Barrow-in-Furness and is run by volunteers from across the two counties who provide a 24 hour radio service.
If you would like to learn more and join the team please visit baytrustradio.org.uk/join.