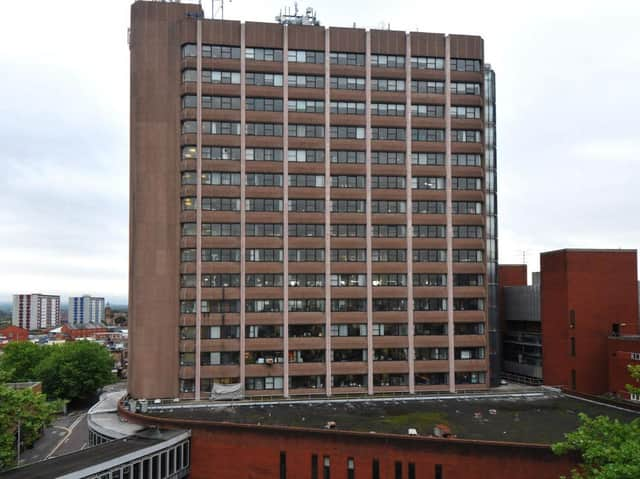 The DWP offices are located on the 13th floor of Guild Tower in Preston
More than a dozen members of staff were sent home on Tuesday (May 27) whilst contractors were brought in to deep clean the DWP officers on the 13th floor.
It follow reports of a member of staff feeling unwell and going off sick with suspected coronavirus symptoms after attending work at the offices.
The Post understands that there have been around 13 members of staff continuing to work from the office during the pandemic.
Seven Rentokill vans could be seen parked across the road in the NCP car park in Church Street with contractors entering Guild Tower loaded with cleaning supplies.
Preston's tallest office block is home to a number of government agencies, including the DWP, CPS and HMRC, but the Post understands that only the DWP office was closed for cleaning.
It has sparked concern from other office workers within the building who share lifts, corridors, toilets and walkways with the DWP.
The Guild Tower is also attached to the bus station and Guildhall with staff using the walkway to access the car park.
One person who works within the building said: "We weren't made aware that there had been a suspected outbreak of coronavirus in our building at the time, so we were quite alarmed when we found out.
"It is a bit of a concern because we use the same lifts and stairs and that person could have easily spread the virus by touching things.
"But none of the communal areas have been cleaned and we have just been left to get on with our work. It's quite unnerving."
A spokesman for DWP said: "Our DWP Preston Service Centre, Guild Tower was closed on May 27 for one day only, to allow for a deep clean of the office, purely as a precautionary measure.
"There was no impact on business, as all telephone calls, payments and priority work for the day were picked up by a neighbouring office."
The Government has encouraged employers to begin making preparations for staff to return to workplaces in the coming weeks as lockdown eases.