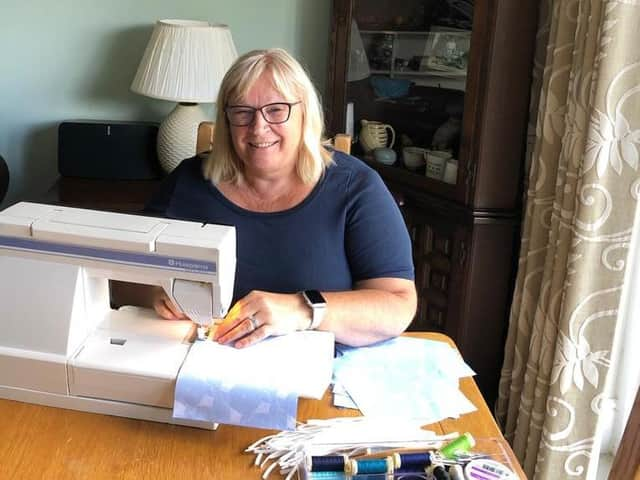 Volunteer Judith hand-made 180 face masks to support the charity.
The local volunteer made 180 face masks to raise money for Baby Beat, the charity which supports mothers and babies being cared for on the maternity units at Lancashire Teaching Hospitals.
After retiring from a teaching career in Penwortham, Judith began volunteering at the charity and has been there almost four years.
The masks, which are sold for £2 each at the Baby Beat shop at Royal Preston Hospital, are hand-sewn in a variety of different colours and patterns.
The face masks were sold for 2 to raise money for the charity.
Judith said: "I absolutely loved all aspects of my work in school and found it very rewarding. I wanted to do some volunteering and as I was looking for something which still involved helping the young, I finally settled on supporting Baby Beat.
"I started making masks for my family early in the lockdown when the wearing of masks outdoors began to be considered. After supplying my whole family and extended family, I started to think about who else I could make them for as I enjoy making them.
"I am surprised by how well they have sold and I am so pleased to be able to help and make a contribution to the charity. I will continue to make them for as long as people want them!"
The charity supports mothers, babies and their families local to the central Lancashire area, with the maternity services at Royal Preston Hospital and Chorley & South Ribble Hospital now sitting at the forefront of new technology, with the vital support of the Baby Beat charity.
Cathy Skidmore, Baby Beat Manager, said: "We are so grateful to Judith for her generosity at such a challenging time. Her masks are beautiful and are proving a big hit in the Baby Beat shop. We restocked last week having sold out, and within ten minutes of opening we were sold out again.
"Judith has so far raised over £300 for Baby Beat by making us with the face masks to sell and these funds will help us to ensure that the services for mothers and babies at our hospitals are the best they can be.
"We want to say a huge thank you to Judith for her support and for every person who has bought a mask in the Baby Beat shop."