Stephen Lawrence's brother to visit Cardinal Newman College in Preston alongside survivors of 9/11, 7/7 and Westminster Bridge Attack
Cardinal Newman College in Preston is hosting its second annual Law and Criminology Conference with numerous big speakers in attendance.
Watch more of our videos on Shots! 
and live on Freeview channel 276
Visit Shots! now
The conference which takes place tomorrow (Thursday, October 12) at the Newman Theatre in St. Wilfrid Building, will feature a range of guest speakers who all have a very personal experience of crime.
The guests will be speaking about their experiences to students from the college's Law and Criminology Departments, to strengthen their understanding of crime and deviance.
Who is speaking at the event?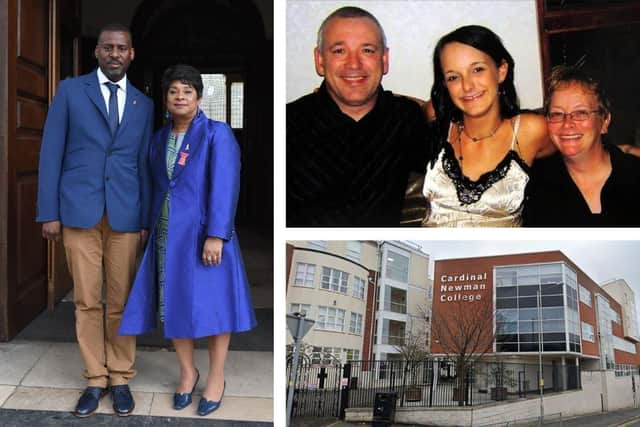 Speakers this year include Rt Hon Stuart Lawrence, brother of Stephen Lawrence who was killed in a racially motivated attack in London in 1993, and 9/11 survivor Janice Brooks, who was in the second tower when the plane struck in 2001.
There will also be talks from a Jade Blue, a rape survivor and Penny Clough MBE, mother of Nurse Jane Clough who was murdered in the carpark of Blackpool Hospital in 2010.
The other speakers are Colin Parry OBE whose son Tim Parry died in the Warrington Bombing, Travis Frain who survived the Westminster Bridge Attack and Denise Ellis, a senior NSPCC manager.
What is the aim of the conference?
The aim of the conference is to highlight the effects of crime on the victims and survivors of crime.
A spokesperson for Cardinal Newman College said: "Within the study of Law and Criminology, there can be a tendency to focus more on the offenders and their motives for committing a crime. As part of the Criminology course, students study 'Changing Awareness of Crime' which covers victims of crime including Hate Crime, Domestic Abuseand more.
"The guest speakers will also furnish our students with an operational understanding of the Criminal Justice System from a vocational perspective. Despite the difficult nature of the talks, we hope to inspire our students to further pursue their studies with a view to joining a profession that addresses offending behaviour and in due course making our communities safer."
What is the full itinery?
The full list of speakers attending for our Conference and itinerary is:
9.00 - 9.40: Colin Parry OBE (the father of Tim Parry who died in the Warrington Bombing)
9.40 – 10.40: Penny Clough (Mother of Nurse Jane Clough)
10.45 - 11.55: Stuart Lawrence (Brother of Stephen Lawrence)
12.10 – 12.50: Jade Blue (Rape Survivor)
12.50 – 13.20: Sudhesh Dahad (7/7 London Bombings survivor)
13.20 – 14.35: Janice Brooks (9/11 Survivor)
14.35 – 15.15: Denise Ellis (NSPCC Gang Involvement)
15.15 – 15.55: Travis Frain (Survivor of Westminster Bridge Attack)