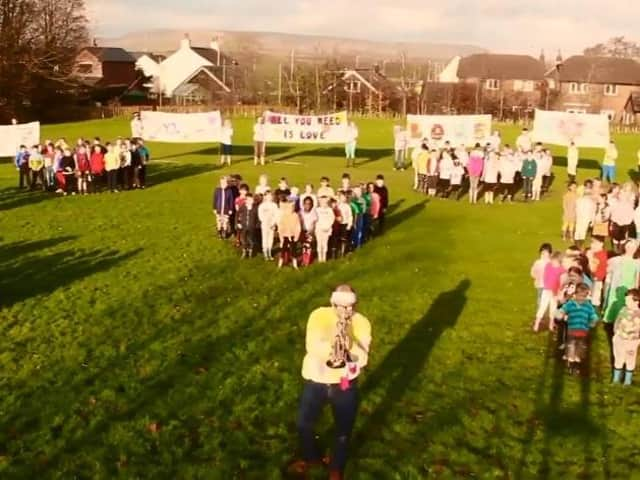 Socially-distanced lip-syncing
That is the uplifting message pupils and staff at Barnacre Road Primary School in Longridge want to spread across Lancashire with a new take on the Beatles' hit tune.
Over about six weeks last year, all the children and staff - from the head to governors, kitchen staff and maintenance managers - donned wigs, tie-dye tshirts, were recorded singing along to the famous track.
Head teacher Simon Wallis even learned how to play electric bass guitar for the song, and recorded all of the brass instrumental parts himself.
It was Simon who came up with the idea for the song and video last year in a bid to inspire people suffering lockdown blues - and as a way of celebrating the lives of former pupil Joel Shaw and teaching assistant Debbie Faraday, who both died of cancer last year.
Joel was just 11 years old, and Debbie was 50.
He said: "My main hobby is playing music, and it's kept me sane throughout the pandemic.
Everyone got into a 60s vibe for filming
"I play with the Ribble Valley Jazz Big Band and throughout the last year we've been all been playing individually, and the recordings have been put together in a film.
"I have always loved All You Need Is Love, and I thought it would be nice to do it with the school in a similar way to how we've done it with the Big Band.
"The idea was to put a smile on people's faces. We've all had a grim time, and the words are very uplifting."
He added: "With the loss of Joel just before the first lockdown and Debbie in November, we've not had chance to do anything to mark their passing or celebrate their lives, so we wanted to dedicate this to their memories too.
Children singing along in the video
"Joel was a unique child we all thought the world of and he showed so much dignity at such a young age. The loss of Debbie has also hit us very, very hard. She was an amazing woman and we loved her to bits."
The recording and film making was done by Steve Brown, a professional musician who works at several schools across Lancashire, including Barnacre Road. Steve's two children also attend the school.
He said: "I think it's a fitting tribute to both Joel and Debbie, seeing as we can't all get together. I know they would have both loved it.
"Joel was massively into his music. He'd blast out songs at the front of the class and Debbie was the same. She loved music and was always in the thick of it."
Staff at Barnacre Road Primary with a banner they made
The recordings had to be done in classroom bubbles and spliced together, something Steve said was "a massive undertaking". Filming was done in a socially-distanced way on the school field, with children lip-synching the words.
The school also used the filming as a stimulus for cross-curricular learning, with children learning how to make banners and tie-dye t-shirts.
Steve added: "That school has a lot of fun, give-it-a-go, creative teachers, and I think their energy comes across.
"We want people to know that there are still happy, positive things happening, and you can still cling to hope"
The school hopes the video goes viral, and is using it to raise money for Cancer Research UK.
Anyone who wishes to donate should click here
Eleven-year-old Joel Shaw
Teaching assistant Debbie Faraday