Rossall celebrates strongest results in a generation
While many schools were bemoaning the downgrading of results pupils at Rossall School had plenty of reason to celebrate.
Thursday, 13th August 2020, 2:40 pm
Updated
Thursday, 13th August 2020, 2:44 pm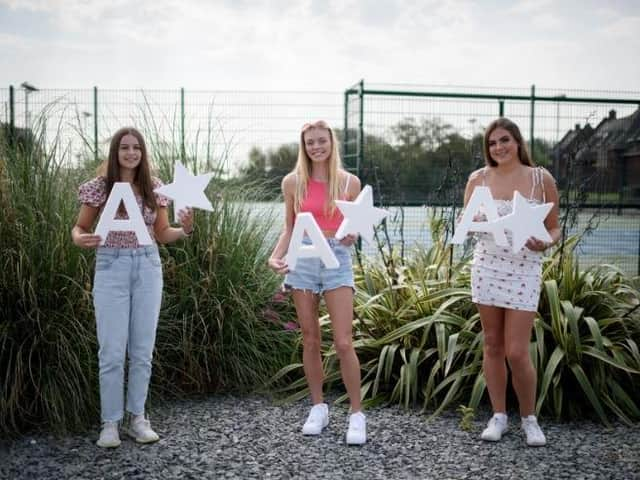 Daisy Newsham, Kate Jenkinson and Emily Morley - all attending St Andews University
The top independent school has seen the proportion A* to B grades at A Level shoot up by a staggering 40 per cent... and the strongest results in a generation.
But , the celebrations were marred by a small number of results which the headteacher said were "incredibly unfairly" downgraded.
Students picking up both A Level results and Rossall Diploma results saw the percentage of A* grades triple while the percentage of A grades has almost doubled. A third of all grades awarded were A*/A.
Staff we overjoyed and described it as " an incredible achievement; especially given the reliance upon historical data."
When headmaster Jeremy Quartermain took over the helm two years ago he vowed to ensure a dynamic culture of inspiring teaching and outstanding learning.
He said: "These fantastic results reflect tremendously well upon our Year 13 students. During the most challenging of times, they have demonstrated an outstanding work ethic and we are very proud of the young people they have become.
"The vibrant intellectual culture that our director of Sixth Form, Stephen Prest promotes has resonated extremely well with this cohort of students, who have been conscientious and set themselves the highest of aspirations.
"As a result, the grades awarded at A Level and within the Rossall Diploma serve to place Rossall well up the league table of UK independent schools in terms of academic performance. "
He added: "Notwithstanding this, my heart goes out to a small number of our brilliant and hardworking students who have been treated incredibly unfairly by a faceless algorithm that has served to downgrade their results in a logic defying act of callous arbitrariness."
In the absence of public exams the school set its own diploma to ensure that all students had the opportunity to sit rigorous examinations.
The programme saw 54 per cent gaining grades A* - A, with 78 per cent A*- B and a 100 percent pass rate across all subjects.
Stephen Prest added: our students in the Rossall School Diploma, individually and collectively serve to highlight the fact that these are the strongest results at Rossall for a generation or more. I could not be more proud of our Sixth Formers."
Studnet shave secured place at t some of the most prestigious institutions in the UK and overseas, over with more than 50 per cent attending Russell Group or top 20 universities, while a number have been awarded full sports scholarships to top institutions in the USA.
Deputy school captain, Josh Fallows, from Aughton, West Lancashire will be reading earth sciences at Exeter College, Oxford after gaining four A*s.
Josh, who earned top grades in geology, mathematics, physics, and further mathematics said he was very relieved now he had received his results, adding: "Coming to Rossall has been a really valuable experience and I am extremely glad I took the opportunity to become part of this wonderful community."