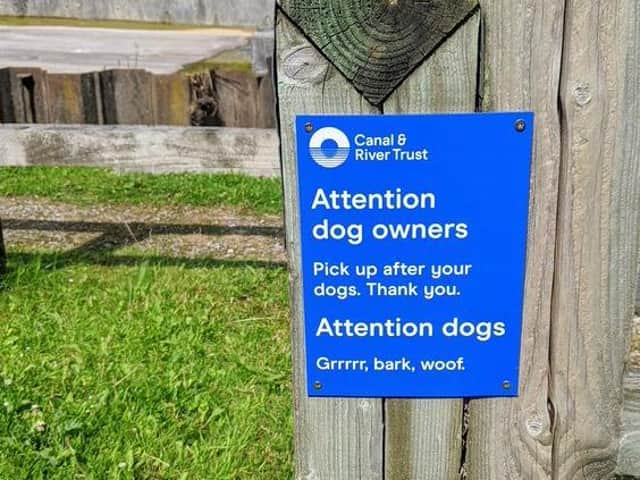 The humorous sign with a serious message photograph: Tony Worrall
The polite message on the new signs from the Canal and River Trust charity declares war on dog mess but also seeks to make passers-by smile.
Aimed at negligent pet owners it urges "Attention dog owners. Pick up after your dogs." But then continues: "Attention dogs. Grrrr,bark, woof."
The sign was spotted by keen local photographer Tony Worrall who placed it on his Twitter account.
Tony from Ashton, Preston saw the messages on the Lancaster Canal, near Haslam Park in Ashton.
He said: "I photograph interesting things I find just to repost to other people to see if someone else finds them funny. That one in particular I thought it's an important message but with a little comedy - it makes you take a double take and think that's funny. I just wish people would do as they ask."
Tony's interest in photography was sparked when he started taking photos for his own website about Preston. He said: "I live in Preston - it was to do with all the things people don't know about Preston. I got more and more into photography."
Now retired from his work with HMRC, he says photography is a hobby which has grown and grown: "I've got a Flickr site. There are currently 68,000 photographs on it with about 28 million views."
A Trust spokesperson said: "The doggy message raises a smile and people like the signs so much they are sharing pictures of them on social media."
She continued: "It is a win-win if we can make people laugh AND encourage dog owners to clean up after their pooches. No one likes to tread in dog dirt when they're out enjoying a healthy walk in the fresh air. We have had a fantastic response to these signs which are being installed at popular waterside spots for dog walking. We have used humour to try and get across a serious message ."
Angela Parkinson Green, the Trust's area operations manager for the Lancaster Canal, said the response to the signs has been so positive 25 large signs and 10 smaller signs are now being installed along the Lancaster Canal, particularly in the more urban hotspots on towpaths around Preston and Lancaster.
* The Trust cares for 2,000 miles of canals and rivers across England and Wales.