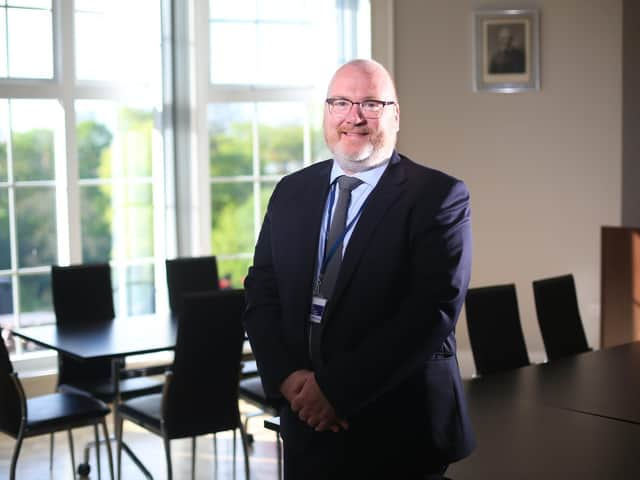 Cardinal Newman College principal Nick Burnham
There will be no rushing to school or college to pick up that telling envelope, it is all being done online and, for the first time ever, the grades have not been awarded on exam success.
Covid-19 put paid to that.
Nick Burnham, principal at Cardinal Newman College in Preston said: "At Newman we are saddened that we aren't able to join together as a community to celebrate the hard work and achievements of our year 13 students this A Level results day.
Flashback to happy times on results day last year
"However, as usual results will be available online through students' CEDAR accounts from 8am. They simply need to logon to view them.
"Despite the college site not being open, students are still able to access the full range of support from staff, also through their CEDAR account, as we want to ensure that our usual level of support, advice and guidance is available despite the distance.
So if they feel they need to discuss anything with a member of the team they can do."
And, while this is always an anxious time, education leaders acknowledge this year is worse than ever as no exams have been taken and the methods used to calculate grades has come under fire in Scotland.
Now though, hours ahead of results, Education Secretary Gavin Williamson has announced a "triple lock" result, which will allow English students to pick their mock exam grades as final, if they are unhappy with their teachers' predicted results.
Those who want to go the extra mile, can to sit the make up exams in the Autumn - which the minister has also now confirmed will be free. And, universities have been asked to keep places open for students asking for re-grades.
However, the county's education leaders say the moves don't go far enough to help students competing for university places.
A spokesman for the National Education Union said Scottish students were given the option of having the best grade awarded either by the exam board, or by teacher predictions.
English pupils do not have this option. Their alternative to the exam board grade is the grades achieved in their mock exams, which do not take into account expected further progress.
The spokesman added: "Most unfairly, English students are still more likely to be given lower grades - either by the exam board, or by the mock exam. This fundamental difference in the Scottish and English awarding process does not create a level playing field between Scottish and English students for university entrance."
The National Union of Students has also criticised the measure and said in a statement today: "The use of mock exams results risks making a mockery of the whole system, given the lack of a standard approach to mock exams and the fact they are not taken by all candidates."
If you want to share you celebration pix tag us @leponline