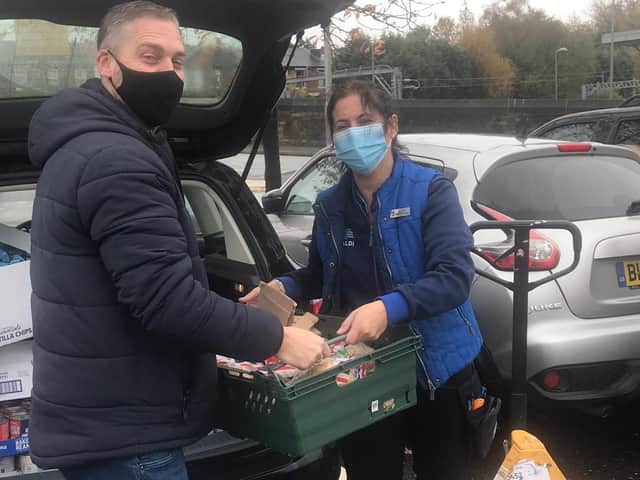 Headteacher Andrew Proctor had a mammoth shopping list....
Helping support families in need is nothing new for Highfield Primary in Chorley.
But when they learned that the free lunch provision was not being extended to cover the half term, staff dipped into school funds to try to provide food for many families as possible.
They sent scores of children home with bags full of groceries but couldn't match the rise in demand from those struggling as a result of coronavirus pandemic.
Donations to Highfield Primary School in Chorley helped provide food supplies for local families
Headteacher Andrew Proctor said: " We used some of our school funds to make up food parcels for our most vulnerable families. However we were not able to do this for all our free school meal pupils. "
Gutted, they apologised on the school website for not being able to feed everyone and as a result received a donation from Chorley Wanderers FC to help feed more families.
Andrew explained: "They provided funding so we were able to purchase more food. I then contacted Aldi in Chorley who helped by organising the food for collection. "
Mr Proctor negotiated the mammoth shopping list with Aldi and store staff prepared it all on crates for collection and helped load into the cars, saving shopping time, then back at school it was all hands on deck.
Highfield Primary School in Chorley provided food parcels for families
Andrew said: "A number of my school staff then volunteered, during their half-term holiday, to come into school and make up 70 food parcels, which were either collected or dropped off. "
On top of this Morrison's provided another 30 meals and other local businesses also chipped in.
The headteacher said that staff we so overwhelmed, both by the demand for food, and the support from the town that the school has decided to set up a more permanent food bank.
He said: " We have already received donations of food and money from individuals and local businesses including £500 from Sleepy Hollow.
"We will use this to provide food for our families when they need it and we are planning a similar scheme for all of our free school meals pupils at Christmas."
School learning mentor Joan Scott said they weer hoping to build up the food bank to help as many people as possible as the pandemic continues to bite and added: : "We are continuing to collect donations; preferably non perishable items, such as tinned food, rice, jars, toothpaste, toilet rolls, canned meat, shampoo, etc.".