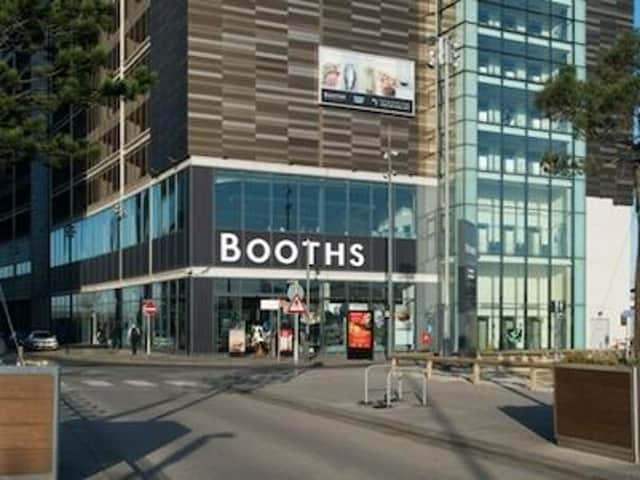 Booths has stores all over the North West
The new service has now gone live at Booths' Media City store in Salford, with plans to launch a further five sites.
Customers will be able to order on the Deliveroo app or website as normal, from a selection of around 300 products, to be delivered in as little as under 30 minutes.
On June 23, customers will also be able to order from Booths' hot lunchtime and evening range via the app.
The menu will include fresh sandwiches, jacket potatoes, beef burgers, katsu chicken curry, pizzas, pies and pastries.
The service will be expanded to include six stores including Fulwood, Penwortham, Lytham and St Annes, reaching up to 400,000 households across Lancashire and Greater Manchester.
The partnership is even more important for families and vulnerable people in the North of England that are continuing to isolate at home during the COVID-19 crisis.
All deliveries will be contact-free to ensure safety, with Deliveroo riders leaving the deliveries at customers' doors to collect, minimising person-to-person contact.
Ajay Lakhwani, Vice President of New Business, Deliveroo said: "At Deliveroo, we want to do everything possible to help people get the food they need and want during COVID-19.
"Booth's selection is unique and our partnership will help us service not only Booth's loyal customers, but a much wider set of people across Greater Manchester."
Abby Talbot, Head of Business to Business at Booths, said, "Booths are very excited about our link up with Deliveroo, which will bring a wider delivery reach for over 300 products for customers.
"Delivery with Deliveroo will start at our Media City stores, with Fulwood, Penwortham, St Annes, Hale Barns and Lytham starting deliveries in early July.
"This service will offer quick and convenient delivery with Deliveroo and will help our customers unable to shop at Booths to access our great range of groceries."