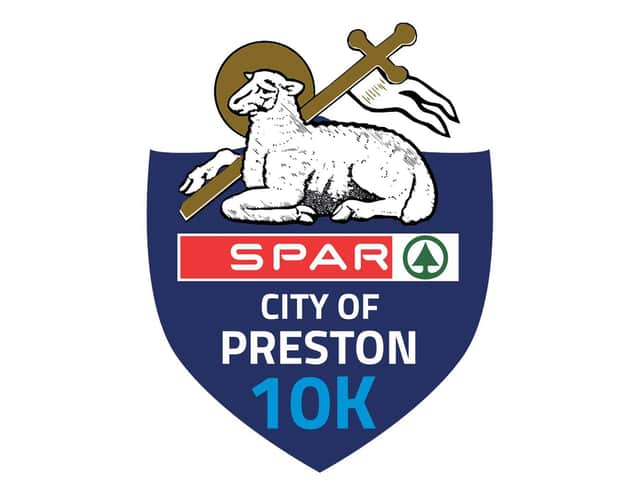 The new race logo
The Running Bee Foundation announced today that The City of Preston 10K will now be known as the SPAR City of Preston 10K.
The Foundation has partnered with SPAR's wholesaler and distributor for the North of England, Lancashire based James Hall & Co. to help bring back the popular race to support communities throughout the city of Preston this October.
James Hall & Co. serve more than 600 SPAR stores supporting a network of independent SPAR retailers and 118 company owned SPAR stores across the north of England. The company operates from its purpose built distribution centre in Preston and owns Clayton Park Bakery, Graham Eyes High Class Butchers, The Great Northern Sandwich Company and ethnic food brand Fazilas.
Peter Dodding, sales and marketing director at James Hall & Co. said: "We are absolutely thrilled to be supporting the SPAR City of Preston 10K, especially as the event takes place in our home town."
"As a family business, community lies at the heart of everything we do and The Running Bee Foundation's commitment to implementing health and wellbeing initiatives within the community aligns perfectly with our sponsorship of the SPAR Lancashire School Games, and with SPAR's commitment to European Athletics. We are really looking forward to what promises to be an exciting, family centred, community event."
All profits from the SPAR City of Preston 10K will be donated through grant applications to community initiatives and groups in Preston by The Running Bee Foundation, to help create and improve health and wellbeing initiatives in the area.
Due to Covid-19, this year's event, initially due to take place on September 27, has been re-scheduled for Sunday, October 25.
All runners completing the race will receive a commemorative the SPAR City of Preston 10K medal and a technical t-shirt.
On race day runners will receive official chip timing, water at the 5K point and the finish line.
Chris Bird, founder and trustee of The Running Bee Foundation, said: ''We are delighted to be presenting the SPAR City of Preston 10K on October 25th. SPAR pride themselves on supporting its local communities and we look forward to working together to raise much needed funds to help support important community health and wellbeing initiatives in Preston"
This year, The Running Bee Foundation launched the MyFirst Mile initiative, to encourage individuals and communities to complete their very first mile, whether they run, walk or jog, and take the first step towards having an active, healthy and happy lifestyle. Entry cost is £5 and on completing the mile, runners will receive a MyFirst™ Mile medal and certificate of achievement.
Early bird entry cost for club runners is £16.00 and £18.00 for non-club runner. For more information, and to sign up, including signing up for MyFirst™ Mile See: www.runningbeefoundation.co.uk/events-calendar/city-of-preston-10k
* The Running Bee Foundation was founded and is supported by Sports Tours International. The Foundation provides grants from the profits raised from its races in Manchester, Salford, Preston, Tameside and Knowsley to community initiatives in those areas and helps to promote health and wellbeing, as well as support the fight to reduce childhood obesity.