Tragedy of the Titanic, bouncing back and a magical moonstone by various authors - book reviews -
Discover the real story of one of history's most infamous maritime disasters, keep your life on track with the help of broadcaster Claire Balding, join a young white fox on a thrilling adventure, and meet a unicorn who likes to say 'no' in a selection of exciting new children's books.
Wednesday, 21st April 2021, 3:45 pm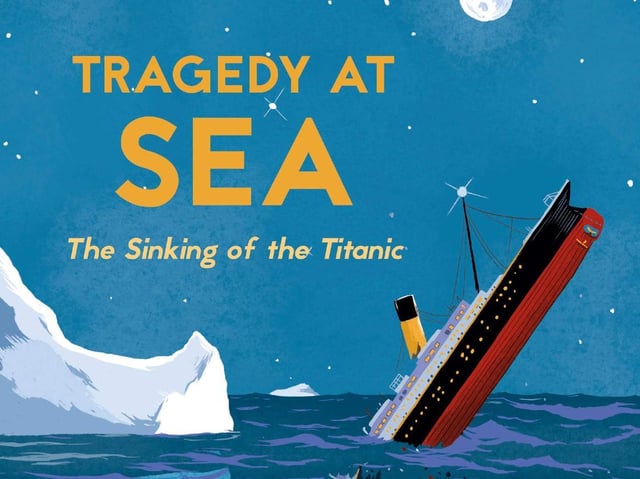 Tragedy at Sea: The Sinking of the Titanic
Tragedy at Sea: The Sinking of the Titanic
David Long and Stefano Tambellini
Embark on an unforgettable voyage as the doomed ship Titanic sets sail on her maiden voyage to New York.
If the tragic loss of the Titanic, the so-called Ship of Dreams, in 1912 seems now to be just a little-known event from a distant past, journalist and author David Long sets the record straight in this accessible and fact-filled new book from Barrington Stoke.
Beautifully written, and published in Barrington Stoke's trademark dyslexia-friendly format, Tragedy at Sea is a brilliant retelling of one of history's most infamous maritime disasters, and is perfectly fitted to both regular and reluctant readers.
On 10 April 1912, RMS Titanic set sail from Southampton on her maiden voyage to New York with over two thousand men, women and children on board. It was the largest and most luxurious ocean liner in the world, and should have been one of the safest.
It was claimed she was 'unsinkable' but four days later, when the ship struck an iceberg, the Titanic quickly sank, taking the crew and over 1,500 passengers with her.
Long, whose engaging non-fiction reflects his unquenchable thirst for interesting stories from the past, brings to life the drama of Titanic's first and last voyage with a host of fascinating facts about its creation, the sinking, the heroic rescue of the few fortunate survivors, and the repercussions of the disaster.
And to complete this richly detailed and accessible account of Titanic for the modern age, Stefano Tambellini brings added depth to the gripping, real-life story with his detailed black and white illustrations and diagrams.
The true nightmare story of the Ship of Dreams…
(Barrington Stoke, paperback, £6.99)
Fall Off, Get Back On, Keep Going: 10 ways to be at the top of your game!
Clare Balding and Jessica Holm
Falling off, messing up, making a fool of yourself… we've all done some of these things at some point in our lives.
The hardest part of 'getting back in the saddle' is understanding that it's OK to get things wrong sometimes, and learning how to dust yourself down, get back up and start all over again!
Clare Balding, the award-winning broadcaster and writer who became the face of the BBC's racing coverage in 1998 and now works across a wide range of sports for television and radio, has put pen to paper to deliver important messages to youngsters about refusing to give in to failure.
Balding reveals that she has had some spectacular falls in her life – from being bullied at school and falling in with the wrong crowd, to last-minute hiccups and mistakes on live TV – so she knows what it takes to embrace your mistakes and move on from them.
With personal stories from Balding herself and from the lives of the people she most admires, children can discover how to develop courage in the face of tough situations and learn how to gain confidence from their errors.
Find out how Charlotte Raubenheimer of South Africa completed a triathlon while in lockdown at home during the coronavirus pandemic. Marvel at the amazing story of US surfer Bethany Hamilton, who got back in the water just one month after she lost her arm in a shark attack, going on to win her first US national surfing competition two years later.
There are many inspirational stories tucked away in the pages of this book… read about Jamaican sprinter Usain Bolt, US soccer superstar Megan Rapinoe, Dutch inventor Boyan Slat, and Swedish climate change activist Greta Thunberg.
With fun, quirky illustrations from Jessica Holm, the ten chapters acts a brilliant toolkit to help children bounce back by exploring ten character-traits… resilience, patience, confidence, courage, flexibility, creativity, speaking out, motivation, kindness and keeping going.
The perfect way to get back on track… and keep going!
(Wren & Rook, paperback, £9.99)
Chen Jiatong and Viola Wang
Return to the magical world created by bestselling Chinese novelist Chen Jiatong in the second book of his epic series featuring a young fox and a magical moonstone.
Beautifully illustrated by Viola Wang, and translated by Jennifer Feeley, these moving tales of friendship, bravery and sacrifice are part of the first middle-grade series ever to be translated from Chinese into English.
At the heart of these delightful adventures is a young white fox called Dilah whose dying mother told him about a treasure with the power to make animals human. The clues to its location are contained in a moonstone buried beneath their den, but enemies seek the treasure too, and Dilah must race to find it first.
Along the way, Dilah meets all sorts of other creatures who help him in his quest. In this new adventure, they discover hostile terrain, new friends, fearsome enemies and legendary magic, including a mythical enchanted forest which may be the answer to all their prayers.
But can they pass the ultimate test and prove they have what it takes to be human?
Themes of conservation, nature, civilisation and what it really means to be human are explored in this mesmerising, mystical story which brims with atmosphere and emotion, and stars a cast of superbly created and imagined animal characters.
(Chicken House, paperback, £6.99)
Floella Benjamin and Joelle Avelino
Twenty-five years after Baroness Floella Benjamin's inspirational account of arriving in the UK as a child was first published, her story has never been more relevant.
In celebration of the Windrush Generation, this illustrated, anniversary edition of Benjamin's classic memoir, Coming to England, speaks loudly to today's youngsters and is a powerful reminder of how courage and determination can overcome adversity.
After leaving school at sixteen with the aim of becoming Britain's first ever black woman bank manager, Benjamin changed direction and became an actress, presenter, writer, independent producer, working peer and an active advocate for the welfare, care and education of children throughout the world.
The young Floella was just ten years old when she, her sister and two brothers arrived in England in 1960 to join their parents, whom they had not seen for fifteen months. They had left the island paradise of Trinidad to make a new home in London… part of a whole generation of West Indians who were encouraged to move to Britain and help rebuild the country after the Second World War.
Reunited with her mother, Floella was too overwhelmed at first to care about the cold weather and the noise and dirt from the traffic. But, as her new life began, she was shocked and distressed by the rejection she experienced. She soon realised that the only way to survive was to work twice as hard and be twice as good as anyone else.
With a foreword by the author, some additional historical information, and gloriously illustrated throughout by Joelle Avelino, the honest and moving story of Benjamin's journey from Trinidad to London will both fascinate and inform a new generation of children.
(Macmillan Children's Books, paperback, £6.99)
How to Save the World with a Chicken and an Egg
Attention all young eco-warriors! If you're looking to help save the world, join two youngsters on a mission to make a difference… even if they have to do it one animal at a time.
Emma Shevah, a teacher who is on her own mission to entertain and educate young readers, delivers a terrific and topical tale full of fun facts about the natural world and top tips about how to help the environment in this exciting middle-grade eco-adventure.
Author of the critically acclaimed Dream on, Amber, Shevah's trademark humour, highly original storytelling and wonderfully authentic child characters shine brightly as we are invited to head off to the seaside, uncover secrets, and discover how seagulls can trick worms into thinking it's raining.
High-spirited Ivy, who lives with foster parents, believes she can talk to animals, while Nathaniel – a boarding school boy with Asperger's Syndrome who is reunited with his mother after growing up with his grandparents – is obsessed with animal facts.
They come together unexpectedly on a cold English beach with the arrival of a rare and wondrous sea creature… a giant leatherback turtle who lays her eggs in front of the world's media.
Soon Ivy and Nathaniel are a top team with a shared passion for wildlife, and a determination to save both animals and the world.
Climate change, conservation and celebrating differences all come under Shevah's observant eye in this inspirational story which features the beautiful illustrations of Kirsti Beautyman and is full of positive steps we can all take to do our bit to save the planet.
Animal magic with a resonant environmental message…
(Chicken House, paperback, £6.99)
Marc-Uwe Kling and Astrid Henn
If there's one word a toddler likes to use, it has to be… NO!
German author and illustrator team, Marc-Uwe Kling and Astrid Henn, work their rainbow-maned magic on a contrary little unicorn who says 'No' so many times that friends and family decide to change its name to uNOcorn. And that's when the adventures begin!
In the prettiest parts of the Forest of Hearts, a cute little unicorn was born. Its mane was puffy, its fur SUPER fluffy... but as adorable as it looked, it didn't behave like the other unicorns in its herd. 'No' was its favourite word and it didn't like talking in rhyme! No matter how many sweet lucky clovers or soft squishy cuddles that the other unicorns offered, the answer was always 'No.' And so this unicorn became known as the uNOcorn.
And it's no surprise that one day our contrary unicorn decides to break free of its far-too-fluffy world and make off on its own. Along the way, the uNOcorn meets a raccoon who never listens ('Huh?'), a dog who doesn't care ('So what?') and a rude princess (whose favourite word is 'YES!'). What a wonderful team they make, because being stubborn is much more fun together!
Kling, a songwriter, political stand-up comedian and author from Berlin, delivers a unique, funny and delightfully witty story about celebrating individuality (even those with a not-so-perfect personality!) and refusing to accept a world that others might regard as 'cotton-candy' ideal.
Add on Henn's vibrant and characterful illustrations and you have a picture book made in (non-rhyming) heaven!
(Templar, paperback, £6.99)
Deborah Chancellor and Julia Groves
Raise a glass – of milk! – to an enlightening and entertaining new picture book series which helps children to understand where their food comes from… and just how precious it is.
Milly Cow Gives Milk is the first of four titles in a Follow My Food series from the ever-inventive Scallywag Press and aims to encourage children to appreciate the different sources of food and to become environmentally aware of its origins.
Written by experienced children's author Deborah Chancellor and colourfully brought to life by the illustrations of Julia Groves, the book accompanies a child through a day in the life of Milly the cow as she munches grass with her friends, drinks gallons of water, makes cow pats in the field, and visits the milking parlour with her farmer. Milly's milk is then put into cartons.
A simple quiz and fun facts at the end explain more about dairy farming, and we learn that milk from different animals, like goats, sheep, camels and llamas, is used to make cream, butter, cheese and yoghurt.
Groves' bright and stylish papercut art helps to underline the message that producing food is hard work, and that we must respect the animals and humans who produce it… and certainly not waste it!
Message in a bottle for your little eco-warriors…
(Scallywag Press, hardback, £10.99)
There will be smiles all round when the sun comes out in this warm and wise tale from talented Japanese artist Momoko Abe.
We all take sunshine for granted… basking in its glow and soaking up the rays. But have you ever wondered what happens when the sun goes home?
Abe harnesses the sun as her fiery metaphor in a picture book that celebrates problem sharing, friendship, our emotional needs, and the transformational power of simple acts of kindness.
Everyone knows how a day goes… the sun rises and shines above us with his glorious smile and at the end of the day, he disappears over the horizon. But what people don't know is what the sun gets up to after he goes home.
The sun loves to make people happy but beneath his glorious smile, he doesn't always feel so shiny. And at the end of the day, when the sun goes home, he sometimes feels a little lonely. He thinks he has no choice but to carry on shining, no matter what… until one day, disaster strikes. He finds himself falling from the sky! Will anyone hear his call and come to help him?
Every sad story should have a rainbow at its end and Abe's delightful bedtime tale – with its engaging plot and superbly detailed, colourful illustrations – is no exception as the sun's soft landing in a bed of friendly clouds is the perfect wind-down to your little ones' end-of-the-day anxieties.
(Orchard Books, hardback, £12.99)
Theresa Trinder and Grant Snider
Amongst many other woes, the pandemic has brought with it a widespread sense of separation… from the things and the people we love.
So here is a beautiful, empowering picture book from author Theresa Trinder and illustrator Grant Snider that will bring comfort and hope to readers both young and old as we are gently reminded that whatever the distance between us, we are all still connected.
On the other side of a window, there is a neighbour. On the other side of sadness, there is a hug. Sometimes we are separated by distance, sometimes by the way we feel. Even though the world is full of barriers that can make us feel alone, we are all just on one end of a rainbow. Connected by all that colour and light, there is always something, or someone, waiting for us on the other side!
Told with a poetic beauty, There Is a Rainbow offers a heartwarming message for some of life's most difficult moments, encouraging readers to look past their immediate surroundings and find comfort, connection, and courage.
Inspired by the multitude of rainbows found in the windows of homes around the world following the coronavirus lockdown, Trinder and Snider's uplifting picture book shares a message of hope and resilience that is truly timeless and celebrates the power and importance of community support.
Ideal for sharing and reading aloud.
(Chronicle Books, hardback, £11.99)