Dinosaur roars, Stick Man treats and French lessons by various authors - book reviews -
Travel back millions of years to hear the roar of T-Rex, enjoy some tasty Sandcastle Cakes, discover a fun way to solve problems, and tag along with a dog on a journey of a lifetime in an eclectic selection of July children's books.
Thursday, 16th July 2020, 12:30 pm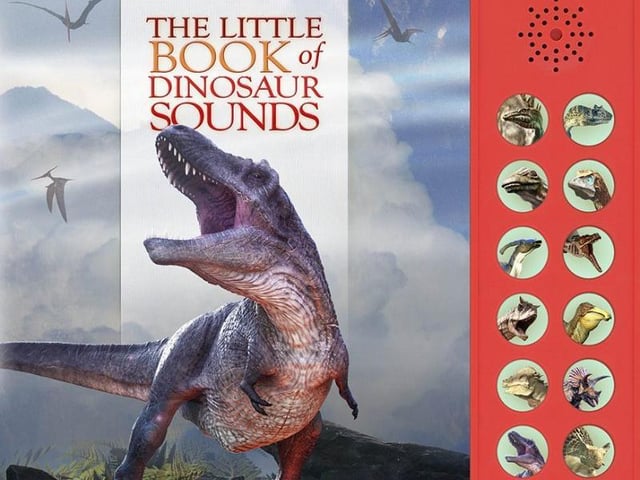 The Little Book of Dinosaur Sounds
Travel back millions of years to hear the roar of T-Rex, enjoy some tasty Sandcastle Cakes, discover a fun way to solve problems, and tag along with a dog on a journey of a lifetime in an eclectic selection of July children's books.
The Little Book of Dinosaur Sounds
Caz Buckingham and Andrea Pinnington
Travel back 65 million years and listen to the roars of mighty dinosaurs!
Young fans of these amazing prehistoric giants will love discovering how they might have sounded with this brilliant new board book from high-flying publishing house Fine Feather Press.
At the touch of a button, youngsters can unleash twelve incredible dinosaur sounds which have been specially created in collaboration with leading palaeontologist Thomas E Williamson, and all based on the latest paleo-acoustic research.
Harnessing the skills of dinosaur expert Dr Williamson and skilful sound engineer Jude Hodgsonhann, this new addition is guaranteed to fire up young imaginations.
Everyone aged from nought to ninety can enjoy the amazing roars of extraordinary creatures such as Stegosaurus, Triceratops, Velociraptor, Parasaurolophus and Tyrannosaurus Rex which once dominated the Earth.
Each spread includes a stunning mix of illustration, unusual and fascinating facts accompanied by remarkable sounds, making this book an inspirational way for everyone to learn about the long-lost world of dinosaurs.
The Little Book of Dinosaur Sounds is part of a popular series from leading nature publishers Caz Buckingham and Andrea Pinnington whose Fine Feather books are designed to inspire a love – and care – of nature in children from an early age.
Other books in the series are The Little Book of Ocean Animal Sounds, The Little Book of Wetland Bird Sounds, The Little Book of Night-time Animal Sounds, The Little Book of Woodland Bird Songs, The Little Book of Garden Bird Songs and The Little Book of the Dawn Chorus and The Little Book of Rainforest Animal Sounds.
(Fine Feather Press, board book, £12.99)
Julia Donaldson and Axel Scheffler
Join Julia Donaldson and Axel Scheffler's perennially favourite Stick Man and his family as they cook, bake and stir up an array of fantastic feasts, all specially created for everyone to enjoy.
Packed full of delicious recipes, designed for adults to use with children and all accompanied by step-by-step instructions and helpful hints, the Stick Man Cookbook is guaranteed to tickle the taste buds of Stick Man fans… and even the fussiest eaters.
Make and decorate tasty Snowballs, Cheesy Pooh-sticks and Sandcastle Cakes, and get creative with Swan's Nest Noodles, Woody Chocolate Bark, Tree Top Potatoes, edible Christmas Tree Presents and Lettuce Sailing Boats.
Each of the twenty-five recipes is accompanied by glorious illustrations from the original book and photographs of all the dishes, and each relates to scenes that Stick Man experiences on his journey through the seasons.
With a ring binder for practical usage, fun recipes and bags of child appeal, The Stick Man Cookbook is the perfect way to spend quality time with your child and show them just how much fun cooking and baking can be!
(Scholastic, hardback, £12.99)
If plans for a big city break have been put on hold this year, give your youngsters an armchair tour of the world's most famous metropolises.
Canadian Benoit Tardif's big bold book, Metropolis, is a truly global adventure as he whisks readers away on a whimsical and stunningly visual journey around thirty-two magnificent cities.
The simple but effective postcard-like pages reveal cultural treasures, amazing architecture and key landmarks, and include cities like New York, Rome, London, Sydney, Montreal, Athens, Nairobi, Mumbai, Tokyo and Istanbul.
As well as iconic buildings – the Empire State Building, the Eiffel Tower, Sydney Opera House, the Statue of Christ the Redeemer and Barcelona's unfinished La Sagrada Familia – Metropolis delves into cuisine and culture, sport and tradition, population and language.
With a fascinating world map on the end pages to put the different countries in focus, Tardif's brightly coloured and fun-filled graphic artwork makes this a truly colourful celebration of the cities of our multi-faceted and multi-cultural world.
(Big Picture Press, hardback, £12.99)
The Adventures of Lillicorn in WooWoo Land
Lisa Moss, Thomas Bernard, Ayelen Lamas, Bram Hartman and Will Dawes
Problem solving won't seem such a big problem when little ones get their hands on this exciting new book from a creative parent team.
Lisa Moss and Dr Thomas Bernard, who together have more than 35 years of extensive professional experience in innovation, technology and education, were inspired by the birth of their twin daughters to put together a book to introduce STEM (Science, Technology, Engineering, Mathematics) skills to young children.
The mission was to spark young children's imagination and dreams, build confidence and allow them to learn more about STEM in fun and challenging new ways by creating the Lillicorn brand.
The result is The Adventures of Lillicorn in WooWoo Land, the first in a series of STEM educational books and activity sets which encourages youngsters to use their scientific 'brain smarts' to solve a series of fun activities.
The rhyming story, aimed at children aged between four and eight, is designed so that children solve ten different STEM quests, practise twelve core STEM skills, and earn charm tokens (provided in the back of the book).
It's an exciting way for children to learn fundamental STEM skills at an early age, as well as develop 21st century learning skills, including critical thinking, collaboration, creativity and communication.
With a helpful glossary at the back, twenty collectable charm tokens and command cards, gaming elements to improve core skills, and published in a high quality and durable board book format, this is the ideal way to prepare your youngsters for future learning and development.
(QuestFriendz, board book, £15.99)
Monsieur Roscoe on Holiday
Join a VERY adventurous dog on his holiday of a lifetime… and learn French along the way!
Monsieur Roscoe on Holiday is the first author/illustrator solo project by Jim Field, the illustrator of best-selling picture book Oi Frog!, and was inspired by his move to Paris five years ago with his French wife and their young daughter.
Struck by how easily his daughter picked up both English and French, and lamenting his own struggle to learn, Field decided to write a book which introduced children to learning language in an engaging and accessible way. And so to get the most out of our hyper-connected world, the hyperactive dog Monsieur Roscoe sprung to life!
And here we find him on his all-action summer holiday, meeting friends and learning lots of new words in French on his travels. Tag along as Monsieur Roscoe camps, skis, sails and eats his way through France on the holiday of a lifetime.
Each new word appears alongside its English translation, and with a fun, colourful and easy-to-follow presentation, this inventive bilingual picture book makes learning French exciting even for the youngest children.
Add on Field's vibrant, vintage-inspired illustrations and the chunky hardback format, and you have the perfect language starter book for inquisitive toddlers and any child eager to learn French.
(Hodder Children's Books, hardback, £12.99)
There will be smug smiles all round when little girls head off into the wild alongside a rebel with a cause!
Multi-talented author and illustrator Bethan Woollvin – beloved for her uniquely humorous twist on classic fairy tales – performs more of her picture book magic in this monstrously funny adventure starring a fearless and feisty heroine.
Woollvin's startlingly confident debut, Little Red, which featured a street-wise girl not in the least bit scared of growling wolves, caught the imagination of everyone who saw it and it went on to become a New York Times Best Illustrated Children's Book of 2016.
And in I Can Catch a Monster, this clever, crafty operator sets her sights on the empowering tale of a rebellious little girl who defies the sneers of her older brothers and leaves her castle home on a quest to catch a monster.
Bo the Brave lives in a castle at the top of a mountain. She's smart, she's strong and she is definitely in charge. Bo's brothers Erik and Ivar say she is too little to catch a monster. But Bo has other ideas, so she sets off on a quest to capture herself a beast. Can she defeat the furious griffin, conquer the hideous kraken and triumph over the monstrous dragon? Or if not, can she at least make friends with them?
With striking graphic artwork in a vibrant palette of black, grey, orange, turquoise and pink, Woollvin's bold, daring and fiercely comical story conveys important messages about not judging by appearance and standing up for yourself and your friends.
The perfect book to empower your daughters!
(Two Hoots, hardback, £11.99)
Gregory Goose is on the Loose! At the Fair and Up the Mountain
Hilary Robinson and Mandy Stanley
Everyone loves playing hide-and-seek… but can you find the elusive Gregory Goose?
The lovable Gregory is the star of fun and vibrant series of board books which are ideal for preschool age children and come from the stable of Catch a Star, an imprint of New Frontier Publishing which was established in Australia in 2002 with the motto 'to inspire, educate and uplift.'
These lively seek-and-find books help to boost toddlers' concentration and focus on the pages of a book. Packed with Mandy Stanley's vibrant and colourful illustrations and well-known author Hilary Robinson's skill with storytelling and humour, each adventure sets youngsters the task of finding the camouflaged Gregory the Goose.
In At the Fair, Gregory is on the loose and playing hide-and-seek. Can you find him on the carousel, is he zooming down the slide, riding on the big wheel or spinning in a teacup?
And in Up the Mountain, Gregory is on the loose in a winter wonderland. Is he on the ski slopes, is he outside making a snowman, is he hiding in the chalet, or is he sledging down the slope?
With fun and discovery on every spread, there won't be a dull moment in the hunt for Gregory!
(Catch a Star, board books, £6.99 each)