Boys on a mission, a space odyssey and witty wordplay by various authors - book reviews -
Enjoy a rollercoaster journey with some anarchic school friends, head to Rome with a pizza delivery boy, marvel at a real-life, drama-packed space mission, and laugh at the antics of a wizard of wordplay in some super springtime children's books.
Wednesday, 22nd April 2020, 11:19 am
Updated
Wednesday, 22nd April 2020, 11:20 am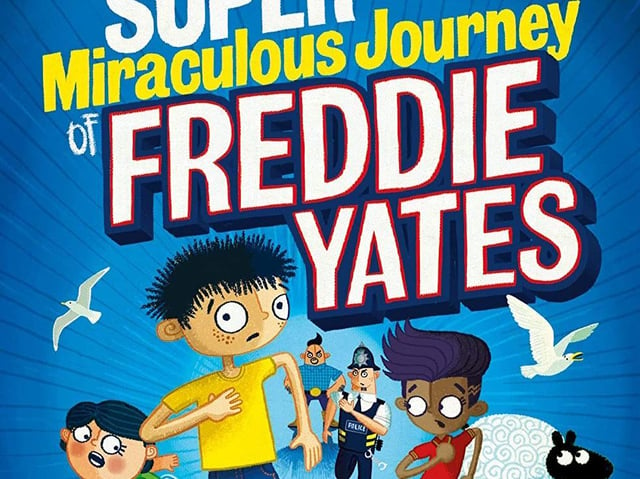 The Super Miraculous Journey of Freddie Yates
Enjoy a rollercoaster journey with some anarchic school friends, head to Rome with a pizza delivery boy, marvel at a real-life, drama-packed space mission, and laugh at the antics of a wizard of wordplay in some super springtime children's books.
The Super Miraculous Journey of Freddie Yates
Jenny Pearson and Rob Biddulph
If your children are longing for a holiday that might not happen this year, pack them off on a madcap jaunt to the wilds of Wales with the fantastic Freddie Yates and his pals!
There are adventures galore on this laughter-filled trip of a lifetime, but also some warm and wise lessons about the importance of families (in whatever shape or form they might be) and the power of friendship and kindness.
The Super Miraculous Journey of Freddie Yates is the brilliant debut novel of Jenny Pearson, a primary school teacher in the North East who reveals that Freddie Yates and his friends are a wonderful mix of all the children she has ever taught.
They reflect, she says, the close friendships that form between groups of children as they make each other laugh, get into mischief and always support each other when the chips are down, and this wonderful story about blended families comes full of heart and humour.
Freddie Yates likes facts – you can rely on facts, facts don't let you down. But the fact staring him in the face right now is that his super-sneaky secret plan is not, after all, a secret. Because Freddie's journey to the wilds of Wales to find the dad he has never met wasn't meant to involve Big Trev and the onion-eating competition or the loo-exploding pear-and-potato turnovers.
And Freddie definitely didn't expect to end up, with his two best friends Ben and Charlie, without enough pants packed and on national television in a supergirl costume. But journeys never take you where you think they will. And for Freddie, that fact might just have to be enough...
This hilarious, heart-warming adventure – with the super black and white illustrations of Rob Biddulph – stars three determined, loyal and funny boys and a summer holiday like no other, with a bit of sleuthing and a few miracles along the way.
With subtle explorations of love and grief, plus a supporting cast of dads, stepdads and great grans, this is an all-action adventure perfectly tailored for your own young mischief-makers!
(Usborne, paperback, £6.99)
Mark Anchovy: Pizza Detective
No youngster will want to miss a slice of the action when they get their hands on this tasty tale of a pizza delivery boy with designs on being a top detective.
Mark Anchovy: Pizza Detective is the first book in a brilliant middle-grade trilogy from talented writer and illustrator William Goldsmith and it comes packed with comedy, codes, amazing artwork, mouth-watering mystery… and platefuls of delicious pizzas!
Colin Kingsley is a pizza delivery boy but what he really wants to be is a private detective. He's desperate for an interesting case to solve, so his luck is in when the Golden Spatula League come calling, the greatest of all detective agencies.
They only recruit children and have been hugely impressed by Colin's amazing memory skills. To join their ranks, Colin – codenamed Mark Anchovy – must fly to Rome to track the movements of known art forger Mr Big Al Fresco who is suspected of stealing the valuable painting, Girl with a Squirrel by Leonardo da Quincy, worth something in the region of 20 million dollars.
Using only his wits and memory while working undercover at Mr Fresco's favourite pizzeria, Il Casa Bianca, Mark Anchovy must crack the code and solve the greatest mystery the Golden Spatula League has ever encountered. And all while escaping the beady eye of his crusty history teacher, Mr Hogstein…
Goldsmith's fully illustrated Roman odyssey dishes up humour, madcap action, super sleuthing, a plethora of pizzas, and more puns than a school text book on English grammar!
Ideal for pizza and adrenalin addicts, and anybody aiming to follow in the footsteps of Agatha Christie, Mark Anchovy looks set to be a firm fishy favourite on the middle-grade reading menu.
(Piccadilly Press, paperback, £6.99)
Survival in Space: The Apollo 13 Mission
David Long and Stefano Tambellini
Fifty years ago, the Apollo 13 spaceship prepared to make the third manned mission to the Moon… but its fateful launch has become one of the most famous and dramatic stories in space travel history.
Award-winning children's non-fiction writer David Long, an expert on NASA and space travel, takes children on an out-of-this-world journey in this gripping, illustrated re-telling of the astonishing thirteenth mission.
In April 1970, Apollo 13 was launched from the Kennedy Space Center in Florida. It should have been the third manned Apollo mission to land on the Moon but when an explosion on board damaged the spacecraft, it became a perilous and near-impossible fight for survival. The crew on board ended up travelling further into space than any other humans before them...
Published in super-readable book form by innovative publisher Barrington Stoke, the amazing Apollo 13 journey, this brilliantly accessible story of an era-defining space mission is a thrilling read for space fanatics and reluctant readers, and is brought to life by the fantastic black and white illustrations of Stefano Tambellini.
Long, who has shaken hands with two of the men who walked on the Moon, has re-imagined the legend of Apollo 13 for a new generation and shows how courage, determination and teamwork succeeded in beating all odds to bring the spacecraft back home.
Ideal for young space fans, and especially suitable for struggling, reluctant or dyslexic readers.
(Barrington Stoke, paperback, £6.99)
Sticker Dollies: Unicorn Rescue
Zanna Davidson and Heather Burns
Inspired by Fiona Watts' multi-million copy selling Sticker Dolly Dressing books comes a sparkling new series full of magic, adventure… and amazing clothes!
Ideal for independent new readers, these beautifully produced and creative stories are fully illustrated throughout and include a page of colourful sticker clothes to dress the Magic Dolls who care for the Magical Creatures of the Enchanted Isle.
In this first super adventure, we meet a frightened unicorn who is rampaging through the Spellwood and it's up to the three Magic Dolls – Grace, Holly and Lily – to help. Because she is so scared, the weather unicorn has whipped up a terrible storm, terrifying the fairy creatures of the wood. Can the Magic Dolls help before it's too late?
These exciting Sticker Dollies stories feature enchanting, accessible chapter books which are ideal for youngsters eager to start reading on their own, and with stickers to inspire their imaginations, this series is set to be a hands-on winner!
The second book in the series, Sticker Dollies: Fairy Picnic is due to be published in July.
(Usborne Publishing, paperback, £5.99 each)
Why does the diddle keep going dum?
Enjoy a laugh-out-loud picture book from the irrepressible wizard of wordplay, Kes Gray, and his top notch illustration team mate Fred Blunt as they serve up a veritable musical extravaganza of silliness that is guaranteed to have little ones giggling all the way from first note to last.
Flinty Bo Diddle is writing a tune for his fiddle. All his diddles have lined up nicely… except for one who keeps going Dum, right in the middle. No matter what he tries, he just can't get this diddle to diddle like it's supposed to. But just when he thinks he might have solved the problem, all his best hopes for musical perfection end with a plop!
Gray, author of the bestselling Oi Frog!, is on his best comedy form in a joyful, playful and delightfully mischievous story about daring to be different and standing out from the crowd which gets added 'rhythm and loos' from Blunt's bold and imaginative illustrations.
With Gray's trademark word wonders and Blunt's artful artwork, this irreverent picture book is destined to become a firm family favourite!
(Orchard Books, hardback, £12.99)
Every child wants a pet, but has one little girl taken on more than she can handle when she adopts… a T-Rex!
Brazilian born author and illustrator Fabi Santiago – whose Tiger in a Tutu was shortlisted for the Waterstones Children's Book Prize – has fun with a dippy dinosaur and its harassed new owner in her bright, colourful and fun-filled new picture book.
My Pet T-Rex is an anarchic guide to looking after a pet… no matter what the species, and how big it is!
Congratulations! Kiki is now the proud owner of a pet dinosaur called Petunia. But having a new pet isn't all fun and games. Your new pet will need lots of love. She will also need training, exercise, (very) regular feeding... and, of course, the poop! It's hard work … especially when your pet is an untrained T-Rex!
Santiago's madcap dinosaur adventure celebrates the joys and also the responsibilities of having a pet in a clever, cautionary tale packed with her fabulous screen-printed illustrations which feature movement, expression and bold colours.
Animal magic with a big dollop of reality!
(Orchard Books, hardback, £12.99)
Geraldine McCaughrean and Laura Barrett
Enjoy all the magic of Hans Christian Andersen's entrancing, bittersweet fairy tale of The Little Mermaid in a beautiful new picture book.
Retold by renowned storyteller and Carnegie Medal-winning author, Geraldine McCaughrean, and with stunning, silhouette-style, two-tone illustrations by artist Laura Barrett, this beautiful book is the perfect introduction to one of the best-loved classic stories.
When she falls in love with a handsome, human prince, the little mermaid Delphine persuades a powerful sea witch to use her magic to replace her tail with legs so she can live on land. But the price demanded by the wicked sea witch is great… the mermaid's beautiful voice.
With its sparkling foiled cover and fantastically intricate and delicate illustrations, this is a must-have addition to any child's bookshelf.
(Orchard Books, paperback, £6.99)