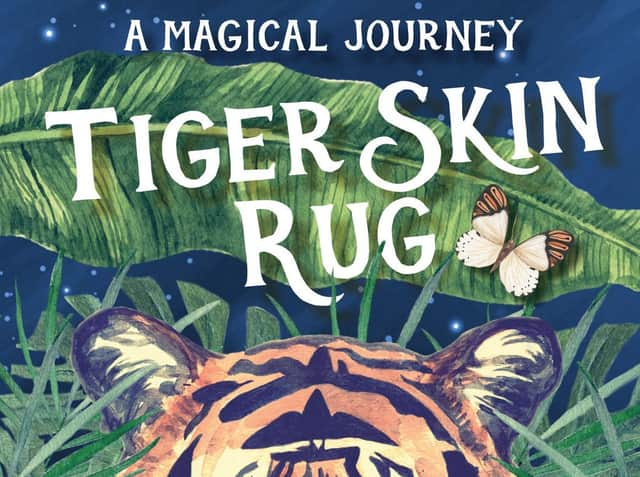 Tiger Skin Rug
A warm, endearing and mesmerising brand of magic is guaranteed to cast a spell over young readers in this enchanting tale of friendship and family.
Tiger Skin Rug is a finalist in the People's Book Prize Winter 2020/21 competition and comes from the pen of Joan Haig who was born in Zambia before moving with her family to the happy isles of Vanuata in the South West Pacific and finally settling with her husband and children in the Scottish borders.
Featuring an old promise, a mysterious tiger and a magical adventure, it's a thrilling tale steeped in cultural wonders and the author's imaginative power as we enter the lives of two homesick brothers from India, now living in Scotland.
Lal and his brother Dilip miss home. They don't like drizzle, midges, or the tiger skin rug in their creepy new house. All they want is to go back to India.
But that's before they make friends with Jenny, and before the tiger comes back to life. The tiger tells them it will take them home in return for their help… because it cannot rest until it fulfils an old promise.
Can Lal, Dilip and Jenny help the tiger on its quest? Who is trying to stop them and will they ever get back home?
From a Scottish village to an Indian mountain, from the back streets of London to the palaces and sewers of Mumbai, Haig explores the power of legends and stories, families and forgiveness in a beautiful story that speaks loudly about the importance of home and the extinction threat to tigers.
Heartwarming, vivid and compelling, this is a story that makes you want to believe in magic!
(Pokey Hat, paperback, £6.99)
Mark Anchovy: War and Pizza
No youngster will want to miss a slice of the action when they get their hands on this second tasty tale of a pizza delivery boy who serves up a big portion of danger in his dual role as a private detective.
Mark Anchovy: War and Pizza is the second book in a brilliant middle-grade series from talented writer and illustrator William Goldsmith and it comes packed with comedy, capers, tall orders, mouth-watering mystery… and food glorious food!
Pizza delivery boy Colin Kingsley, aka Mark Anchovy, is on his second case for the Golden Spatula League, the greatest of all detective agencies and it only recruits children. Parachuted into Russia on a school exchange programme, he must find a missing casket of blingtastic egg cups, missing for over a century.
His only lead is a frail 108-year-old ex-detective called Swirly Ben… who happens to be on the hit list of nasty jewel thief called Heidi Hyde High. On top of all that, crusty history teacher Mr Hogstein is directing the school play. Oh, and Colin's sister Alicia has found out what 'extra anchovies' really means.
Goldsmith's fully illustrated Russian adventure dishes up madcap action, super sleuthing, a winter wonderland of laughs, and more puns than a school text book on English grammar!
Ideal for pizza and adrenalin addicts, and anybody aiming to follow in the footsteps of Agatha Christie, Mark Anchovy is a delicious favourite on the middle-grade reading menu.
(Piccadilly Press, paperback, £6.99)
If your idea of adventure runs to shipwrecks, storms, sea monsters and buried treasure, then you're in for a thrilling adventure set in faraway Sri Lanka.
Nizrana Farook, who was born and raised in Colombo, Sri Lanka, but now lives in Hertfordshire, steals our hearts again with another exhilarating and atmospheric story set in the beautiful landscapes of her home country.
Her debut novel, The Girl Who Stole an Elephant, was Waterstones Children's Book of the Month in January 2020 and was previously shortlisted for the inaugural Joan Aiken Future Classics Prize.
And now The Boy Who Met a Whale sweeps us away to fictional Sri Lanka for an adventure steeped in rich detail, wonderful storytelling, and jam-packed with peril, kidnap and a huge blue whale!
Razi, a local fisherboy, is watching turtle eggs hatch when he sees a boat bobbing into view. With a chill, he notices a small, still hand hanging over the side.
Inside is Zheng who has escaped a shipwreck and is full of tales of sea monsters and missing treasure and Razi and his sister Shifa don't know what to believe. But the villains who are after Zheng are very real and are soon they are after Razi and Shifa as well. And so begins an exhilarating adventure in the shadow of the biggest sea monster of them all...
Expect fast-paced action, a voyage full of fun, heroes and villains, and a flight of imagination all the way to a land of magical creatures!
(Nosy Crow, paperback, £7.99)
Robin Hood: Piracy, Paintballs & Zebras
He might be a modern-day Robin Hood… but he's still out to catch the villains who are cheating the poor and vulnerable!
Welcome back to international bestselling author Robert Muchamore's contemporary take on the old legend of Sherwood Forest in the second book of an enthralling series that began with Hacking, Heists & Flaming Arrows and delivers the same gripping formula of fun, action and thrills.
After its vast car plants shut down, the prosperous town of Locksley has become a wasteland of empty homes, toxic land and families on the brink. And it doesn't help that the authorities are in the clutches of the profit-obsessed Sheriff of Nottingham, in cahoots with evil underworld boss Guy Gisborne.
When his dad is framed for a robbery, Robin Hood and his brother Little John are hounded out of Locksley and must learn to survive in Sherwood Forest. But Robin is determined to do more than survive. Small, fast and deadly with a bow, he joins forces with Marion Maid and her eccentric family and harness his inimitable tech skills to strike a blow against Gisborne and the Sheriff.
But when Clare Gisborne and Little John return to school after the Locksley Riot, there's rebellion in the air and Robin Hood's name is graffitied on every wall.
Power dynamics are shifting… now, instead of being a feared bully, the daughter of Locksley's most hated criminal finds herself shunned by classmates and pelted with yoghurt and rotting fruit.
Meanwhile at the abandoned Sherwood Designer Outlets, Robin has plans of his own. He is determined to hack Sheriff Marjorie Kovacevic's office so that the rebels know her every move, and to work with animal rights activists to end a cruel trophy hunt inside the grounds of Sherwood Castle...
Brimming with guts, gusto, gags and gripping adventures, this Robin Hood and his merry men as you've never before seen them… enjoy!
(Hot Key Books, paperback, £7.99)
A Double Detectives Medical Mystery: Diagnosis Danger
Here's the perfect medicine for lockdown boredom blues… a thrilling medical mystery!
London doctor Roopa Farooki returns with the second book in her excellent mystery series starring two sleuthing twins with attitude, aptitude, and an ability to diagnose danger.
Twins Ali and Tulip have grown up with a surgeon mother and so have picked up lots of knowledge of first aid and medicine, and know all about being medics. They know something about being detectives too, which is a good job because there's a new case that needs their skills.
While their mum is brain-doctoring at the hospital during half term, a mysterious figure viciously attacks Momo, one of the twins' friends, and then disappears. Without a minute to spare, Ali and Tulip are straight on the case. But will they find the culprit before it's too late?
Farooki's fresh and fun take on the detective genre is a delight for all mystery-loving readers, and – with its sprinkling of fascinating facts wrapped neatly inside the all the action – there is plenty of inspiration for youngsters who harbour their own medical ambitions.
So if it's fast-talking, quick-thinking, risk-taking, mystery adventure you're after, look no further than an appointment with Ali and Tulip!
(Oxford University Press, paperback, £6.99)
Max and the Midknights: Battle of the Bodkins
Knights in shining armour don't have to big, strong… and male!
Meet Max… she's ten years old, has a team of fearless, foe-fighting friends, and they are always ready to take on the most vile of villains in whatever size, shape or form they may appear.
American cartoonist Lincoln Peirce rides back into the land of Byjovia with Max and the Midknights, his plucky troop of medieval warriors who deliver the same riotous mix of epic adventures, laugh-out-loud fun, and hundreds of dynamic illustrations in the second book in this outstanding series.
Max really wants to be a knight and now she's honing her skills at KSB – Knight School of Byjovia – but the land is under attack, and it's up to Max and the Midknights to save the day! The quest is on as the Midknights set out to face the beastly Bodkins, powerful spells… and their greatest foes yet.
Peirce is creator of the hugely popular Big Nate books which follow the adventures and misadventures of a rebellious schoolboy, and here he delivers giggles galore on every page as the mighty Midknights uncover mischief, magic and mayhem all the way in their battle with the Bodkins.
With all the rapier wit we have come to expect from this talented author and illustrator, comic-style illustrations that fizz with playful fun, and madcap antics that move faster than a trusty steed, this series is the perfect fit for comedy fans and reluctant readers.
(Macmillan Children's Books, paperback, £6.99)
Agent Weasel and the Robber King
Banish the January blues with another madcap adventure alongside Agent Weasel, the wonderfully wacky woodland super-spy.
Author and illustrator Nick East is on his rib-ticklingly best form in this third, laugh-out-loud book in the Agent Weasel series in which our clueless but brave and lovable sleuth faces his greatest challenge yet as he confronts the villainous Rook King.
Spring has sprung in the United Woodlands, and the animals of Woodland Intelligence (WI6) are celebrating with a barbecue. But when a mysterious attack from the skies bursts Beaver Dam wide open, the woodland is flooded.
The head of WI6 suspects foul play. It's time to call Agent Weasel but can he manage a daring underwater rescue, will he notice the clues leading high into the treetops, and will he ever get over the disappearance of his favourite biscuits? Find out in this wild and watery tale.
Full of East's wit, vibrant storytelling, and high-octane illustrations, this funny, frantic series is perfectly pitched for reading alone… or to share giggles with all the family!
(Hodder Children's Books, paperback, £6.99)
Lottie Loves Nature: Bee-ware!
Jane Clarke and James Brown
Nature isn't just fascinating… it's positively awesome!
Join a girl who loves every little thing on our planet in this inventive and entertaining new children's fiction series which makes learning an adventure full of knockabout fun and comes from Five Quills, a small independent publisher with big ideas about books for younger readers.
Five Quills is on a mission to fill its books with lively illustrations and carefully written stories, making them perfect for reading aloud and sharing with both new and experienced readers.
Lottie Loves Nature: Bee-ware! stars Lottie Boffin, twin sister of Al Boffin, the star of author Jane Clarke and illustrator James Brown's brilliant Al's Awesome Science series which explored science principles through fun stories and (often hilariously messy!) experiments.
Lottie loves wildlife and dreams of becoming a nature show presenter like Samira Breeze, host of her favourite programme Every Little Thing. And in her second eco-adventure, Lottie has been reading about the decline in the number of insects in nature. With the help of her tech neighbour Noah, she decides to build a bug-hotel to encourage their return. But next door, there are bees nesting in the garden and the Boffins' neighbour Mr Parfitt wants to get rid of them because the buzzing is putting him off his golf. Can Lottie help save the bees before the exterminator arrives?
Expect lots of fascinating facts and plenty of mishaps and mayhem as Clarke works her storytelling magic while Brown's charismatic black and white illustrations add extra comedy and energy to this inspirational series.
With nature and conservation tips and facts throughout the book, this is the perfect way to have fun while learning!
(Five Quills, paperback, £6.99)
Big Words for Little People: Friendship and Calmness
Helen Mortimer and Cristina Trapanese
Words speak volumes when you're growing up…
Understanding emotions and words is all part of early development for young children and here are two clever, conceptual books from the boffins at Oxford University Press to help the youngest children explore their feelings by giving them the everyday words they need to express themselves.
Big Words for Little People: Friendship and Big Words for Little People: Calmness are the two latest picture books in an exciting series exploring big topics with young children in a way that feels warm and right. It has been created to help young children develop and understand how they can use their words to help them navigate emotions and first experiences.
In Friendship, we learn how using carefully chosen words and phrases, such as 'belonging' and 'be loyal,' creates a special moment for grown-ups and young children to focus on what it means to be a friend and nurture friendships.
And in Calmness, words and phrases like 'breathe,' 'pause,' or 'balance' help young children to focus on what it means to be calm, to speak softly and cope with worries.
Children can discover and understand the new words to help them to talk about the ups and downs of first experiences and new emotions with confidence, and adults can use the book to talk about feelings and explain them to the youngest children in an engaging and accessible way.
The simple, appealing art style and fun characters make the books accessible and perfect to share, and each includes reassuring tips on how to encourage conversation and build language confidence. There are also ten ideas at the back which help parents and teachers to get the most out of the book.
With their child-friendly focus on feelings, and clever use of words and ideas to aid understanding, these clever and thoughtful books deliver the kind of educational goodness that helps children to develop and grow.
Perfect for reading and sharing together…
(Oxford University Press, paperback, £5.99 each)
All Aboard the Numbers Train and All Aboard the Shapes Train
You don't need a ticket to ride when you hit the rails on a first-class journey of learning!
Oxford University Press are waiting at the station with a brilliant new series which introduces key early learning concepts through beautifully illustrated and engaging stories which explore numbers, space and so much more.
So hop on board with the first two titles in the series, All Aboard the Numbers Train and All Aboard the Shapes Train, and enjoy fun-filled lessons with a gang of playful youngsters.
In All Aboard the Numbers Train, youngsters have 5, 4, 3, 2, 1 lift off as they shoot into space on a rocket train and learn about number recognition and counting as they zoom past planets and stars, and discover lots to learn, spot, count and talk about on every page.
And in All Aboard the Shapes Train, children board a bullet train to stop off at the park, the playground, the boating lake and the funfair to spot circles, squares, triangles and patterns, and learn the key early skill of shape recognition.
With Sean Sims' vibrant, colourful illustrations perfectly pitched for pre-schoolers, and discovery and fun on every page, this unmissable new series offers fast-track learning all the way!
(Oxford University Press, paperback, £6.99 each)
If a book could give you a hug, this would be the one!
Share the warmth and joy of award-winning author and illustrator Emma Dodd's uplifting celebration of unconditional love as a delectable duck declares her love for her five irresistible ducklings.
This beautiful and moving book, starring a family of ducklings who learn that love makes the whole world shine, features a delightful rhyming text which is ideal for reading out loud with little ones, and a gallery of stunning, foiled illustrations in an enchanting array of colours.
Before you came I did not know Just how big love can be. Love's wider than the ocean, it's deeper than the sea. Love never, ever changes, no matter what life brings. Love lifts you up when you are down, love helps you find your wings.
Carefully crafted and brimming with mother love…
(Templar Publishing, hardback, £7.99)