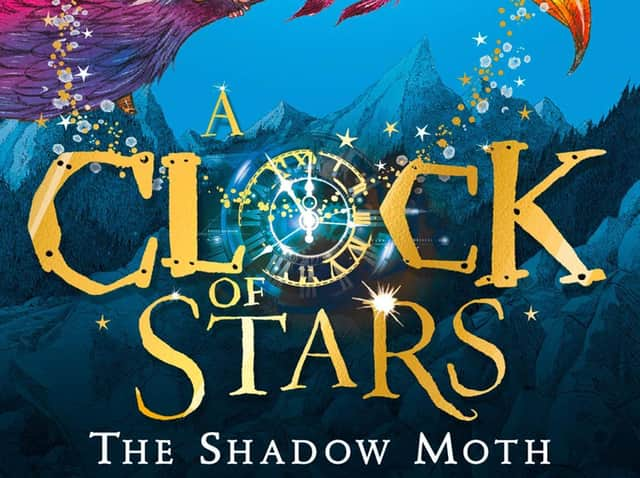 A Clock of Stars: The Shadow Moth
There's comedy, adventure, fantasy and fun galore in a colourful and eclectic assortment of new books that are guaranteed to brighten up the lives of young readers this October.
A Clock of Stars: The Shadow Moth
Francesca Gibbons and Chris Riddell
If you love the classic tale of Alice falling down a rabbit hole into Wonderland, then you're guaranteed to fall headlong all over again for the sisters who follow a silver moth into a tree and discover a magical, mesmerising kingdom!
Hold your breath and step into the fabulous debut novel of Francesca Gibbons, an exciting new author who was inspired by the gardens she visited as a child, and her love of folklore and monsters, to pen this unforgettable journey into a spellbinding world of adventure.
With the magic of Narnia, the humour of Mary Poppins, and the stunning illustrations of multi-award-winning Chris Riddell to add extra visual power, The Shadow Moth is the first book of the Clock of Stars trilogy which promises to become a middle-grade fantasy classic.
Imogen should be nice to her annoying little sister Marie instead of always fighting with her. She should be nice to her mum's boyfriend too instead of stamping on his shiny shoe. And on a trip to some tea rooms on what used to be a grand estate, she certainly shouldn't follow a strange silver moth through a door in a giant tree whose highest branches seem to touch the clouds. But then… who does what they're told?
Followed by Marie who refuses to let her older sister do anything on her own, Imogen finds herself falling into a magical kingdom where the two sisters are swept up in a thrilling race against time… helped by the spoiled Prince Miro of Yaroslav who lives in a tower and has everything but friends.
Before she gets home, Imogen must learn to sort the truths from the myths and the outright lies. Could the monsters, which descend on the city each night, be terribly misunderstood? Could the king have a dark secret? Strangest of all, can little sisters sometimes be useful?
Packed with thrilling world building, full-throttle adventures, a fine brand of acerbic humour, heartwarming messages about sibling ties and friendship, and characters so exquisitely portrayed that you won't want to leave them behind when the last page turns, A Clock of Stars is storytelling at its imaginative best.
(HarperCollins Children's Books, hardback, £12.99)
Emily Lime – Librarian Detective: The Pencil Case
Pack your suitcase, sharpen your pencils and try not to snigger too loudly because you're off to St Rita's School for Spirited Girls!
Author and illustrator Dave Shelton, creator of the slapstick comedy noir comic strip Good Dog, Bad Dog – as seen in the DFC, the Guardian and the Phoenix – is on laugh-out-loud form in this crazy mystery caper series starring a crime-solving genius schoolgirl with a penchant for berets and baddies.
Award-winning Shelton is himself proving to be a 'comic' genius with his irrepressibly exuberant and vibrant illustrations proving a big hit with youngsters who like their adventure stories to come with lashings of comic-style pictures and knockabout fun.
A cross between Enid Blyton's Malory Towers and Famous Five books, plus the anarchy of St Trinian's, Emily Lime's adventures are set in a bygone age of gymslips but with the added enjoyment of an intriguing mystery and a fine line in humour.
It's a new term at St Rita's School for Spirited Girls, and there are new mysteries for librarian Emily, and her friends Daphne and George to solve. Who has stolen a painting from Pilkington Art Gallery? (And why, as it's not even a very good one!) Can our intrepid investigators get to the bottom of the mystery before the thief strikes again? How can they get rid of a new headmistress who threatens the very future of the library? And why are there cows all over the sports field? Expect the unexpected as Emily Lime investigates…
Shelton pulls out all the stops as he dishes up lots of old school nostalgia, two super-sleuthing girls, their adorably droll and dishevelled pal George (just imagine being the only boy in the school!) and a cast of equally outlandish characters.
With rib-tickling humour, an intriguing mystery, and Shelton's own gallery of brilliant black-and-white illustrations, the school day flies when you're having fun!
(David Fickling Books, hardback, £10.99)
Amy Rainbow and Ellie O'Shea
Just what does it mean to be dyslexic?
As part of their successful and sensitively created Mindful Kids series, Studio Press have published Dyslexia and Me, a fully illustrated, self-care book to help young people understand what dyslexia is and how it might affect them.
Written by Amy Rainbow, a qualified teacher and Associate of the Dyslexia Guild who has worked in mainstream and special schools, teaching and supporting learners of all ages and abilities, the carefully devised activity book shows children how to rest and relax, be kind to themselves, and feel happy with who they are.
Youngsters are encouraged to use their creativity to understand that as dyslexics their brain sometimes works a bit differently to other people's, and discover what they can do to make learning much simpler. Some of the ideas are useful to practise outside of the book in everyday situations and the book also offers helpful guidance for parents and caregivers.
The fun activities – on uncluttered layouts designed specifically for the dyslexic learner with a dyslexic friendly font and type on a tinted background – explore what it means to be dyslexic and include colouring and drawing exercises designed for dyslexic people and their friends and family to enjoy.
There is also a section at the back for parents, guardians and carers with important information on how to support and help children through reading material, apps, software and assessments by a behavioural optometrist.
Ellie O'Shea's charming and inventive illustrations keep young readers entertained and focused as they work through the book, or they can simply dip into the pages for some relaxing yoga exercises.
Other titles in this thoughtful and immensely constructive range of activity books for children from Studio Press include Keep Calm, No Worries, Hello Happy, Stay Strong, Be Brave, Be Positive and Letting Go.
(Studio Press, paperback, £9.99)
Interview with a Tiger and Other Clawed Beasts too
If you want to discover what an animal is thinking, go straight to the horse's mouth!
Or in the case of this clever and comical book from the dynamic team of author Andy Seed and illustrator Nick East, get up close and personal with ten fierce and furry beasts as they step up to the mic and reveal all about their fascinating lives.
Open the pages of this ingeniously conceived, illustrated book and get answers to all those questions you'd love to ask… why do wolves howl, do giant anteaters only eat ants, do honey-eating bears get stung when they raid a bees' nest, do snow leopards get really cold, why do polar bears like seals so much, and what is a tiger's idea of a perfect day?
Written in the form of interviews – all threaded through with Andy Seed's brilliantly anarchic sense of fun – the animals, including a giant armadillo, lion, jaguar and three-toed sloth, share their habits, behaviour, likes and dislikes, favourite foods, and much more.
With ideas on how to do your bit to help endangered species and their habitats, and humour on every page, this is the perfect book for new or reluctant readers, and all young animal fans.
(Welbeck Publishing, hardback, £9.99)
Toto the Ninja Cat and the Mystery Jewel Thief
Dermot O'Leary and Nick East
Head off for mischief and mayhem with a magical moggie who sleeps all day and fights crime at night!
Popular TV broadcaster Dermot O'Leary returns with his amazing ninja cat, Toto, for another gigglesome, gob-smacking adventure starring the feline heroine who was inspired by two stray cats rescued from an olive grove in Italy by O'Leary and his wife.
'One of them, Toto,' he reveals, 'has been blind from birth, but we quickly realised she had ninja-like reactions. Like a lot of cat owners (or cat servants), we like to imagine our pets having secret lives when we're out or asleep. So before I knew it I was writing about Toto and her brother Silver's nocturnal adventures around London.'
And following on from Toto's hit adventures, The Great Snake Escape, The Incredible Cheese Heist and The Superstar Catastrophe, O'Leary and illustrator Nick East are back with another terrific tale starring the fearless feline and her long-suffering brother Silver.
The cats live in a townhouse in London. Toto is almost totally blind, and learned to trust her senses from a ninja cat-master who taught her back in Italy where they were born. By day, Toto and Silver seem to be ordinary cats, but by night, they love to have adventures.
Toto and her friends are due to be looking after the French ambassador on a day of sightseeing, finishing at the Tower of London to see the animal world's crown jewels: a sacred diamond cat collar. But when they arrive, the collar has disappeared and, what's worse, it looks like Toto's boss Larry is responsible, with Toto as his accomplice!
Toto is almost arrested, but she escapes to try and get to the bottom of the mystery and clear her name.
With lots of laugh-out-loud moments, reassuring and gentle themes of friendship, inclusivity and winning in the face of adversity, and East's gallery of hilarious black and white illustrations, this is ideal for newly confident readers to curl up with or reading aloud with parents.
Animal magic for all the family!
(Hodder Children's Books, hardback, £9.99)
The Nine Lives of Furry Purry Beancat: The Railway Cat
Philip Ardagh and Rob Biddulph
First chapter books should always be enticingly full of fun, so look no further than this rip-roaring early reading series from the top-notch pairing of award-winners Philip Ardagh and Rob Biddulph.
Ardagh, bestselling author of The Grunts series and Eddie Dickens adventures, and illustrator Rob Biddulph, award-winning creator of Draw With Rob!, combine their talents on The Nine Lives of Furry Purry Beancat which stars one extraordinary cat with nine extraordinary lives.
Purrfectly digestible for those new to chapter books, and brimming with Biddulph's exuberant black and white illustrations, this is just the kind of series to give youngsters the enticement and the confidence to enjoy reading alone.
Just like every other cat, Furry Purry Beancat loves a catnap but, unlike other cats, when Beancat wakes she finds herself in a different one of her nine lives. In each book, our hairy heroine embarks on a new adventure, whether that's saving a train from disaster as a railway cat, or creating potions as a witch's cat. But one thing's for sure… she always saves the day!
In this new adventure, we are all aboard with our furry (and purry!) heroine for a mystery on the railway. Beancat and her friends must uncover secrets and spies on the tracks. Who is the ticket-swapping, train-hopping stranger? Is Beancat's beloved railway in danger? It's up to Beancat and her pals to solve the puzzle before it's too late.
With slapstick antics, breathless action and a pussy cat always just a whisker away from danger, this is a series of cat-astrophes that has the legs to run and run!
(Simon & Schuster, paperback, £6.99)
Mick Jackson and John Broadley
When you're fast asleep in bed, what's happening outside in the dark, dark world of night time?
Little ones who like to be snug as a bug in their beds will love this superbly imaginative and brilliantly illustrated book which opens a revealing window on to a whirl of activity and wonder when the night draws in.
The exciting collaboration of Mick Jackson, an award-winning novelist and screenwriter from Lancashire, and exciting new children's illustrator John Broadley, who works mostly in pen and ink and collage, is the perfect wind-down book at bedtime.
From bakers preparing bread and cakes for the table, firefighters waiting patiently for a call, hospitals helping people have babies and caring for those who are ill to lorry drivers making deliveries of food, flowers, and toys, and postal workers sorting the mail for your morning delivery, this is a hidden world of work and dedication.
And there's so much more… in the natural world, foxes are foraging, bats are flying, and owls are hunting for prey. And in other places on the planet, children are playing, learning, eating and reading while you are tucked up and asleep.
Drawn in a limited palette which moves slowly from soft dusk colours to warm dawn tones, While You're Sleeping is a verbal and visual feast of fascinating facts and evocative illustrations as it cleverly picks up where Richard Scarry's classic What Do People Do All Day? left off over 50 years ago.
An enchanting journey from night to day…
(Pavilion Children's Books, hardback, £12.99)
Moira Butterfield and Claudia Boldt
Get ready to waggle, wave, wiggle and giggle with a fun-filled, hand-clappingly good picture book from the top team of author Moira Butterfield and illustrator Claudia Boldt.
Packed with energy, colour and a youthful sense of joy, Dance Like a Flamingo encourages little ones to move and groove like the animals as they learn about the sometimes strange ways creatures behave in their natural habitats.
So get ready to meet a collection of animals from around the world and discover how they move, and why.
Scuttle sideways like a crab, strut around like a flamingo, leap like a lemur, flap your arms like an owl, hop and dance like a sand lizard, jump up like a dolphin, clap your hands like a chimpanzee, and waggle dance like a bumble bee.
With a different creature on each page spread, and step-by-step actions to help children move just like the animal, this is the perfect book to read aloud one-to-one, or as a fun group activity to get youngsters stretching, hopping, wriggling and jumping!
(Welbeck Publishing, hardback, £12.99)
No two people are alike… and that's a life lesson delivered with a big party smile in a delightful picture book from talented author and illustrator Lucy Barnard from Manchester.
Ruby the red squirrel loves having fun while Graham the grey squirrel loves organising. In their own unique ways, they make sure that Acorn Wood is a beautiful and lively place for all the animals who live there. But when Graham decides that he wants to be more like Ruby and have fun and party all the time, the chaos and confusion in the wood gets out of hand. Who will step up to set things right and tell Graham that they need him to be sensible again?
Barnard, who reveals she was inspired to create the book by her own children, delivers a wonderfully playful story with important, heartwarming messages about being yourself but not to be afraid to change if that is what you want.
With a gallery of richly detailed illustrations in vivid autumn shades, appealing animal characters and a reassuring story that will resonate with young readers, this is the ideal book to read and share.
(New Frontier Publishing, hardback, £11.99)
This Book is NOT a Bedtime Story!
Eoin McLaughlin and Robert Starling
Monsters don't have to be scary!
Take a leaf out of this monstrously funny picture book and teach your little ones that spooky monsters aren't frightening after all.
Renowned Irish children's author Eoin McLaughlin and award-nominated illustrator Rob Starling join forces on this hilarious, not-so-spooky tale which advertises itself as NOT a bedtime story, but turns out to be just that.
It's scary, strange and rather gory. Bedtime stories make you sleepy. This book won't. It's much too CREEPY.
Meet a group of monsters who like to think they're very scary when in fact, they're rather cute and cuddly. They try their hardest to scare you… in a haunted house, creepy wood, ghostly ship and darkest dark, but each time they fail! The problem is, these monsters aren't at all spooky. They're a bit silly and a bit cuddly. In fact, they share the same insecurities and worries as us humans and all they really want is a cosy, snoozy good night's sleep.
With its brilliant concept, cast of adorable monsters, a wryly funny chorus of animals who puncture every attempt by the monsters to be scary, and big, bold illustrations that bring the story to visual life, this is the perfect book to reassure you own little monsters at bedtime!
(Pavilion Children's Books, paperback, £6.99)
I Am One: A Book of Action
Susan Verde and Peter H. Reynolds
Sometimes the simplest of stories carry the most resonant messages…
A child and her new friend discover that beautiful things start with just one in this stunning picture book – grounded in the concepts of mindfulness – from author Susan Verde and illustrator Peter H. Reynolds.
I Am One is the fifth book in this top team's bestselling wellness series which includes I Am Yoga, I Am Peace, I Am Human, and I Am Love, and this time delivers a powerful call to action for young readers.
Beautifully illustrated and full of inspirational messages, the book asks readers to consider that only one seed is needed to start a garden, one note to start a melody, one brick to start breaking down walls, one act of kindness to start a connection, one candle to start leading the way and one drop in the water to start ripples that become swells, waves and oceans.
Every movement and moment of change starts with just one, and youngsters are encouraged to raise their voices, extend a hand, and take that one first step to start something beautiful and move towards a better world.
Grounded in mindfulness and wellness, and with guided meditation and self‑reflection activity included, this is a lesson in action and empowerment for every generation.
(Abrams Books for Young Readers, hardback, £10.99)
Honey for You, Honey for Me: A First Book of Nursery Rhymes
Michael Rosen and Chris Riddell
It's never too early to get to grips with tongue twisters, nonsense rhymes, repetitious rhymes… and tales that simply amuse and bemuse!
Flying pigs, wobbling plates of jelly and a giant who trembles whenever he meets a mouse are just some of the treats in store as Children's Laureates Michael Rosen and Chris Riddell, the bestselling team behind A Great Big Cuddle, combine their talents again on a gorgeous first book of topsy-turvy nursery rhymes which positively fizzes with playful sounds and super-scintillating pictures.
Honey for You, Honey for Me is packed with rhythm, energy and laughter, and it's due in no small part to Riddell's warm and winsome illustrations which help to capture all the excitement and quirkiness of a cast of curious and incredible characters.
Inspired by his lifelong fascination with these peculiar poems, Rosen has placed familiar playground songs alongside forgotten gems for this seminal new collection, all brought to vivid life by Riddell's magnificent pictures.
With forty fabulous rhymes to choose from, some old and familiar faces, from Little Jumping Joan to Miss Mary Mack Mack Mack, and plenty of surprises, this big, beautiful book is set to become a bedtime favourite.
(Walker Books, hardback, £14.99)