RHS Poulton in Bloom unveil Remembrance Day display
A large display of poppies was unveiled on Friday October 27 2023 by RHS Poulton In Bloom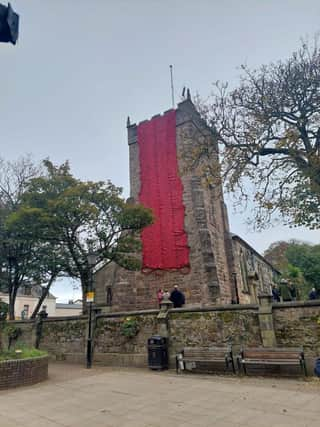 After working on the Remembrance Day display for a whole year, it was finally unveiled on Friday October 27 2023, by RHS Poulton in Bloom.
The display consists of curtain of approximately 17,500 poppies, draped from the tower of St Chads church. The churchyard is filled with a field of knitted poppies, there is a display for the service of all animals.
At the cenotaph, there is a knitted poppy for each of the men named on the war memorial. There are 49 poppy wreaths displayed in shop windows, each with a regimental badge and the names of the men that lost their lives and names on the war memorial, there is also a large display in Poulton library, this has the names and information of all the men named in the war memorial along with photographs, newspaper articles, replica medals and newspapers etc.
RHS Poulton in Bloom are proud to have produced this display as a mark of respect for all who gave their lives during war. We would like to thank everyone who has made this possible.