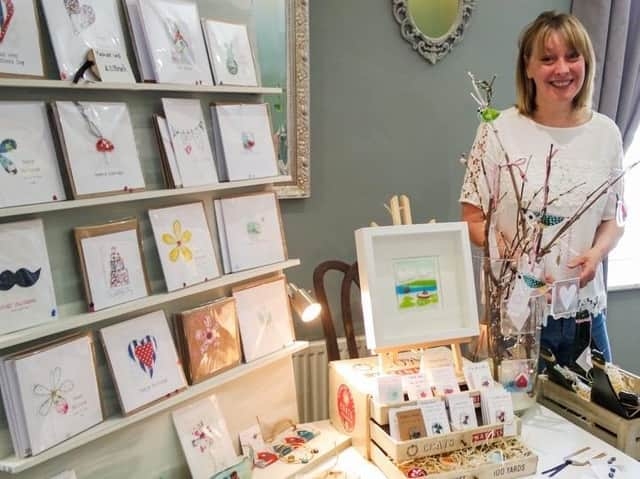 Glass Boutique will take part in the online event
Teaming up with the National Festival of Making, the event will take place from November 20-22 and will feature a wide range of creative businesses.
For the last six years Hopeful and Glorious have hosted a Winter Art Fair at Lytham Hall with many of the county's best creatives taking part.
However the current coronavirus restrictions have meant that this year's event can't take place as normal.
There will be lots of enjoyable maker demonstrations, workshops and interviews to watch and make at home and an online market featuring the work of over 50 hand-picked artists.
Many of the creatives taking part will be offering great extras such as free gift wrapping, free postage and exclusive discounts.
So, at a time when it's not easy to get out, it's a perfect way to shop for unique, locally made gifts and treats. There will be plenty of opportunities to stock up on Christmas presents and support small business.
Hopeful and Glorious have curated the makers market at the National Festival of Making in Blackburn since 2017, and they are delighted to be able to collaborate with the national programme again. Since the festival was cancelled due to COVID-19 earlier this year, the team have been working on a number of projects to support creative businesses and provide online opportunities for artist, makers and crafters to present their practice, find new ways of working and share skills.
"With the online fair we want to try and create the best event we can both for our makers and our customers" said Heather Chapman of Hopeful and Glorious. "We'd usually have the buzz of setting up, talking with makers - meeting some for the first time and welcoming others back so we're encouraging our makers to set up a stall at home and film it. We'll be having demonstrations and workshops from some of our makers and we want to create the three days to be a celebration of making and not just selling."
Included in the line-up are
• Nettleton Pottery from Leyland
• Little Glass Boutique from Lytham
• Silver 4 Ever from Lancaster
• Redcurrant Glass from Barrowford
• Elfin Alchemy Jewellery from Chorley
• Julie Miles Ceramics from Nelson
• Elizabeth Emmens-Wilson from Blackburn who makes beautiful upcycled gifts
• Judy Musselle Art from Ormskirk
• ArtYardArt original artworks from Preston
• Gawthorpe Textile Collection from Burnley
Supporting small business has never been more important. Despite the ease of the global online stores, supporting our high streets and independent businesses this festive season can make a difference to local economy.
The event starts at 10am on Friday 20th November 2020 at hopefulandglorious.co.uk where the public can browse the wide array of products on offer and buy direct from the makers.