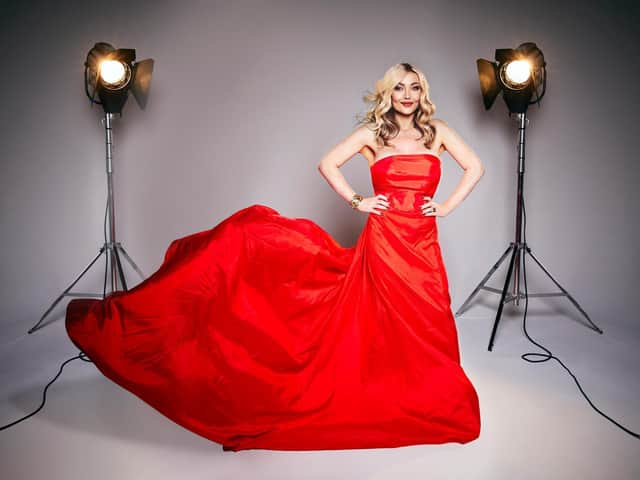 Celebrity agent turned best-selling author Melanie Blake
If you're one of the 25m avid soap viewers, the beloved on-screen characters become as familiar as family themselves.
Through the thrice weekly screenings audience share the highs, the lows - joyous births, tragic deaths, the numerous marriages, treacherous divorces and all the extraordinary, gripping 'real-life drama' in between.
But what happens when the cameras are turned inward and viewers are given a glimpse into the makings of those award-winning scenes?
While the world of the soap opera seems very relatable, a life on set is anything but and the one woman who can testify to that is Melanie Blake, owner of agency Urban Associates
Showbiz and number one soap actress agent turned writing phenomenon, she has very firmly cast the spotlight on the powerful production machine for her new international best selling novel Ruthless Women.
And while it is a work of fiction, this jaw-dropping, rivalry and revenge-filled, scandalous and enthralling 450 page blockbuster, really does provide the storyline of storylines for 2021.
The 44-year-old, who has previously spoken of her tough poverty-stricken childhood growing up in Stockport, has turned full-time author on the book's success and says she was equally shocked when it went to print.
Melanie's new novel Ruthless Women
Ruthless Women has been billed as giving the world-acclaimed 'The Devil Wears Prada' a run for it's money.
It is based on fictional continuing drama 'Falcon Bay' set and filmed in Jersey and centres on the lives of a group of women at the iconic show's heart.
It has the glamour, the sass and success of Dynasty, enveloped in the beloved family traits of the Cobbles of Coronation Street and Walford's East End where Melanie has spent the majority of her days in her near two decades in the industry.
Then there is the book's sex scenes, which have drawn comparisons to E.L James' 50 Shades of Grey' but Melanie insists in the case of her characters, the women, are very much in control.
Melanie Blake has turned to writing full-time after the success of the novel which gives a unique insight into the production machine of soapland
Melanie is a long time friend and manager to Coleen Nolan and has worked with stars from Cher and Madonna to Patsy Kensit, Beverley Callard and Stephanie Beacham to Claire King and Gaynor Faye.
She laughs: "After all the years in the industry and in knowing what I was writing, I was prepared for an almighty backlash but it has been extraordinary, particularly from actresses.
"Many I represent or have managed can't get enough of it and have given the best reviews.
"What's incredible is from the thread in the book, experiences of the characters, each and every person has given different names on real life counter-parts on who it could have been based, particularly the character of Jake Monroe (a TV executive) which tells you everything you need to know about the industry.
Ruthless Woamn has received rave reviews, especially from actresses Melanie has represented
"It was almost a cathartic experience being able to sit down and write this book. Make no bones about it the toxicity in the soap world is real - I almost thrived on the bad behaviour for so long because of the toxic environment of my own upbringing, which had hardened me in every sense of the word - poverty, homelessness, religious abuse.
"Entering the entertainments world didn't feel alien for me. I hadn't had a day off in all these years but suddenly the pandemic hit and I was forced to hit pause, stop and reflect.
"I felt ready for that 'me time.' I asked myself, what I, Melanie, wanted to do and it all came pouring out. No distractions up to 12 hour days writing, everyday for seven weeks. It was written, done."
The book indeed is enough to leave more than a few executives quaking in their boots, particularly in the evolvement of the #MeToo era but it also very cleverly brings to the fore, the trials, successes, rivalry and utter grit of those entering into the TV world in front and behind the camera.
Melanie says the star of the book is the show itself. The story builds around the characters' obsession with 'Falcon Bay', and the depths of ambition and betrayal to climb to the top but then more importantly, how to stay there.
Readers are left in no doubt it's sheer ruthlessness.
Queen of the Soaps Melanie Blake
But far from a familiar Hollywood narrative of damsels in distress, the central female arcs, all post 45, are the ones in the driving seat.
Melanie explains: "This book was mine, every last word. It's very different to the first Thunder Girls, which I first wrote at 19.
"By the time that came to print, it had had all this outside influence .
"I also hadn't lived a life, due to my upbringing and leaving home at 16, I obviously felt I had but it was a bit more idealist really - no concept of the heartbreak, relationships, power struggles, travel, the fast-paced nature of the business, 24 hours, seven days a week. I worked the day of my own mother's funeral.
"They say to write about what you know and this was my opportunity and I perhaps didn't appreciate how much I would love it and for it to work so well.
"For the first time, this was me putting me first. I'd never had a sabbatical, any sort of real break, maternity leave...
" I am a woman's woman so this too was a chance to write about these fascinating but flawed women, all in their own ways, but ultimately being in control of themselves.
"Living their lives uncompromised, enjoying guilt-free sex on their own terms. Navigating their way through an outdated system, celebrating their successes and their own identities.
"The wonderful thing is these women are all over 50, Catherine the lead actress is 70 but they could all be in their 20s - women do not have expiration dates.
"I've met some beautiful, fantastic, amazing and inspiring women in this bizarre world but make no mistake I've come across some vile witches too.
"I've put up with some pretty hideous situations and then watched that same person, switch into a sweetheart of the nation, turning on the smiles. Fame is a bizarre and peculiar thing but in a strange way addictive. I never really wanted to taste that side of it.
"I'd lived and breathed it in my own way for so long but I have enjoyed stepping out as Melanie Blake, the writer and getting the chance to do shoots, the interviews and just engage with people on different levels.
"My career trajectory has been a story of its own and in a sense it was always about proving myself to others. I was at rock bottom in my teens, for a time suicidal.
"My escape was in the world of books and television El Dorado, Dallas, Jackie Collins.
"I decided to fight for everything I could get. No qualifications and a 'G' in maths I started as a camera runner on Top of the Pops, cast as extra in soaps to manager and agent and launching and running my own multi-million agency to some of the biggest stars.
"But becoming a writer at 40, with a global , top-selling novel - a dyslexic girl, who grew up in Stockport and told she'd never get a chance at anything - nothing compares to this."
And in a tale that really does come full-circle Melanie was invited to write the foreward to a new edition of Jackie Collins' novel Drop Dead Beautiful being published by Simon & Schuster, later this year.
"That, she says, "was the honour of honours and the proof you're never to old to chase your dreams ."
This summer Melanie will join Sunday Times best-selling authors Jill Mansell, Milly Robinson and Tara Arkle on an author tour.
Ruthless Women, published by Head of Zeus, out now.