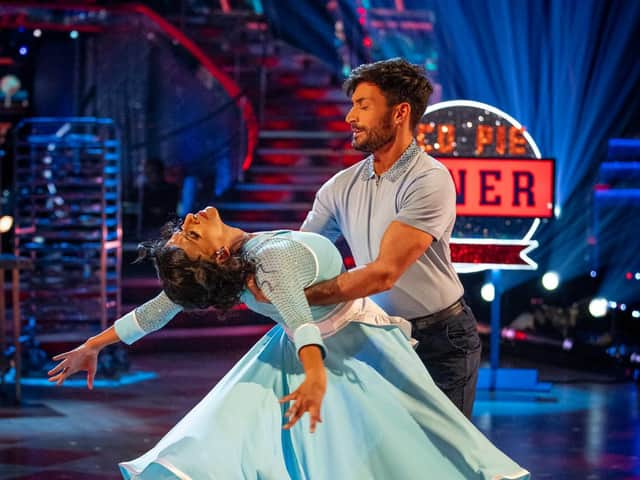 Ranvir Singh and dance partner Giovanni Pernice are through to the semi-finals of Strictly Come Dancing 2020 Photo: BBC Pictures
Ranvir and her dance partner Giovanni Pernice sailed through Sunday night's result show after their stunning Viennese Waltz in Musicals week earned them another high score of 27.
In the build up to Saturday night's show the Preston born, Good Morning Britain political editor, who is a real ambassador for the county, said this week's performance was in dedication to the entertainments industry 'which has been brought to its knees' during the pandemic.
Ranvir, 43, and Giovanni, 30, who performed to She Used To Be Mine from Waitress, have been praised by judges and audiences alike for their connection during routines.
But it is the Preston star's transformation in the weeks particularly around her body image and self-worth that have endeared her to nation, particularly women and single mums who have found her northern spirit so inspiring.
Speaking to the Lancashire Post, Ranvir says the journey of self-discovery wasn't something she had really considered when agreeing to take part in the long-running family show.
She says: "I do feel different, week by week less afraid, saying to myself 'stop, come on you don't have to be afraid of everything all the time.'
"It's taken a lot of an internal push because the thing I've found out, is that it is beyond the routine.
"Learning the steps I can do that in two hours as it turns out - it is everything else, the confidence, anxiety. Even Giovanni said early on you've got the steps, sometimes with me it's like driving a car, he wants to put the accelerator down because he knows I can go better and faster but I block it because I doubt myself all the way through.
"So there is this element of really having to learn to trust your self more, stepping into your own power.
"It's been a really interesting journey in that sense, it's a lot more than learning a dance and I never anticipated that."
Single mum-of-one, Ranvir, who grew up in Preston and attended Kirkham Grammar School before both Lancaster University and the University of Central Lancashire, where she trained in journalism, is a familiar face to many in the region after joining BBC North West tonight as co-presenter alongside retired host Gordan Burns in 2007.
Ranvir adds she has been overwhelmed by the response, from the county but also nationwide, thanks to her honesty over her vulnerabilities.
"I've had loads of lovely messages from people watching, other mum, single mums, women in general and I can't tell you how nice it is to hear how they recognise something of themselves in my own doubts, in my own fears exposing myself in the ways I'm learning to push my body.
"We as women become organisers, using our brain, organisational skills, always for others, planning our own day to day, working hard.
"All of a sudden it was putting a stop to all of that and it really was just about 'you', a very, very strange and alien land for me. It's never about 'you.' All I'm now "thinking about is how my body feels and what it can do, hour after hour.
"You get used to not caring about yourself, jogging bottoms, I'll wear yesterday's top..... It's been quite a revelation.
"Allowing that space to reclaim a part of yourself and think 'yes I do deserve this.'
The race for 2020's coveted Glitterball trophy now heats up with the line-up for next weekend's Strictly semi-final now known.
Ranvir and Giovanni will take to the dancelfloor alongside remaining couples Jamie Laing and his partner Karen Hauer, who survived the dance-off, Bill Bailey and Otsi Mabuse, HRVY and Janette Manrara and Maisie Smith and Gorka Marquez.
Strictly Come Dancing Saturday at 7pm with the results show on Sunday at 7.30pm on BBC One.
Good Morning Britain returns on ITV weekdays from 6am