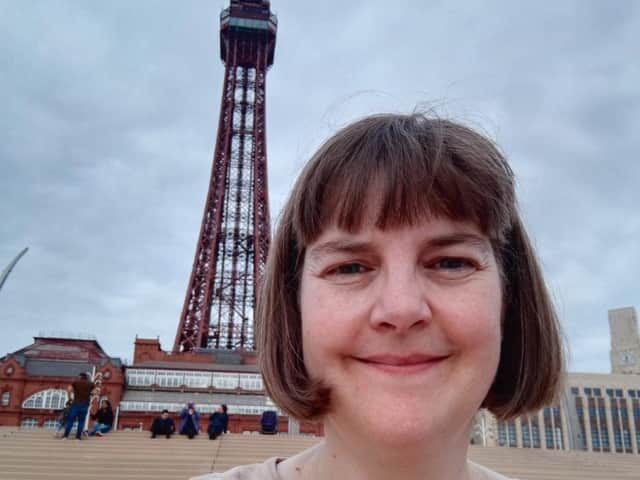 Lancashire author and former journalist Susan Brownrigg
'Gracie Fairshaw and the Mysterious Guest' is the debut novel of Lancashire writer Susan Brownrigg, who has penned some of her favourite childhood memories in the fast-paced mystery set in the resort in 1935.
Former journalist and sub-editor Susan said: "I loved visiting the Tower, especially the aquarium and circus, the Illuminations, the Pleasure Beach and going for rides along the seafront on the heritage trams.
"Blackpool is a magical place with a fascinating history.
"When you think of the seaside you think of golden beaches, piers, sandcastles, donkey rides – and Blackpool has all this and more including some wonderful seaside architecture"
Susan, who now works as a museum and learning community manager and lives in Skelmersdale followed in her main character's footsteps and studied back issues of the Gazette and Herald on microfiche in the History Centre
Susan said: "When I discovered a 15-year-old girl, Railway Queen Audrey Mosson, had switched on the Illuminations in 1935 I knew I had the setting for my book.
"The Gazette provided so many useful articles (especially the children's page) so I could create an accurate version of Blackpool in its heyday.
'Gracie Fairshaw and the Mysterious Guest' will be out in July and is Susan's debut novel
"I then set about visiting all the places Gracie, my heroine, would have discovered.
"I spent many happy hours in the Tower Ballroom, went on the Grand National and Hiram Maxim Flying Machines at Pleasure Beach, strolled along the piers and travelled on a heritage tram.
"I also enjoyed guided tours of the tram depot, Town Hall, where the Switch-on used to take place, and Lightworks to learn all about the illuminations. All that sea air, naturally gave me an appetite so I also sampled some delicious seaside fayre, including fish and chips and traditional sticks of Blackpool rock."
Susan has teamed with award-winning independent, trade children's publisher Uclan Publishing, based at University of Central Lancashire in Preston to release the book.
Susan Brownrigg's book is based on her childhood memories of Blackpool
She added: "I am delighted to be published by Uclan Publishing. I have really enjoyed working with the MA students, illustrator Jenny Czerwonka who designed the cover, and the editorial team have been absolutely fantastic."
'Gracie Fairshaw and the Mysterious Guest' is published on Thursday July 2 2020 and is available for pre-order from all good bookshops.