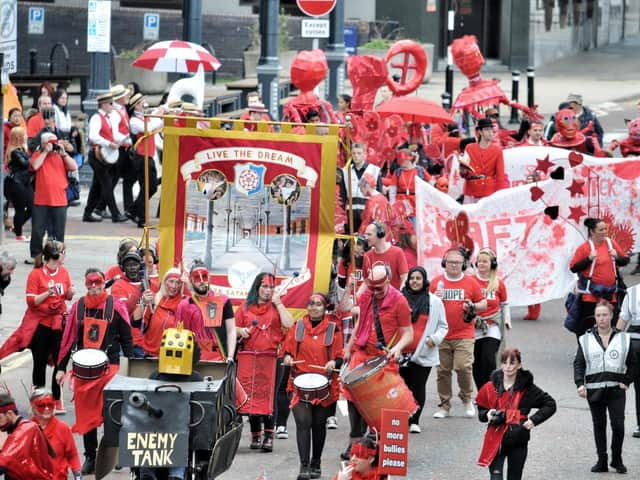 Red Dream Parade, the culmination of the Lancashire Encounter Festival in 2018 Picture: Julian Brown
Lancashire Encounter 2020 was scheduled for September 18 - 20 with new dates for the festival now September 17 - 19, 2021.
As part of the Encounter preparation, there is a large amount of outreach work and development required to produce the performances presented at the festival, and due to the restrictions on movement and gatherings this work has not been possible.
Online activity will start again towards the end of this year and, once restrictions are lifted, the festival preparations will kick into full swing. There will be opportunities to participate, create new work, get hands on and even join the festival volunteer team.
Coun Matthew Brown, leader at Preston City Council, said: "This has been a difficult decision to make, but in many ways it has been taken out of our hands by the ongoing uncertainty that we face as a city, a region and as a country.
"It is not possible to plan for the delivery of an event on the scale of Lancashire Encounter with such uncertainty surrounding mass gatherings in the coming months as the safety of the public is our main concern.
"However, I'm confident in the teams and community groups and organisations across Lancashire that the festival in 2021 will be amazing and something we can all look forward to."
Details will be posted at http://www.lancsencounter.co.uk/