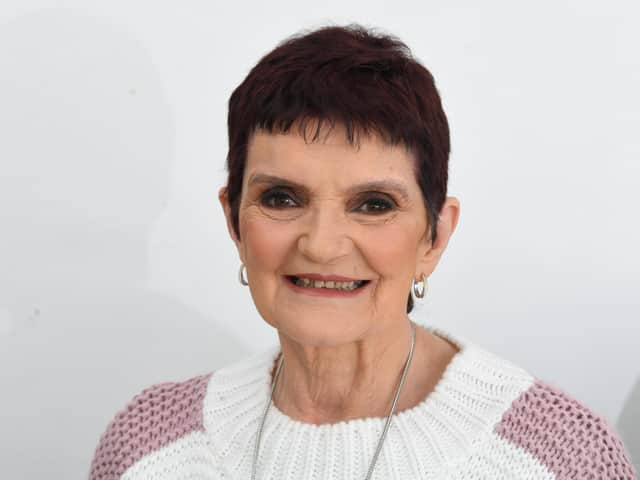 Anne Nolan
And it's no surprise after what the longtime entertainer, member of family pop group The Nolans, describes as one of her toughest years, after a second diagnosis of breast cancer.
But in a both an extraordinary and tragic twist, younger sister Linda too would be forced to undergo treatment after the spread of the disease to her liver.
Both sisters were told the news just a week apart in spring of 2020.
Linda and Anne Nolan 'Stronger Together'
This week, exactly a year since Anne, 70, first began chemotherapy for breast cancer, the sisters have published a 'warts and all' memoir of their cancer journey entitled Stronger Together.
The book is the result of multiple phone interviews with author Sarah Robertson, which the pair described as both "emotional and cathartic".
Anne, who lives in Blackpool says: "This isn't the first book I've written, but it's different to the autobiography as this focuses on our cancer journey; not our life story, more our lives with cancer and that's a slightly different thing.
"I'm not a writer, Sarah put it all into book form but I'd sit and speak with her for three hours and then she'd speak to Linda but I remember thinking each time I'd come off the phone 'I'm so exhausted' – emotionally and physically – it was tiring and I think especially going back through, over the whole process because I was so ill for that time."
Linda and Anne Nolan this week following release of their new book
Linda, 62, adds: "Both Anne and I said when we agreed to do it, it had to tell the real-story, warts and all. We'd both written books before on our lives but this was very much our experience with cancer.
"We're not medical professionals but it's there to be informative, answer some questions and acknowledge cancer is a journey and we all walk very different paths with it.
"Life isn't always a bed of roses – we wanted for people with their own cancer experience to be able to relate and for others to understand."
Anne, who suffered extreme anxiety throughout her treatment, and also endured an isolated stay in Blackpool Victoria Hospital, says: "It's funny I had my eyelashes done this week – as I was led down I was suddenly thinking 'gosh this time last year I was starting my chemo and it seems like an eternity ago really – in one way it seems like an eternity and in another it seems just yesterday.
Linda and Anne Nolan after completing their chemotherapy treatment
"It's great to have that feeling it is over a year now and I have my moments of course, when I still get tired but I'm really quite well at the moment so I'm just so grateful."
Mother-of-two Anne was first diagnosed with breast cancer in 2000. Younger sister Bernie lost her life to the disease in 2013, aged 52.
Anne described how she would then find a lump exactly 20 years on from being first diagnosed.
Unbeknownst to the wider family at that time Linda had also had confirmed by consultants her cancer had returned, in her liver. While treatable, it is incurable.
The sisters found great strength in each other and say they are thankful that they were able to undergo their chemotherapy side by side at Blackpool Victoria Hospital.
Anne says: "Cancer is a funny thing – even though they can't find signs of it now – I still have to take immunology drugs to stop it coming back.
"Realistically, and I'm not stupid, just because they can't find it doesn't mean it won't ever come back because I had it 20 years ago.
"But it's nice to know it's not there now and I take the medication to prevent it coming back which is fantastic and hopefully, I'm 70 years old, I'd like to live another 20, but every year is a bonus and honestly I'm just grateful for that."
Anne talks openly of the 'horrendous time' during her treatment as the Covid pandemic entered its first wave and the nation was forced into lockdown.
It meant that, with the exception of her treatment with Linda, she was isolated from the rest of her loved ones and it impacted her greatly.
She says: "It was absolutely horrendous, well for everyone but speaking from my own experience. The first time I had cancer I was able go out to restaurants, the theatre, watch Blackpool play football and I was able to do all of that.
"This time because of Covid I couldn't step outside the door because we told if we caught the virus, it would be fatal with no immune system. It made it 100 per cent harder than the first time.
"I had never suffered with anxiety, my whole life and I just couldn't understand it – it was awful. I was just so scared of it because of the chemotherapy and just this thought of being vigilant, constantly.
"I know from having had the medication and speaking with psychologists it was totally brought on by Covid and chemotherapy and that isolation from everything and everyone.
"I was in a ward on my own – the door closed and the only person allowed in were the staff to give me food and administer my medication.
"But they were so amazing at the hospital at the time and now. They were so kind and considerate and helpful in spite of everything they were going through themselves – they were brilliant in such difficult times.
"Life with cancer is different for everyone.
"But I remember a lady a bit older than me coming to the end of her treatment saying early on 'You will have heard this before but honestly there is light at the end of the tunnel – you will get there'.
"It's not until you get there, you realise there is but you do get there.
"To get the news from the doctors that I had no signs left of cancer – it was such a great feeling. But I still have moments. I'm 70 years old, I want to enjoy every moment with my family, my grandchildren."
Anne says whilst it was difficult she and Linda were also grateful for the distractions and opportunities their work through their TV series At Home with the Nolans afforded them along with a greatest hits compilation album and the book : "If it wasn'tfor the cancer we probably wouldn't have done half the things we have, we have done loads.
"Cancer makes you think differently – I'm probably doing more now than before and enjoying things more.
"Every moment with my grandchildren is an absolute joy – watching my grandson play football. I just appreciate it all so much more. I think a lot of people do, not having necessarily been through an illness but just coming through the pandemic. It has taught us things
"So yes, what I wanted from the book was to give people with cancer hope. You can come through it, no matter how hard it seems. Just a message to people to live and love everyday as you want to live it – in the way that makes you happy.
"I hope it will also answer some of the very normal sometimes unasked questions about cancer and I hope it will help families on other side going through it all too."
For now Anne is anticipating all those everyday simple pleasures for which so long Covid and cancer put on hold.
Anne added: "What I've said so many times is how I feel so lucky to live in Blackpool. To be able to step onto beach or 10 minutes into the countryside. I can't wait to be watching Blackpool play again, taking the grandchildren to the Pleasure Beach and the cinema."
Linda and Anne's story, Stronger Together, is out now in Waterstones