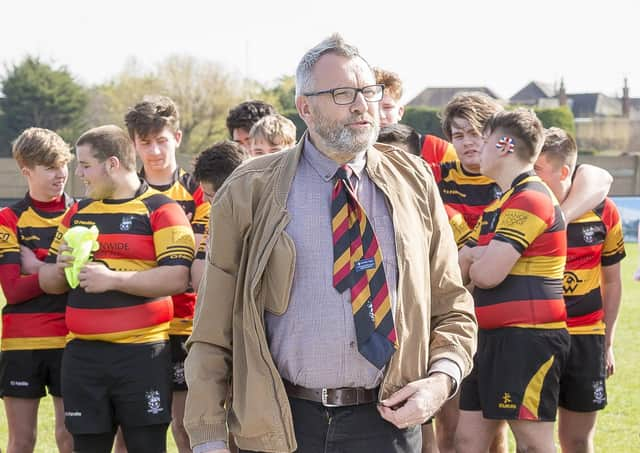 Graham Ellis (photo courtesy of Angus Matheson from Wainwright & Matheson Photography)
His dying wish was to raise thousands of pounds for his local NHS hospitals in Southport and Ormskirk by launching a virtual South Pole expedition, and to raise awareness of the rugby club.
Ellis played a huge role in the successful redevelopment of the club, and was famous for proudly wearing his colourful club ties, club colours waistcoat, and his panama hat.
He was a successful chartered surveyor who worked on projects all over the country.
On Wednesday, July 1, he was due to appear at Southport Rugby Football Club to officially launch The Ellis Expedition, a virtual challenge which will see members of all ages at the club run, cycle and walk for a total of 16,000km – the equivalent of Southport to the South Pole – to raise money for the Southport and Ormskirk Hospitals Charity.
A rugby club statement said: "It is with great sadness we report the passing of club president, Mr Graham Ellis.
"Graham passed on the afternoon of the 29th of June 2020 after a prolonged period of illness. "We will remember Graham as the Gentleman of Southport Rugby Club who has been at the forefront of club success for a number of years.
"Our thoughts and all of our love go out to wife, Anne and his three children Jack, Megan and Hugh."
Members of the club and people who knew Graham are now preparing to take on the Ellis Challenge in his memory.
Last week, Graham revealed how his dying wish was to raise thousands of pounds for his local hospitals and raise awareness of his beloved rugby club.
He was given just months to live after doctors at Queen Elizabeth Hospital Birmingham turned down the possibility of a life-saving liver transplant.
Graham was subsequently transferred to Aintree University Hospital in Liverpool where a palliative care package was put in place.
Graham said he was so grateful for the care he had received from the NHS that he wanted to use his remaining time to raise as much money as he could for the Southport and Ormskirk Hospitals Charity.
Speaking last week, Graham said: "I don't want people to be sad for me, be glad.
"The staff at Aintree University Hospital are brilliant. Nothing is too much trouble for them. I am very well looked after here."
Colin Toohey, a senior player and former club captain who himself started at Southport as a youth player, came up with the idea for the expedition.
He said: "We have been discussing as a club what we could do and who we can help.
"People have been doing different bits to raise money for charity during the coronavirus lockdown but I thought there must be something we could do.
"So I thought 'Southport to South Pole', I wonder how far that is? How hard could it be? Could we do it?
"The whole club will be doing the challenge, from the under 5s to people in their 70s.
"We all want to say a big thank you to our NHS, and we want to do it for Graham.
"He has overseen massive changes at Southport Rugby Club and we want to say thank you for all that he has done for the club."