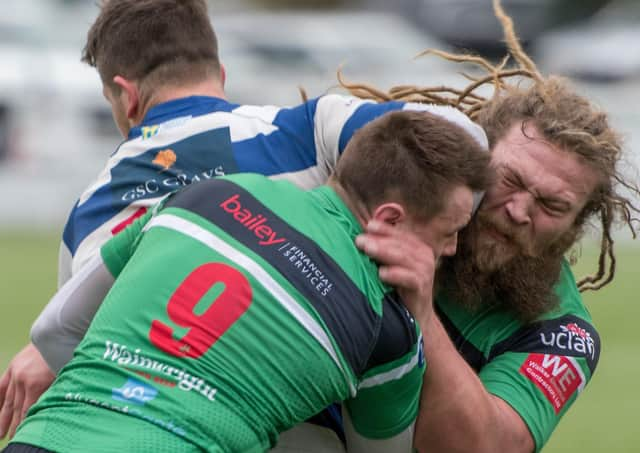 Hoppers (in green) make a tackle against Tynedale (photo: Mike Craig)
Preston Grasshoppers' departure from National League Two North looks increasingly inevitable after their 14th defeat of the season.
Head coach Paul Arnold was in hard-hitting mode following this seventh home defeat.
He said: "The writing is on the wall. It's time for a clear-out and a reboot.
"This gives us nine games to blood some lads and I want to look at bringing in home-grown players who believe in the Hoppers culture.
"Some of the decisions out there today were not good enough if you have pride in the shirt. This is not going to be a season that defines either the coach or the club. I want to see pride and passion in that shirt and I am going to start looking at blooding a few players from next week."
Ironically, Hoppers had plenty of chances to keep themselves in the game, with loads of possession and good attacking positions. But far too many errors crept in.
"We were comfortable for 30 minutes," said Arnold. "But then there was a big turning point when we lost three line-outs in a row and they got a try right on half-time. We let our heads drop in the second half."
The host's chances were looking good at 7-7, but mid-table Tynedale scored the next 22 points and it was curtains for Hoppers' hopes, with only a consolation try with the last play of the game.
Hoppers started badly, almost giving up a score in the opening minute when a sloppy pass was picked off in midfield, needing a cover tackle by Jordan Dorrington to rescue the situation.
It was only a brief respite as Tynedale fly-half Jake Rodgers went over from close range and converted his own try, but Hoppers regrouped and a fine run by Ben Dorrington established the attacking position from which Olli Trippier was driven over after a line-out catch by Ally Murray.
Tom Davidson's conversion levelled the scores and Hoppers kept up the pressure, especially with Tynedale hooker Dave Batey in the sinbin, until those vital lost lineouts gave the visitors a foothold in the 22, from where prop Mike Hughes romped over. Rodgers converted for the half-time lead.
After the break, Hoppers' handling errors mounted but they kept the visitors at bay for 15 minutes until scrum-half Mat Outson darted over from a ruck on the line, with Rodgers again converting.
Still Hoppers tried to attack but an ill-advised chip through by Davidson was easily picked off behind the Tynedale line and the visitors raced down to the other end for a killer try by winger Guy Pike.
There was a second yellow card for Tynedale – prop Mike Hughes the offender – but again Hoppers could not make the extra man count in the few minutes before Dorrington joined him in the sin-bin as Preston defended desperately.
Rodgers extended the lead with a penalty after Dorrington's offence and even a strong run by Sam Stott came to nothing, with the offload not going to hand.
As the clock moved into stoppage time, Rodgers missed a long-range penalty and the final word went to the hosts, with Murray scoring a close-range try converted by Nick Gregson.
Hard hit by injuries all season, Hoppers remain next to bottom, with the gap to safety getting wider. Stand by for a changing of the guard in Arnie's army.