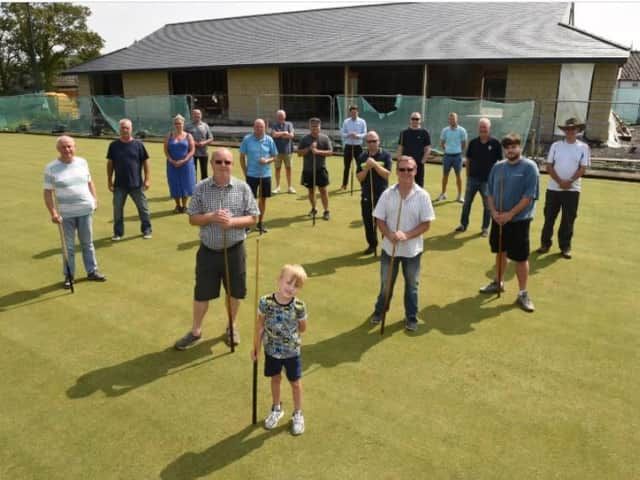 Snooker players protest they have been potted from their village hall.
Three teams in Much Hoole say they will be potted from the local leagues because they won't have anywhere to play home matches.
And the cueists have now sounded an urgent SOS (Save Our Snooker) after almost 100 years of the sport in the village near Preston.
" We can't believe what's happened ," said John Leak who turns out for the veterans' side. "We've had two tables in the old village hall for donkeys years and they are very popular.
John Leak claims two snooker tables were originally in the plans for the first phase of the new village hall.
"But we've now been told there won't be even one table in the first phase of the new building, let alone two. We will have to wait for phase two to be completed.
"Goodness know when that's going to be - if ever - because we will need to raise another £300,000 or so. So it looks like we're well and truly snookered."
Replacing the village hall has been discussed for the past 30 years. Work finally began on building a new one in March.
"It was always the intention that the new building would provide at least the same, but ideally better, facilities than the present building," explained John.
Taking shape . . . the new village hall is well underway.
"The committee decided to build it in two phases because we wanted to get cracking on it. But after looking at the plans, there won't be any room for snooker tables until phase two.
"Our vets' team will have to pull out of their league because the stipulation for clubs is two tables. And our two other sides will probably have to leave their leagues too because it just isn't practical to play full matches on just one table.
"We have suggested to the committee that they try and keep part of the old village hall open and put two or three tables in there as a temporary solution until phase two is built. But it seems they are even against that.
"There has been snooker in this village for almost 100 years. The village hall was built in the late forties or early fifties and about 40 years ago we added a second table.
"It will be a crying shame to see our three regular teams disbanded because we don't have anywhere to play."
Village Hall chairman Howard Davidson explained that between £700,000 and £800,000 had been raised over a long period, including grants from the district and parish councils, but that would only pay for a new scout hut and phase one of the hall.
"We've been fundraising for a long time to get to this stage, but we found people were getting donation fatigue. People were asking when it was going to be built and so we decided to do it in two phases so we could get something off the ground.
"Originally we were going to put two tables in the first phase, but our architect advised us we didn't have enough space to dedicate solely to snooker.
"The snooker players said it would be no good to them if there was only one table in phase one - it would be neither use nor ornament - and so we decided to omit it from phase one altogether.
"It is our intention to continue fundraising for phase two and have two snooker tables in that. But that is going to take at least two to three years.
"We've tried, and I'm disappointed we can't put snooker tables in there at the moment. But we have to look after the long-term financial viability of the new village hall and snooker tables just don't bring in very much revenue.
"In the long run they will get what they want, but just not yet."