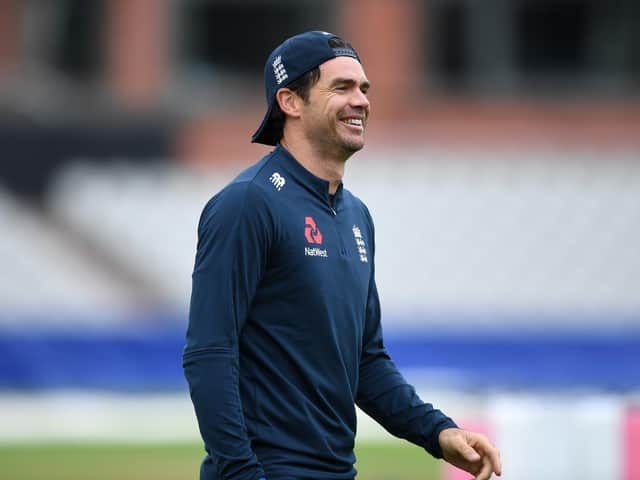 James Anderson of England looks on during a England Nets Session at Emirates Old Trafford on July 22
The pair first played together in 2008 in New Zealand, and have gone on to become England's top two Test wickettakers of all time, Anderson on 587, and Broad taking his tally to 491 after this weeks win in the second Test against West Indies at Old Trafford to tie the series.
The third Test, again at Old Trafford, starts on Friday, and Anderson, having been rested for the second meeting, is itching to get back on his home ground and push towards 600 Test wickets.
Last year, former England captain Michael Vaughan wondered whether the pair will spearhead the attack again, saying: "I don't think it is right both of them play now.
"It might be that Broad plays one series and Anderson plays one series.
"They are not going to like it, but they are at that stage of their careers where England are going to have to manage the combination very smartly."
Asked whether we might have seen the end of the pairing, Anderson said: "I really hope not, our record together speaks for itself.
"I'd really like to think if we're in a situation where we're both fit and England are picking their strongest bowling attack, that we'd both be in that.
"Obviously there will be moments in the future that we're not bowling together, which has happened this series already, it's happened in the last two years, naturally through injury or resting, so it's going to be difficult going forward, I don't think we're going to play every game together, but I'd love to think we've got plenty more games together in the future.
"You always want to be in that best team, that's all I've ever tried to do, same with Stuart, work hard so we're bowling well enough to be at the forefront of the captain and coach's mind when they're picking that team.
"We want to be the first two names on the teamsheet.
"All we can do is keep working hard, taking wickets as Stuart did this week - he bowled brilliantly, especially after the disappointment of not playing at Southampton.
"All we can do is keep working hard and hope we get picked."
Broad was left out of the first Test defeat in Southampton, with Anderson, Mark Wood and Jofra Archer selected, and he admitted he was "angry, frustrated and gutted", before returning in Manchester as England rotated their fast bowlers.
Broad was described as being dropped, and Anderson rested, and the "Burnley Express" explained: "I was told I was rested because of the workload spike, and the last couple of years, looking at getting the best out of not just me, but the rest of the bowlers in a short Test summer, we thought that was the best way of doing it.
"Mark Wood was rested as well, and I'd say the difference is that they didn't play any cricket before that first game, it was quite clearly just a selection."
Asked whether there was any indication he will play the third Test, he added: "No, we've got two practice days now and I'm sure it's going to be a difficult decision, and there will be some disappointed guys.
"I don't think anyone's expecting to play, or nailed on in the team, we've just got to work hard over the next couple of days and hope you get the nod from the captain and coach on Friday.
"I can deal with it (being rested) now better than I could do a few years ago, looking at the bigger picture, I want to be around when we go to Australia for the next Ashes, so to be able to do that, I've got to be able to do things slightly differently, and it might mean missing the odd game here and there to make sure I'm in the best possible situation.
"I want to keep bowling and keep my form, but I also want to look after my body as much as I can as well.
"But I'm a bit more open to it now than I was say 10 years ago!"
And after a break, does he feel he can play back to back to back Tests?: "Yeah, absolutely, the difference this series is that we've had no cricket coming into it, absolutely no preparation.
"A three day game between ourselves, which isn't really preparation for almost a six-match Test series.
"We're working really hard with the medical team and coaches to make sure we manage each and every one of us, it's not just myself and Stuart, there are six or seven world class bowlers in this group, so we're making sure everyone is in the right place and right frame of mind to go out and bowl their best for England if they're called upon."
Anderson believes the competition for places in the attack is as strong as he he has experienced in a 17-year Test career: "It probably is (as fierce as I've known), for one reason or another, usually you don't have everyone fit or available for selection, so to have as many bowlers as we do available and bowling well, it's healthy competition.
"But obviously there are going to be some disappointed guys this week.
"There's three spots up for grabs and there's probably six or seven guys who could fill those.
"It's a good position to be in, because it shows we've got strength in depth, but I'm sure now we're in a position where we've rested guys and with the guys playing this week, we can now pick our best three going into this game wanting to win it.
"I presume the best three bowlers are going to play."
Ben Stokes will supplement the attack, as well as looking to continue his all-round heroics from the second Test, where he hit 254 runs and took three wickets.
Stokes now tops the world rankings as number one all-rounder, the first Englishman to do so since Andrew Flintoff in May 2006.
And Anderson feels he could be England's greatest ever, overhauling his old colleague Flintoff and Ian Botham: "It's hard to say how good he is because it's hard to find the words, I saw Joe (Root) say the other day 'we're in the presence of greatness' and he's spot on.
"The fact he could get into any team as a batsman, without his bowling and fielding, speaks volumes, his bowling is getting better and better every time he goes out there.
"He could get into a lot of teams' bowling attacks as well.
"It's amazing to have that talent in our team and to be able to watch it first hand is amazing.
"After a week where he's pretty much done everything, he's chasing balls off his own bowling, batting most of the two innings, and getting wickets as well, it can take it's toll, so we've got to look after him and make sure we keep getting the best out of him for as long as possible, because he's certainly the best all-rounder I've ever played with.
"I think he's becoming the best all-rounder England has ever had.
"And there's no reason he can't go on and be even better.
"Averaging in the 40s with the bat, with the ball in the 30s, and taking spectacular catches, it's incredible we've got him on our team and it's a pleasure to watch."