High-flyer Hannah loves thrill of kitesurfing across the globe
Whether it is an unexpected gust of turbulence or a danger lurking beneath the surface, Hannah Whiteley is all too aware of the perils associated with her sport.
Watch more of our videos on Shots! 
and live on Freeview channel 276
Visit Shots! now
​The renowned kite-surfer, a former world champion who hails from Lancashire, has spent much of her 31 years on this Earth performing some death-defying stunts at some of the most famous and iconic shores around the globe.
Avoiding the Great White Sharks in Cape Town, or surviving the freezing snowy temperatures of Norway or coping with the gale-forced winds on the coast of the Atlantic Ocean, Whiteley is in no doubt of the risks involved.
Indeed, some of her most hair-raising experiences have happened right here on the Fylde coast.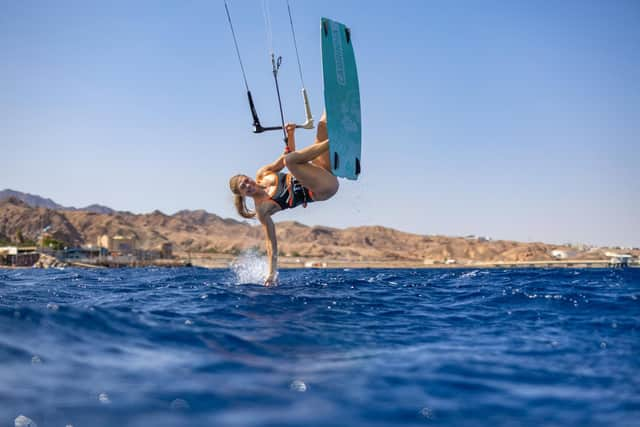 Encouraged to take up the sport by her dad Peter – a five-times former British champion – Whiteley was saved by a complete stranger who prevented her from crashing into the pier on Lytham beach when she was just 10-years-old.
And only a few years ago, the RNLI had to be called out to rescue her after she had gotten into difficulties in Fleetwood.
Despite all the close shaves and mishaps, nothing will get in the way of her love for kitesurfing.
Her penchant for the extreme sport has provided her with a jet-setting lifestyle and made her a high-profile social media star with thousands of followers on Instagram.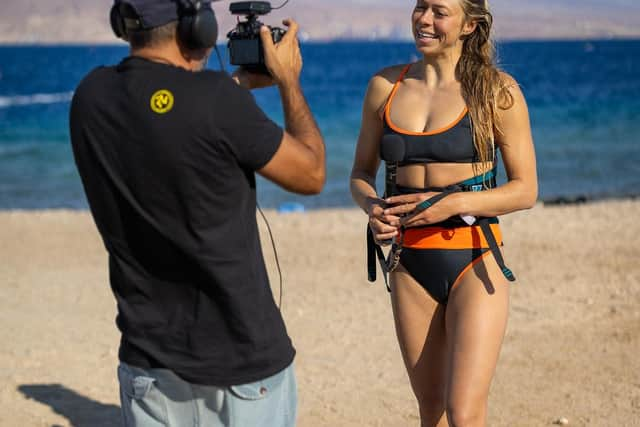 "I love to kind of push myself and get out of my comfort zone," Whiteley said.
"I do definitely get scared when I am doing the big discipline and I am going out there in super-strong winds.
"It makes me nervous but I know I am very focused and know that I have put in the time and training to do what I am doing.
"Kite-surfing is an extreme sport and things kind of can go wrong, but every risk you take is calculated.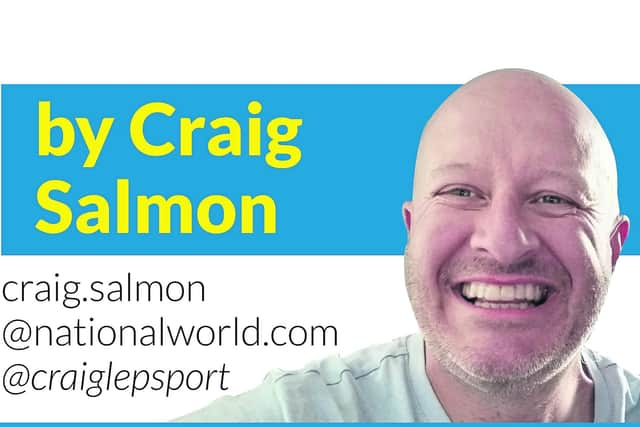 "Some of the things I might do, might look insane but they are what I have been building up to doing so it's kind of naturally going out of your comfort zone."
Despite her resilience in the most testing of circumstances, Whiteley admits she did have a few doubts when she arrived in Cape Town, South Africa, and saw a huge shark hauled out of the water.
But for the Lytham-based daredevil, she views competing in shark-invested waters like buttering a piece of bread which has just come out of the toaster.
"I know there are lots of sharks in Cape Town," she said. "But somebody told me a fact which always sticks in mind – there are more people who die from toaster-related incidents than a shark attack.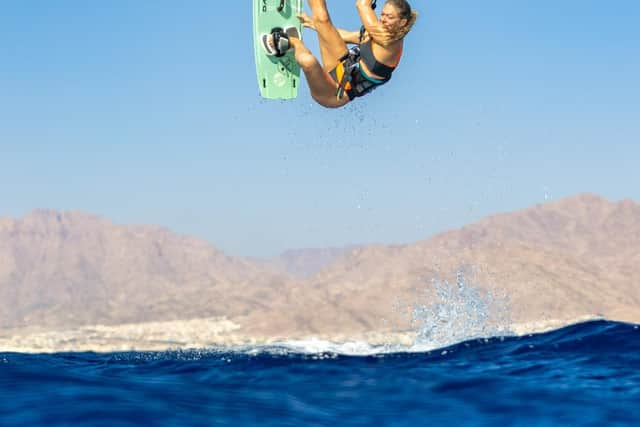 "I remind myself of that but the fishermen in Cape Town, they call the kite-surfers fly-fishes. We are jumping up and down above the sharks.
"I have never actually seen one but that doesn't mean that they aren't around.
"I think if I did see one while I was in the water, it would give me the shivers."
Whiteley reached the pinnacle of her sport in 2017 when she was crowned world kitespeed champion on Masirah Island, in the Sultanate of Oman.
"It feels absolutely incredible to have been a world champion," said Whiteley.
"I got my world title in kitespeed which is one of the disciplines. There are so many different disciplines which I want to progress at.
"I am always hungry for more so when you have achieved something, there is always something else to achieve in a different discipline. It always feels like there is a new goal to achieve."
Earlier this month, Whiteley attended the 'Surfing with Legends' at the kitesurfing hotspot of Eilat, in Israel.
It was a huge event with the best kite surfers from around the world in attendance, giving travellers the chance to watch the world's very best kitesurfers in the flesh.
"Eilat is a little bit under the radar," she said. "But I was quite impressed. It was really windy more or less every day which is perfect for kitesurfing.
"The water colour was beautiful – an amazing turquoise colour with mountains in the background so it was really beautiful. I definitely feel it is going to be hotspot for the sport in the future."