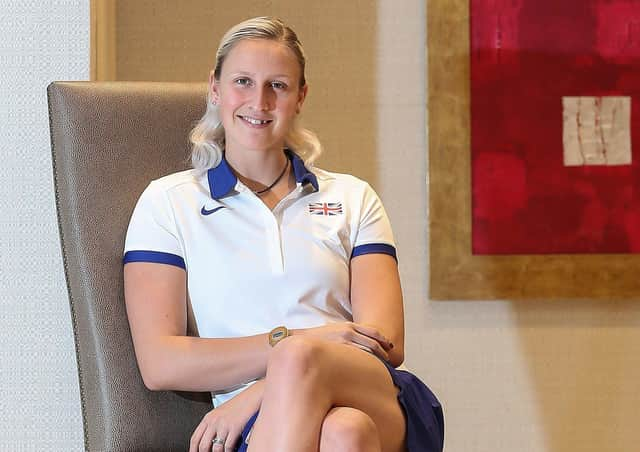 Great Britain's Holly Bradshaw
Athlete Holly Bradshaw has not dismissed the idea of extending her career into her fourth decade.
The 28-year-old pole vaulter– who hails from Euxton – had previously hinted that the Olympic Games, in Tokyo ,could be her swansong as an athlete, especially if she was to achieve her lifetime ambition of winning gold.
However, the outbreak of the deadly coronavirus has forced this year's Games –like all other sporting events – to be postponed.
It means Bradshaw – who is keen at some point to step away from the limelight and start a family with her husband Paul – has had to reconsider her plans for the future.
She has committed herself to compete for Great Britain when the Olympics are rescheduled for the summer of 2021.
And she has not ruled out the prospect of going for gold three years later at Paris 2024.
As Bradshaw pointed out, the pandemic which has swept across the globe has changed many people's outlook. At the moment her only concern is to stay safe and prevent the spread of Covid-19, meaning there is no frustration on her part at being unable to train like she normally would, due to the social distancing and lockdown measures being implemented by the Government to combat the disease.
Ironically, she believes having a year of downtime, even if it is enforced, may prove beneficial toher as an athlete long-term. Indeed having struggled with injuries during the early part of her career, the former Parklands High School pupil revealed that she had already been thinking about altering her plans and prolonging her career.
The last couple of years have been pretty much injury-free and have witnessed some of the best form of her life.
Having claimed bronze at the European Championships in Berlin in 2018, she followed that up by taking silver at European Indoors last year.
Later that summer, at the World Championships, in Doha, she finished just outside the medals in fourth after clearing 4.80m, which was just a centimetre under her personal best outdoors.
It is that kind of form which makes Bradshaw believe that her best years are still ahead.
"I was probably always going to go on until 2022," said Bradshaw.
"So the Olympics being postponed this year does not really affect me, only in that this year is going to be a bit of a down year for me.
"With all of the injuries that I have had, the last couple of years have definitely seen me produce some of my best form.
"The training I was doing before the lockdown was really good.
"I think I am not going to lose the benefits of that training and in a way this year now gives my body a bit of downtime and then I can go until 2022.
"And who knows, maybe I could go on until 2024?
"It's all up in the air at the minute.
"All I know now is that 2021 is now going to be a really big year for me and I can have a little chill this year, keep ticking over, and be ready for the Tokyo Olympics.
"In athletics, we are quite lucky in that there is always a massive competition every year.
"For pole vaulters, the European Championships and the World Championships, they are as big as the Olympics because they are just as competitive.
"For me there is a major Championship every year in the summer so I have a routine of trying to peak for August.
"It just means this year I won't need to peak for August, but I can still follow the same training programme for next year.
"I know some sports, they work in four-year cycles where they are building up for that Olympic year, so I imagine what's happened will affect them quite hard.
"But I as an athlete work in yearly cycles so this year now has to be a down year and everything will get pushed back for next year.
"Maybe down the line this year, there might be a few meets which I can enter, but that would just be a bonus really.
"My aim now is to keep ticking over and come out all guns blazing for 2021.
Bradshaw revealed that before the Olympics was officially postponed towards the end of last month, she found it difficult to know exactly what she should do.
She was almost certain that the Olympics would be cancelled – and rightly so – but until it was confirmed she had to try to find a way of continuing her training.
That would prove to be difficult with sports facilities closing down and the social distancing policy which was put in place by the Governement.
"At the start of it all, I was thinking, 'They can't possibly cancel the Olympics'," she said.
"It just seemed crazy to think that could happen.
"Then everything else began to get cancelled and it started to sink in that it could happen. It was heartbreaking
"But as time went on, the more I came to the conclusion that it had to be postponed because people's health was more important.
"From an athlete's perspective – how are you supposed to prepare for an Olympics when you are trapped inside the house?
"There was so much uncertainty.
"I was trying to train and replicate as much as I could in terms of the sessions I was doing.
"It was actually really difficult and when it was confirmed that they were going to be postponed, it was a mixture of emotions, I'll be honest.
"There was kind of relief that I did not have to go and find somewhere to train, especially with the health risks involved.
"But obviously there was disappointment that the Games had been called off.
"The Government have since said that these measures could be in place for the next six months so it just would not have been possible. I think everything has to be kept in perspective.
"What is happening is really serious – people are dying from this disease and in the grand scheme of things, although sport is my life, the health of everybody around the world is more important."
Bradshaw has been trying to make the best of the situation – even trying to help the general public stay fit by posting pole vault-specific training exercise videos on You Tube.
She said: "Over these past few week, it has been kind of nice to spend some time with my husband.
"We have been doing bits and bobs, trying to tick over .
"I have been training now doing the pole vault for more than 10 years and I have built up a massive booklet of exercises which are relevant to my event.
" I was writing myself a little booklet of what I could do myself each day and I just thought there might be youngsters out there – even people up to my age – who do the pole vault but have not got the experience which I have.
"I thought it would be really useful to help some kids out by posting these live sessions on You Tube. The feedback has been good."