Big Interview: Great Britain's national American football coach Jason Scott
Craig Salmon talks to Preston's American football coach Jason Scott who is the new head coach of Great Britain's national team
Friday, 20th March 2020, 5:00 pm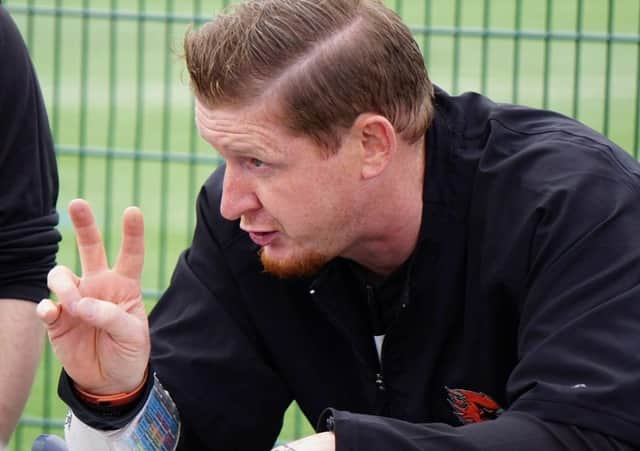 Jason Scott (Pictures: Photo Phoenix)
The scrutiny, the exposure, the pressure; Jason Scott had a host of emotions racing through his body when he stood on the sideline in some of the United State's most cavernous stadiums.
The Prestonian, who grew up in the quaint surroundings of New Longton, was slap bang in the middle of razzmatazz America.
A member of the Mississipi State Bulldogs coaching set-up – one of the US's biggest college football teams – Scott's every tactical decision was open for scrutiny by thousands upon thousands of spectators .
Jason Scott is head coach of the GB National American football team and Tamworth Phoenix
The college American football system is big business – many colleges and universities boast their own football teams, often with dedicated stadiums and their games staggeringly attract attendances in the region of between 75,000 and 100,000.
One step below the professional NFL – the National Football League – the college system develops the game's next big stars.
With its cheerleaders, tailgate parties and homecomings, the weekly autumn ritual of college football forms an important part of the culture in much of America.
Having become heavily involved in the sport while studying both in Canada and at Loughborough University, the opportunity arose for Scott to head Stateside.
Eventually, the former Hutton Grammar School pupil was signed by Mississippi State and he helped the college become the best in America. He was also fortunate enough to play a role in the careers of a host of players who have gone on to become big stars in the NFL.
"When I was at Mississippi State, we had several nationally televised games," said Scott.
"The games on their own attract big crowds.
"I coached in front of 100,000 spectators three times one year.
"We were nationally ranked and were the best team in America at college level at one time and with that comes a lot of pressure.
"Some of the guys we coached have gone on to become superstars in the NFL.
"People like Benardrick McKinney, who is the inside linebacker for the Houston Texans, Preston Smith who is an outside linebacker for the Greenbay Packers and Chris Jones, who is a 
defensive tackle who actually won the Superbowl with Kansas City Chiefs this last year.
"It really was a great time for me. To coach in front 100,000 fans in a nationally televised game is no joke.
"I wouldn't say it was nerve-racking but you certainly feel the pressure.
"I remember thinking at the time I've no right to be here – a lad from Preston coaching professionally in the States, it was awesome.
"We were in the office six days a week, analysing, trying to find a competitive advantage.
"We went into every Saturday, prepared and ready for the test ahead of us.
"A lot of my role was crunching data and drilling down on what the opposition would do in certain situations.
"That breakdown of statistical data allowed us to understand how the opposition wanted to play and we were hugely successful.
"I have done things which a lot of Americans have not achieved and I am hugely grateful of the opportunity. I loved my time in the States."
Having gained so much experience Stateside, Scott returned home a number of years ago looking to impart his knowledge to help the game grow in this country.
He currently works at the University of Nottingham where he is in charge of their American football programme and also is the head coach of one of the UK's top teams Tamworth Phoenix.
In 2017, they became the Britbowl champions, breaking the stranglehold of the more established clubs such as London Warriors and London Blitz.
This month he was appointed as head coach of the British national team.
He said: "I think with the NFL coming over to the UK and spending a lot of time on the international series with games being regularly played at London, the awareness of the game is much bigger over here.
" We have British guys who were playing over here, playing in the NFL now.
"Efe Obada plays for the Carolina Panthers and he is a genuine British home-grown talent.
"There are more teams in the UK than ever before and more access to the sport at youth and junior level.
"The women's game is growing – the GB women's team is the fourth best team in the world.
"I am hugely honoured and excited to take on the role of head coach of the national programme.
"My ambition is to be the best coach that I can be.
"I had a great five years coaching in the States, but I really want to elevate the British game and make it the best it can be.
"That means making GB one of the best teams in Europe."
Scott's immediate challenge is the European Championships with qualifying beginning this year.
GB are in a group with Denmark, Austria and Serbia. Scott's men will play Denmark while Austria face Serbia – the winners of each game will then play off to decide who goes through to the final stages. "Austria are powerhouses – they are one of the best teams in Europe," said Scott.
"They compete in the World Championships every year.
"It's going to be a huge challenge against a team which has their own professional league – they attract American players, who come over.
"The Danes are a well organised team.
"With Tamworth Phoenix, we went into Europe and played the Copenhagen Towers, who are no joke, they are a legitimate team.
"It's a challenge that I am relishing and it's hugely exciting.
"I would be lying if I said it wasn't a daunting task but it is a task that I think we are up to."
One of Scott's earliest sporting memories was playing rugby union in the youth set-up at Preston Grasshoppers with his brother Ed, who went on to play professionally for Fylde.
"I played rugby for Lancashire when I was younger, but I always enjoyed sport," said Scott, who is married to Elena and has three children Malachy, Saoirse and Batrix.
"American football was something I really got into.
"I used to watch it on Channel Four and at the end of my time at sixth form, I got the opportunity to study in Canada at a place called Stanstead College in Quebec, as part of a scholarship.
"That's where I got the chance to play American football for the first time.
"Then I came home to play rugby at Loughborough University but for one reason or another, I moved towards American football.
"I became the head coach and that ultimately opened up opportunities for me to coach in America.
"I went to Endicott College in Beverley, Massachusetts, for four years and then I moved onto Mississippi State University."