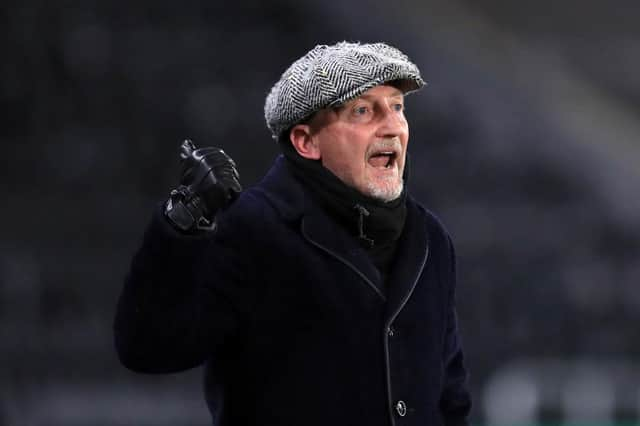 Ian Holloway, manager of Grimsby Town. (Photo by George Wood/Getty Images)
The plan – drawn up in large part by Liverpool and Manchester United – would have constituted the biggest shake-up of the English professional game in a generation, had it come to pass.
Measures outlined in the blueprint included a £250 million up front payment to the EFL, plus a £100 million payment to the Football Association, as well as 25% of the Premier League's annual revenue going to Football League clubs – an increase of 21%.
In return, Big Picture requested that the Premier League be reduced from 20 to 18 clubs, the EFL Cup and the Community Shield be scrapped, the current one-club one-vote principle be abolished, with power instead being handed to the nine clubs that have remained in the Premier League longest (Arsenal, Chelsea, Everton, Liverpool, Manchester United, Manchester City, Southampton, Tottenham Hotspur, and West Ham), and that B-teams be introduced to the Football League.
The plan was unanimously rejected by the Premier League and the FA, but Holloway is still furious that EFL chief Rick Parry gave it his backing in the first place.
Speaking on Sky Sports News, the outspoken boss said: "I am saying I don't trust the people who were supposed to do it. Rick Parry going and talking to two American-owned football clubs, Liverpool and Manchester United, that ain't right, is it?
"Even the Premier League themselves kicked that one out. Project Big Picture, or whatever it was? For me, that was Project Awful Picture.
"Someone should now go in, because he's done that, and actually say, 'Well that's not right, that looked dodgy. Let's have look'. Take control of it, because we need it to happen right now.
"We're supposed to be carrying on. We'll lose teams and teams and teams if they don't give us the money that is in the game. Why should the government have to find loads of money when the game is not governed by them?
"I'd just step in, smash open some doors and say, 'Right, let's have a look, you're not having that, that's going there?'.
"They offered it to us, but they had clauses on the end of it. They wanted to control that. They might have wanted to slip this in, and slip under a B-Team. That ain't right.
"We all deserve to have our football club and keep it moving, no matter what size you are. I've managed at every single level, and who's telling me that top one is better than where I am now? I don't think it is. I think the people love their club just as much as the people at the top, so how dare you? How dare you try and control that when it isn't your place to?
"It's pretty obvious really."
Speaking at the time of the initial proposal, Parry publicly defended Project Big Picture, arguing that it had been designed for "for the greater good of English football".