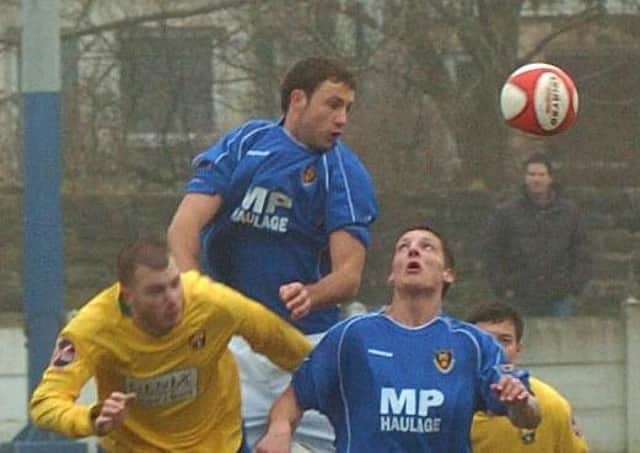 Andy Teague (centre) rises high in his first spell for Lancaster City
The 34-year-old signed on the dotted line at the weekend to become a Dolly Blue once again, nine years after leaving the club for Chorley.
Teague immediately set his sights on winning promotion when the new season gets under way – and banishing the memory of one of the biggest disappointments of his football career.
The former Macclesfield Town stopper – who played 44 times in the Football League before breaking his leg wrecked his full-time career – rediscovered his form, fitness and love for the game during a three-year spell with City from 2008 to 2011.
With Tony Hesketh as manager, City were denied promotion from the NPL First Division North in 2010 when they were beaten 1-0 by Colwyn Bay in the play-off final.
The fact that City finished second, a huge 21 points ahead of Bay in the final league table is still a sore point for Teague more than a decade on.
Having won promotion three times during his time with Chorley, the defender would love to do something similar with City and lead them out of the NPL Premier Division and into the National League North.
"We got beaten on a cold, rainy day at the Giant Axe by Colwyn Bay," Teague said.
"It was a last-minute penalty which beat us.
"You couldn't even see the ball, the pitch was that waterlogged.
"So yes I have a bit of unfinished business. I have always said that I would like to go back."
Before the 2019-20 season was ended by the Covid-19, City certainly enjoyed a decent season in the NPL Premier Division. They topped the table for a period of time and were in a play-off position before the campaign was brought to a premature halt.
"Hopefully that's what I've come in for to try to push the team on again," he said. "They had a decent season last time and the manager Mark Fell didn't really have to sell it to me.
"I already know a lot of the lads. I've spoken to them, people like Brad Carsley, Rob Wilson and the goalkeeper Sam Ashton, who I was with at Chorley, they all said how good it is.
"So I can't wait to get started and try to help the club achieve success next season.
"It's a big club and a great city as well. I am looking forward to the challenge.
"I like to think I've improved as a player in the time since I left.
"I am hoping to bring that experience of the success I achieved at Chorley to Lancaster.
"I have experience of winning these tight leagues and hopefully I can help Lancaster go further."