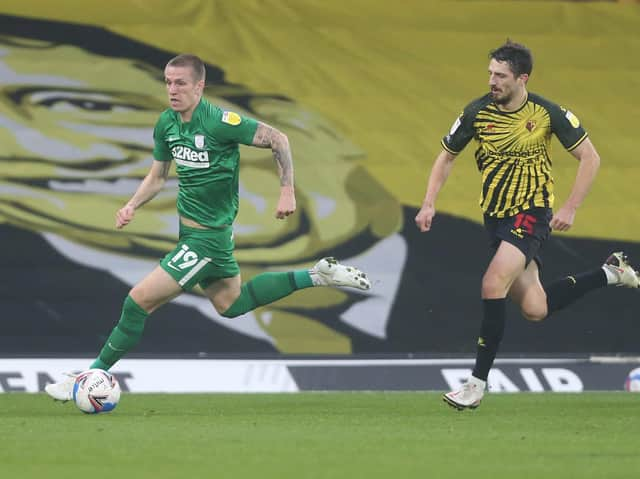 Emil Riis Jakobsen is chased by Watford's Craig Cathcart
When you have eight or nine first team squad players out it becomes even harder and when you don't have a full-back to play - well we might as well have stayed at home.
However we didn't stay at home and for 50 minutes we were in this game and with a bit of luck could have been level.
However when you look holistically at this encounter the facts are that Watford were much classier on the ball and we displayed some schoolboy defending particularly for the first and fourth goals.
Teams like Watford don't need any encouragement at home but I'm afraid we didn't help ourselves and were punished heavily for it.
Was the scoreline harsh on North End? Possibly, but when you don't defend properly and you don't take the two or three good chances you have then there is usually only one outcome against sides who have dropped down from the Premier League and that is a good thumping.
Alex Neil made five changes from the team that started on Tuesday evening against Blackburn with Storey, Davies, Pearson, Potts and Maguire coming in for Fisher Rafferty,Browne, Huntington and Ledson with the first three all being out through suspension.
The manager went with a 3-5-2 not out of choice but out of it being the only sensible formation we could put out with so many injuries and suspensions.
North End started well in first few minutes of the first half with Maguire having a shot early on and in the seventh minute Potts having a stinging shot saved by Foster.
However, just two minutes later the home side were in the lead when an unchallenged cross from the right hand side was forced home at the back post by Quina.
North End's formation was restricting Sinclair and Barkhuizen but as the half wore on we grew in confidence and Bauer had a shot well saved after 24 minutes.
North End had more of the game in the final fifteen minutes of the first half and looked to be able top get at the Hornets defence but couldn't actually make it count. Watford did finish the half the stronger and still left North End with plenty to do in the second half.
The second half started at break neck pace with no changes for North End but plenty of action right from the start.
With six minutes of the second period gone Watford were two up when Storey conceded a poor penalty and Deeney fired straight down the middle past Rudd.
Far from buckling North End got themselves back into the game just three minutes later when a Barkhuizen shot took a huge deflection and beat Foster on his right hand side.
The fightback was short lived though as just three minutes after the Barkhuizen goal the home side went 3-1 up with a sublime goal made by Deeney and scored by Chalobah.
This time there was no way back for North End although a few minutes after the third Hornets goal we had a huge penalty shout on Riis turned down and with that our chance had gone. Rudd made two excellent saves in the space of a couple of minutes, one from Deeney and one from Sarr.
With just over a quarter of an hour to go Watford rubbed salt in the wound when Pedro scored unmarked at the back post after North End`s zonal marking had come unstuck.
Ledson, Bayliss, Stockley and Huntington were brought on at various stages in the final quarter but apart from a Tom Bayliss header North End showed very little and looked mighty glad at the end of the game to only have conceded four.
A tough afternoon for North End and in someways it is a little difficult to put some context around where this leaves us with the managers position. If we had been playing well and then had this result I think most people would have put it down as a one off and being victims of circumstance.
However with the recent home form and a sickening defeat at home on Tuesday evening this certainly doesn't help those in the camp of Alex Neil. To be fair one of our lads had a shocker at the back and we were missing at least three or four who would have played under normal circumstances.
Alex Neil looked weary at the end and watching him touch hands with his opposite numbers didn't inspire me a great deal for the trip to Dorset on Tuesday evening.
It is a big game for North End against a team who also came down from the Premier League last season but it is an even bigger game for Alex Neil.