Tom Sandells' verdict: Bamber Bridge friendly was everything Preston North End needed
Preston North End began their pre-season schedule with a 3-0 win over Bamber Bridge at the Sir Tom Finney Stadium on Saturday.
Sunday, 3rd July 2022, 12:30 pm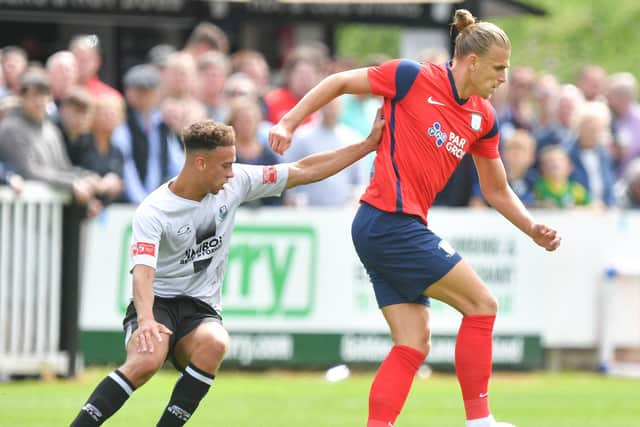 Brad Potts in possession at Bamber Bridge.
It is the tradtional opener for the season for North End, although last year's was rained off and relocated.
It's an excellent way to start the summer, so much about it is what football is not, but at the same time those very same bits are exactly what it is.
Daniel Johnson jostles for the ball.
For those that arrived early enough to watch the 3-0 win on Saturday, they would have seen the arriving PNE contingent having to make their way through swathes of Lilywhites fans.
They were not making a short trip from their cars or coach to the players' entrance, instead they were walking through the same spots the supporters would be watching on from all afternoon.
They would maybe make it a dozen steps at best before being asked for a photo or maybe a quick word if possible.
It's so far away from modern football but also exactly what football is all about.
Josh Seary advances during the game against Bamber Bridge.
Young kids were close enough to shout the players' names and be heard, rather than a tannoy drowning out every syllable whilst the players jogged onto the surface some 10 or 15 meters away.
The surface at the Sir Tom Finney Stadium, as well, was exceptional. It really helped make for a very good game, particularly in the opening 45.
If you're of a PNE persuasion you may not have viewed it as the best from your side, but in terms of it being a close contest, Brig gave pretty much as good as they got.
They did not have much of the ball and, granted, North End could have seen themselves take a lead into half time, but they didn't. Brig's dogged defence paid off and they applied themselves manfully.
In the end it proved too much for a team of semi pro players to fend off almost two full XI's of full time, elite athletes, but the game served its purpose perfectly.
Goals from Ben Whiteman, Ben Woodburn and Mikey O'Neill have Ryan Lowe's side a pretty comfortable win in the end.
There was plenty on show for North End despite a bit of a slow start. The first thing to note was the fortunes of Sean Maguire, who limped off after just seven minutes. Scans on Monday will show the severity of the injury but after a summer of work to make sure he was fit to hit the ground running, it will be a bitter blow for the Irishman who was a little goal shy last campaign.
PNE could not find a flow in the first half and the usually reliable were proving a little hit and miss, Daniel Johnson uncharacteristically misplaced a few through balls that would be unlocking defences a couple of months ago – but this is why we have pre-season.
There is little to learn from team selection, more from squad selection.
Lewis Coulton and Noah Mawene were two of North End's young players to start the game, with Mikey O'Neill off the bench for Maguire early doors, he and Coulton were the only survivors for the second 45 where Aaron Bennett and Josh Seary joined them.
It's a positive sign as Lowe continues to look to blood the academy talent that he rates, after letting others leave. O'Neill will be buoyed by finding the net and so too was Coulton for setting it up.
Bennett played alongside trialist Ben Woodburn in the middle of midfield. The Welshman likely would not be a centre midfielder if he was to sign, but with Alan Browne and Ali McCann taking some extra time off after international duty, he did step in and do a job.
He looked sharp, intelligent and to have good technique. There is certianly a player in there. How often will he appear up against Championship opposition across a 46 game plus season? We do not know, but Lowe will be the best placed to guess.
Everything must be taken with a pinch of salt in pre-season, even more so in the opening game, but a win is a win and the young players on the fringes of North End's squad give reason for optimism.
Lowe spoke post match of his hopes to bring in new faces before the end of next week, they are needed but could also be supplemented by some bright young players, should they not go out on loan to continue their development away from PR1.