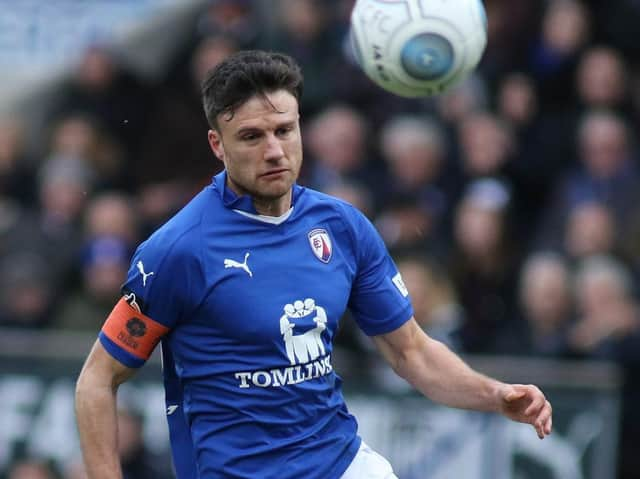 Jonathan Smith in action for Chesterfield
Having taken his fair share of knocks in his bid to become a player in the Football League, the midfielder did not know quite what to think when former maverick Italian star Paolo Di Canio came calling for his signature.
Aged 24 at the time in the summer of 2011, Smith had spent his formative years in the game at Conference Premier level – the top flight of non-league football.
Shown the door by first club Morecambe at the age of 20, and without making a single league appearance in the first team, the former Brownedge St Mary's RC School pupil could
have found himself on the scrapheap.
Fortunately, his old Shrimps boss Jim Harvey handed him a lifeline at Forest Green Rovers.
He quickly established himself at the New Lawn as a player with an eye for goal during a three-year stint. And a subsequent season helping York City finish in the higher echelons of the Conference Premier was just the confirmation Di Canio needed to make Smith's Football League dream become a reality.
The former Lazio, West Ham United and Sheffield Wednesday forward made the ex-PNE schoolboy his second signing after being appointed at the County Ground. But Di Canio required all of his Roman charm to convince Smith to make the move to the South West of England from Bootham Crescent.
"I was desperate to get in the Football League," Smith said.
"I had played against League clubs in the FA Cup and I held my own against them.
"I was desperate to get that chance just to say I had played Football League.
"League Two is not a massive difference to Conference Premier standard but it's just the prestige of saying you have played in the League.
"It was a real drive for me – I wanted to play at that level.
"I just needed somebody to give me that chance.
"When Di Canio came in for me it was a little bit of a strange one.
"I had been at York and done well for them. We had finished high up the league and I knew a few Football League clubs were interested.
"I got a call to say that Swindon had released the clause in my contract.
"I remember thinking to myself at the time,'Who has just taken over at Swindon?'
"Then I remembered – it was Di Canio.
"At the time I was really happy at York. We had a good squad and I was confident that we would be pushing for promotion the next season.
"So I said unless Paolo rings me and tells me why he wants me and what he wants from me, I was going to stay at York.
"I wasn't just going to go there and sit around – I wanted to know that he wanted me and that I was going to play.
"I was on a good thing at York, so to move – even though it was Football League – it had to be right for me.
"Paolo did ring me, he laid out all of his plans and I just knew straight away this guy means business.
"From my first conversation with him, I just knew this team was going to do well."
The Robins certainly lived up their new manager's optimism as they won promotion back to League One and reached the final of the JP Trophy at Wembley, where they lost 2-0 to
Smith was one of the stand-out performers – featuring in 48 games – and he admits working under Di Canio was tough but rewarding.
"His attention to detail was incredible," said Smith, who revealed his dad Billy was a big influence on his career and still watches him play.
"Di Canio was so intense, so passionate. He was an unbelievable guy.
"He was very hard on me, but he definitely improved me as a player and even today, the mentality that I have is from what I learned from my time with him.
"He was very strict. We would train every day and training would be tough.
"We couldn't eat that, we couldn't eat this and we couldn't go out for a night out. It's well documented that he banned tomato ketchup and didn't like us eating any kind of fried food.
"To be fair, because it was my first experience of the Football League, I was happy to do whatever he said."
Smith certainly carried out Di Canio's orders to a tee as the Robins were crowned league champions.
However, if he expected to be handed an opportunity to prove himself in the third tier of English football, he would be sadly mistaken as Di Canio ruthlessly axed him from his plans – selling his promotion winner back to former club York City.
The Minstermen had by then returned to the Football League but Smith's time in Yorkshire would be short-lived as he was loaned out to Luton Town in January 2013.
The Hatters – once a prominent outfit in the old First Division in the 1980s – had fallen on hard times and had dropped into non-league.
But Smith's five-year spell at Kenilworth Road would prove to be the happiest time of his career. It was not without its low points –a serious broken leg robbed him of the final four months of the Hatters' Championship-winning season of 2013-14.
Happily he made a full recovery – returning to play in the club's final game of the season and join in the promotion party.
Over the next three seasons, Smith made nearly 100 appearances for Luton in League Two.
"I absolutely loved playing at Kenilworth Road," said Smith, who is engaged to Lisa and has two daughters Elsie (4) and Alice (10 months).
"I had gone from playing in front of 2,000 supporters at York to seven to 8,000 at Luton.
"It was just an unbelievable atmosphere to play in.
"Luton used to play in the top division and I didn't realise just how big a club it is until I got down there.
"You walk around the town and everybody was Luton mad.
"I just really had a great time there and I like to think I played a part in the club's rise back up the football pyramid. They are in the Championship now and obviously struggling a bit this season, but I had such a good time there."
After leaving Luton, Smith – now aged 33 – had a season at Stevenage before arriving at current club Chesterfield.
He is still hoping to have a few more years playing, but has one eye looking towards the future.
A career in coaching is something that appeals to him, although he has started a sports journalism course.
"It's an amazing job being a footballer," said Smith. "You have to be crazy dedicated to it, but that's what I am. I love it.
"The money at this level is decent enough. It has given me a good life, but we all still have mortgages to pay.
"I am starting to look towards the future, but I am still hoping that I can play for a bit longer yet .
"I feel as fit as I ever have done."
He has played at Wembley, won promotions and featured in some great FA Cup runs, but there is one thing missing on Jonathan Smith's CV – an appearance at Deepdale. A big North End fan, the Preston-born player is hoping there is still time in his career for him to play on the hallowed turf of his boyhood club. For that to happen, it would probably need for his present club Chesterfield to go on a terrific FA Cup run – and Smith lives in hope. "I am a big North End fan – I always look out for the results," said Smith, who is likely to feature for the Spireites against Notts County at Meadow Lane this afternoon. "I have never played at Deepdale and that's the one thing I would love to do before I finish playing."