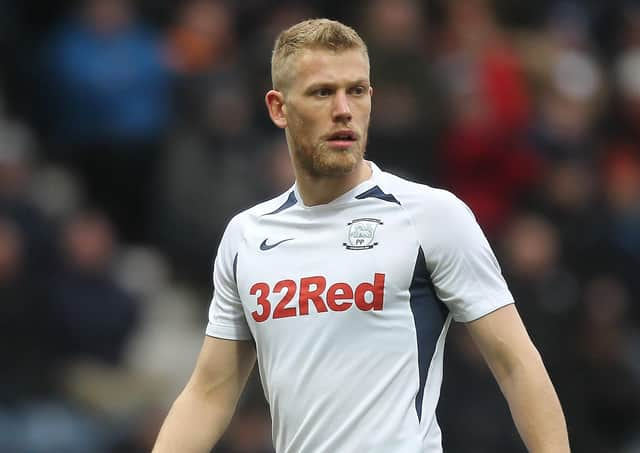 Preston North End's Jayden Stockley
That is the view of Preston chief Peter Ridsdale, who thankfully reported that the PNE striker is fit and well and showing no symptoms despite his postive result.
The 26-year-old had previously tested negative twice for the disease – once ahead of last week's return to training and then after Monday's testing procedure.
His positive test was a result of the third round of testing which took place on Thursday and was confirmed late on Saturday.
Stockley was one of just 10 people from eight different clubs diagnosed with the virus out of 1048 players and staff from the Championship.
All clubs from the second tier of English football returned to training last week under strict conditions.
Players trained in just groups of five maintaining social distancing measures at all times and there was no contact.
"You're never quite sure what is going to happen," said Ridsdale, who is the advisor to North End owner Trevor Hemmings. "
"We are doing the testing for a reason and Jayden's third test came back positive.
"He is showing no symptoms and I think to some extent it reassures everybody on two counts.
"It shows that the tests are done for a purpose and that they clearly work, but also I think there's been a lot of fear engendered in the public that if you get the virus, it's a disaster.
"But you see with fit, healthy, young lads like Jayden that you can have positive signs but not have any direct effect on your health.
"Jayden wouldn't have known that he had it if we hadn't have done the test.
"The lads were in training on Saturday. The doctor was there for two hours and he was available to speak to any of them who needed any reassurance.
"I can't speak for them, but I am told that the lads are reassured by all the procedures in place, starting off with the testing and the basis of which training is being carried out."
Stockley will now undergo a period of self isolation away from the club to prevent the possible spread of the disease.
Ridsdale is confident the former Luton Town, Portsmouth and Aberdeen frontman will not fall too far behind in terms of his fitness.
"All the players had training plans before they came back into training last week," said Ridsdale.
"Jayden will pick that up again from home. He will follow the isolation protocol and hopefully he will be back in to training next week – subject that he is well and he is showing no further symptoms."