'Unbelievable' - Ryan Lowe highlights key factor behind Preston North End's strong start
PNE are fifth in the Championship table after 16 games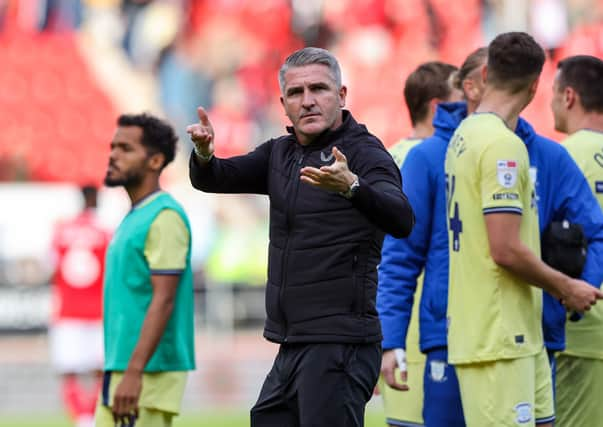 Preston North End manager Ryan Lowe finds himself being impressed every day by the standard of first team training.
It's an ideal situation for a manager to find themselves in and competition at Euxton is pleasing the PNE boss greatly. Having brought eight fresh faces through the door in the summer - all of whom could be back fit shortly after the international break - Lowe's squad looks like his own.
The Liverpudlian has had four transfer windows to shape his side at Deepdale and Preston headed into the international break sitting fifth in the table. It will be a huge task to stay at the top end of a difficult division, but North End's manager could not ask for more from his players day-to-day.
"The lads are all ready and prepared," said Lowe. "It's a trust where, I know anyone going on to the pitch knows their role and responsibility. On a daily basis, they challenge each other and the tempo of training is unbelievable - because they are all challenging to get into the team and they all want to showcase what they are about. I want that to continue, because the group behind the group are just as important as the starting XI."
Lowe had made a similar observation last week, saying: "I always say: 'If you perform to the level expected, you've got more chance of staying in the team' and that is the way I try and work. But, I have told the players that sometimes now, because we can adapt, that tactical changes might be made. And, unless I've got you in my room to show you videos of how bad you've been, then don't take it as a criticism.
"I haven't had to do that with anyone yet, so there is no-one that has played bad enough for me to leave them out of the team or squad. They are all doing as well as each other, but the fact is I have to pick a team I feel is going to win - whether that is changing tactically in terms of formation or personnel. That's my job and I have to make those decisions.
"What I will say is that the lads' attitude and application has been different class. I was sitting with Ledo yesterday in the treatment room, talking about what we've got and the competition for places. Training is not easy-oasy, it's people really wanting to get into the team and that's pleasing for me as the manager - knowing we've got 23/24 players who are all champing at the bit for a start. And I wouldn't be fazed in putting any of them in the team, when needed."