Preston North End writer Tom Sandells says goodbye to the Lancashire Post
After almost four years working for the Lancashire Post, it is time for something new and I will be leaving the paper this week.
Watch more of our videos on Shots! 
and live on Freeview channel 276
Visit Shots! now
It's been an incredible job and truly a dream come true but it is time for something a bit different. I've covered 186 competitive first team games over the last three-and-a-half seasons, with a few more to add on from friendlies, youth team and reserve team games, I would say I've easily brought up my 200.
I've never hidden that I've been a Preston North End fan my whole life, my grandad foolishly passed his love for North End down to my dad and he did likewise.
So, to a point, I knew what I was signing up for when I took my first job with the LEP and North End wasted no time in confirming my suspicions when they conceded a 96th minute winner in my first day on the job. I'd hurriedly got all my relevant information in to the paper to make sure I could start as soon as possible and headed off to Reading with Dave Seddon, now a good friend, for my first match. 1-0 to the Royals.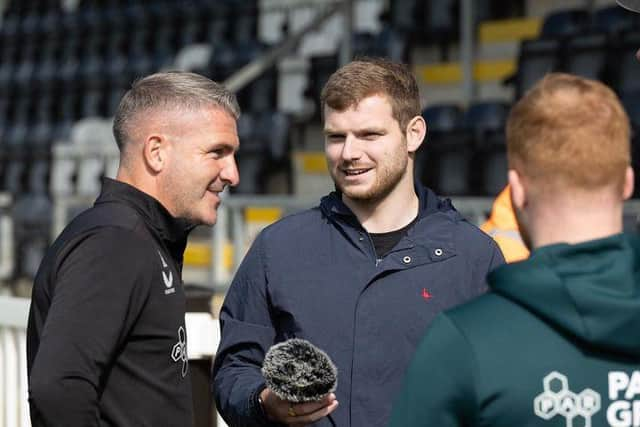 I missed the following trip to Charlton Athletic, due to being new and travel already being arranged, as PNE won 1-0 and went top of the Championship and it took seven more away days before I saw victory on the road.
It was a strange year in the end, my introduction to football reporting properly and shortly after one of the coldest games I've ever experienced away at Barnsley in the January, the country was locked down and Covid football began.
Once normality resumed there was a full season of working alongside Dave and then he opted for pastures new, leaving me to take on the main role as the PNE writer for the LEP.
It was my dream job as I went through uni to get to where I am and I have been very fortunate to have had the role.
This time last year I was in Spain, early into my time in the main role, and that trip will live with me forever. North End playing abroad, hundreds of PNE fans trudging down the hill at Campoamor for the game against Getafe and it's a picture that I took that seems to have lived on after that date. I can always pick it out as there's a fan trying to run out of the picture as I took it!
The highlights of my time in the role over these last 12 months have definitely been the personal aspects to it. It became almost cathartic sometimes to sprinkle in some of my own personal experiences of being a fan and what North End has meant to me and my family. It's something unique to everyone and I hope that some of my pieces in the past have resonated.
One in particular that stands out is remembering my grandad as Gentry Day approached at Middlesbrough in March. He'd had a battle with dementia before we lost him, he lived very close to me and I still hold him very dearly in my heart. The response to the story took me back but it's exactly why we all love football and PNE, it shows the importance too of the human side of football, which can get overlooked at times. Also, in my opinion, the local paper.
The game in Spain will always be one that stands out but also of course the first win over Blackpool in their first of just two season back in the Championship. The noise in Deepdale at the time was incredible and as a North End fan, and reporter, being able to soak it in afterwards with reactions from the manager and the players, it was incredible.
I leave with a heavy heart but I won't be away from North End long and will instead just take my place as a fan instead. I am grateful to everyone I have worked with at the paper over these last few years, likewise at PNE, and I'm excited to be able to sit alongside my parents – who both have season tickets – for the campaign ahead.
Here's hoping there's some signings on the horizon and a big season at Deepdale.