Preston North End manager Ryan Lowe hails supporters after Spain pre-season friendly sparks memorable scenes
Preston North End manager Ryan Lowe has hailed the supporters who travelled to Spain to watch their pre-season friendly win over FC Bruno's Magpies on Wednesday.
Watch more of our videos on Shots! 
and live on Freeview channel 276
Visit Shots! now
Hundreds of supporters flocked to Benidorm as their base for the second time in two years, then descending on the Pinatar Arena to see their side in action.
The scores were level at half time as North End fielded what was largely a first team, a youthful side in the second half, captained by Ali McCann with Dai Cornell, Bambo Diaby and Patrick Bauer in the defence.
Felipe Rodriguez-Gentile, Noah Mawene and Kian Taylor netted second half goals to give Lowe's side the 3-0 win, with memorable scenes following the final whistle as club staff and fans came together.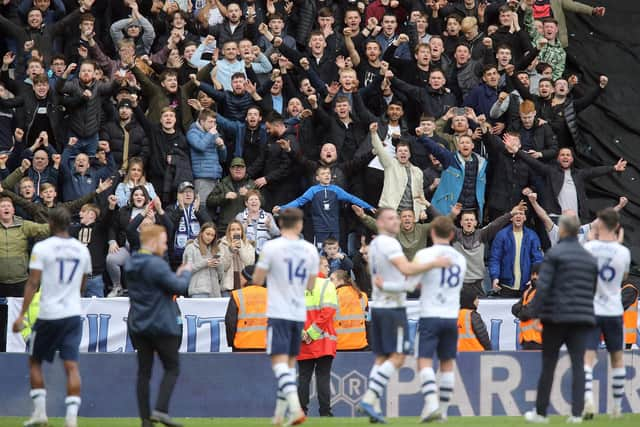 "That's what this is about," Lowe told the PNE website. "The fans spend their hard-earned money coming to watch and support us.
"We know it's only pre-season and the result's irrelevant, but it was amazing. They filled the whole stand.
"It was nice that we had a stand for them as well; they still had all their flags up and we got our picture which we'll get every year as long as I'm here and we'll continue to support with them because without them we're no one, are we?
"On the road away from home, at home, they've been excellent and again they all came out in their numbers and they've been well behaved so fair play.
"We could have had plenty of training games against teams, but we've got to make sure we get a little stadium or somewhere where our fans are welcome like they were here so a big thank you from me, the staff and the players. It's much appreciated and they'll hopefully have a good night."
So far, the more experienced pros in the North End squad have started both first halves of the two friendlies played this summer.
Preston were 1-0 up at half time against Bamber Bridge and the game was goalless against Gibraltarian outfit Magpies.
But Lowe is not bothered about scores in pre-season, instead getting the work into his players and he feels they're looking after themselves a little in the early stages of pre-season.
He said: "We know what the pros are doing. We gave them three objectives today, to do things with the ball and without the ball.
"There's stuff that we were fine with and some stuff that we weren't, but that's what pre-season's for.
"The main thing is that everyone comes off the pitch unscathed and not injured, and we were only going to give them 45 anyway and then the kids came on and opened it up.
"It was a little bit different in the second half. The first half they had two banks of four, they dropped into a deep block and we couldn't really get out.
"We changed a little bit in the second half. We went with two eights and the youngsters gave us a little bit of energy.
"It's nice to score some goals and for the youngsters to get on the scoresheet, but the pros are just protecting themselves a little bit at the moment, which I'm fine with.
"We've had a week and they've worked hard these last couple of days so it's another 45 minutes in the tank which is important and we'll finish the week off on Friday with a couple more sessions.
"We'll have a free week before we play again, the kids will play away at Bury on Sunday. "It's good, that's what pre-season is for. Two halves, they're never the same, we got what we needed to out of the first half and the youngsters shone in the second half again."