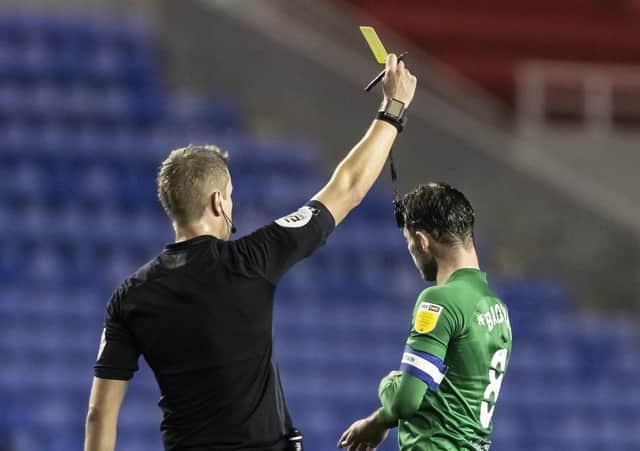 Preston North End's Alan Browne receives a yellow card from referee John Brooks against Reading
The skipper is the only player to have featured in all 11 of PNE's Championship matches to date.
To go alongside that particularly statistic, he's the one Lilywhites player to be walking a disciplinary tightrope at the moment.
Browne is on four yellow cards in league action and reaching five would lead to a one-match suspension.
He's actually been cautioned five times this season but the first of those was in the Carabao Cup against Derby County in September.
Bookings in the Carabao Cup only apply to that competition – two lead to a suspension, hence Paul Huntington missing the 2-0 defeat to Brighton in the third round after seeing yellow against Mansfield and Derby.
As far as the league is concerned, an amnesty for five yellow cards kicks in after 19 games – in PNE's case that is the away game at Barnsley on December 15.
After that, players would only be suspended when reaching 10 cautions.
The amnesty for 10 yellows falls after 37 matches.
In the bad boy stakes, Daniel Johnson is next in line after Browne with three yellow cards in the Championship.
Darnell Fisher is on three bookings but one of those was in the cup.
Serial offender Ben Pearson has in general kept his nose clean this season.
His single yellow card was against Mansfield in the Carabao Cup. Mind you, Pearson has only played in five league games.