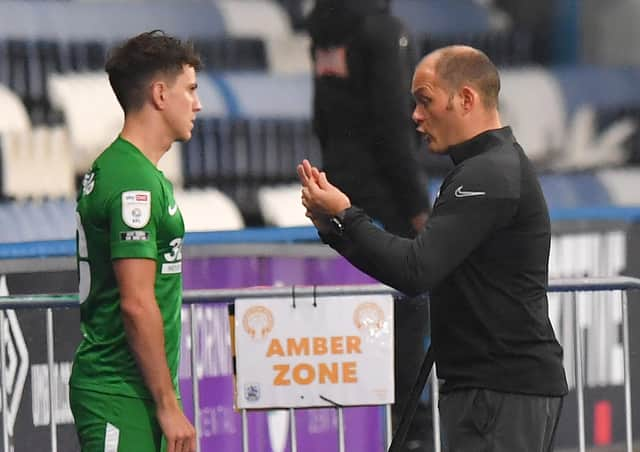 Preston North End's Manager Alex Neil gives instructions to substitute Josh Harrop during
In the restart games last season, teams in the EFL and Premier League were allowed to name 20-man match day squads and use five subs.
That rule was introduced to take into consideration the three-month pause in the fixture list and the short time teams had back in training.
Over the summer, clubs in England voted for a return to 18-man match day squads and three substitutes being allowed off the bench.
However, an increase in injuries during a crowded fixture list has seen some managers call for a re-think.
That feeling is reported to be especially strong in the Championship, with the possibility of clubs being able to vote on the matter soon.
With the campaign having started later due to last season's delayed finish, it is a squeezed fixture schedule in 2020/21.
The season has to finish on time next May to allow Euro 2020, held over from this summer, to take place.
Neil wants the extra two substitutes in games, not for tactical reasons, but to give managers the chance to spread the workload.
"There do seem to have been a lot of injuries when you look at the division," said Neil.
"When we played Reading they had Meite, Ejaria and Moore missing.
"The whole point of the competition is that you want to see the best players playing.
"You need to be able to spread game time out which is not easy at the moment.
"The extra subs would allow managers to freshen things up in a game, look after players more.
"If you remember back to our last home game against Birmingham, Andrew Hughes injured his hamstring after we had made our subs.
"He had to stay out there which wasn't good. Do you have to keep your third sub to the last minute just in case someone picks up a niggle?
"Adding a couple of subs is common sense. If no one else was agreeing with me, I'd still say the same thing.
"I base that on looking after my team and my club."
It is believed that the subject was discussed at an EFL board meeting on Thursday.
At Premier League level there is support for extra subs from the big guns, with Pep Guardiola and Jurgen Klopp having spoken on the matter.
But there are a good number of top-flight clubs who want to stick with the current arrangement.
FIFA have permitted the use of five subs this season but it is for individual leagues whether to implement it.