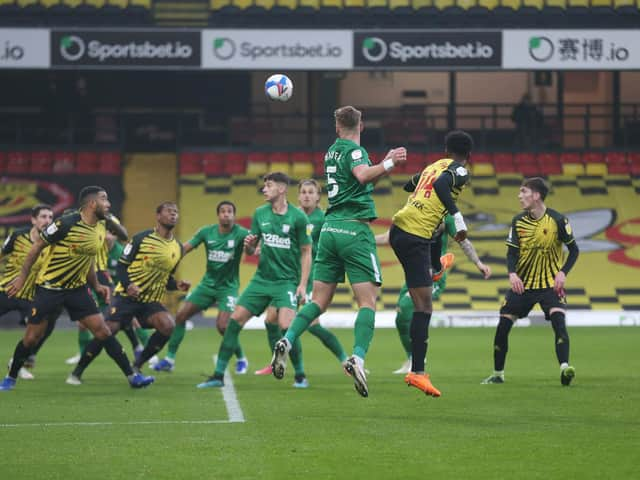 Patrick Bauer heads the ball across goal
A third loss in the last four games added to this fan's sense of a growing crisis looming large for North End in the echoing depths of various empty stadia… in this case an 'away' trip to Vicarage Road.
With key players now in the last seven months or so of their contracts, and with only one late transfer-window signing, there is a feeling of not merely standing still, but rather one of starting to tip backwards.
And we all know the signs and inevitable consequences in the fiercely competitive world of Championship football that the drop back into the wilderness entails.
To rub salt into the wounds, the capitulation at home in the previous match to Blackburn laid it bare for all to see as their investment in players is now starting to pay dividends and gives them a realistic chance of a play-off place come the summer.
Don't get me wrong, despite the scoreline this was a much-improved performance compared to the outright debacle of Tuesday's Deepdale nightmare.
Add in the mitigating circumstances of all (literally all) the full-backs being out through either suspension or injury and it was no surprise Alex Neil went with a back central three supported in defensive duties by two wing backs.
What other choice did he have? By time it got to the break, Preston were 1-0 down but had given as good as they got, including at least two decent chances that should have resulted in some reward.
The goal conceded was down to a combination of players switching off (including one of those in the 'seeing out contract' list) and the quality up front at Watford in a team still stuffed with Premier league level players.
Add in a penalty conceded by a 'foul' on a player already going to ground and a penalty refused for a real foul, albeit slightly innocuous, on Emil Riis and the die was cast. Without a strong signal from those above of some imminent and serious injection of funds in good time for the January window, the mutterings will only grow as we start to look over our shoulders at those currently below us.