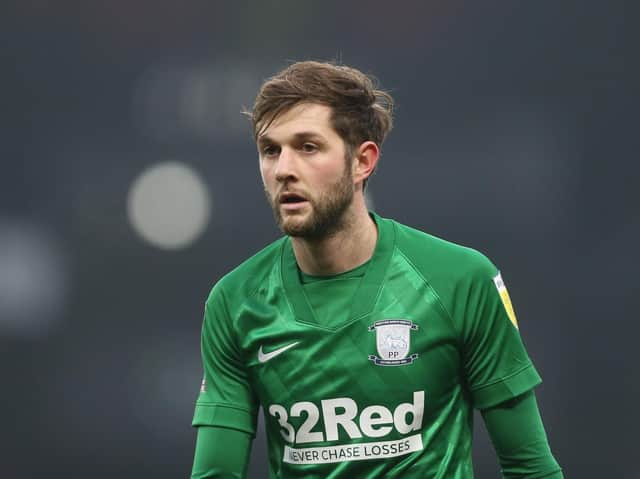 Tom Barkhuizen in action in the win over Bournemouth.
North End were at their dynamic best in the win on Tuesday, Barkhuizen opening the scoring before a stunner from Scott Sinclair and Patrick Bauer then added the third.
The opening goal came from a breakneck counter involving each of the four forward players.
"I think the first one summed us up as a team since the gaffer's come in really," the 27-year-old said. "Really aggressive on the front foot, breaking at pace and then getting people in the box.
"Thankfully against Bournemouth I was there to tap it in.
"Scotty's goal is the one that will get talked about because as a player you're thinking, 'What are you doing?' When he's lining up to shoot but then he puts it in the top corner. That's the quality that he's got.
"The third goal was really well worked. Seani does well to keep it alive on the edge of the box, Scotty picks out a good ball for DJ who swings his right foot – it was probably a shot knowing him on his right foot!
"But the big man was there for the goal."
Barkhuizen received plenty of encouragement to get himself into the area as he scored the opener but credited Sinclair 's intelligence in not attempting to score himself.
He said: "I think I could actually hear the gaffer saying keep forward and I was thinking give me a second.
"I know the gaffer can get agitated because he wants everyone breaking forward. DJ's ball is an unbelievable cross and my thought was that if Scotty doesn't get it, I'll get it.
"Scotty's experienced enough not to throw himself at a ball he knows he's not going to get.
"When you've not scored for a while platers can get a little bit edgy where they want that goal.
"But he knew he wasn't going to get anywhere near it so he let it run and thankfully I was there to tap it in at the far post."
It is important now for North End to build on a good performance and result, with no excuses, according to Barkhuizen.
Wycombe Wanderers make the journey north as they look to test PNE's poor home record.
The Lilywhites have still only won one league game at Deepdale this season but have back-to-back home games lined up.
Not getting the right result against the Chairboys would take some of the shine off the performance against high-flying Bournemouth.
"It's significant in that we have to follow it up," he said. "We can't go away and put on a performance like that and beat arguably the best team in the league pretty comfortably for most of the game, then follow it up with a bad result on Saturday.
"It's just not an option. If we want to have a good season then we have to follow it up in the right manner.
"We have to prepare properly and do the same again. We've been really inconsistent so far this season and it's probably why we are where we are.
"I know we've had injuries to big players but that's no excuse, we've got a squad for a reason.
"We have to follow it up on Saturday and if we don't it takes away from a good performance in the week.
"We're not happy where we are in the league, we want to be higher up the table and you only get there by going on a little bit of a run and following up a win with another win.
"We're not stupid, we know that when we're on it, we're a good team.
"Whether we play at home or away we know that when we're at it we can beat anyone, even the Watford game we were in it for 60 minutes and then the third goal kills the game. We've got quality, we've got good players. There's a reason teams have looked and taken our players over the years.
"It doesn't matter if you go to the team at the top of the league or the bottom of the league, you still have to have the same mentality and mindset to go and pick up three points."