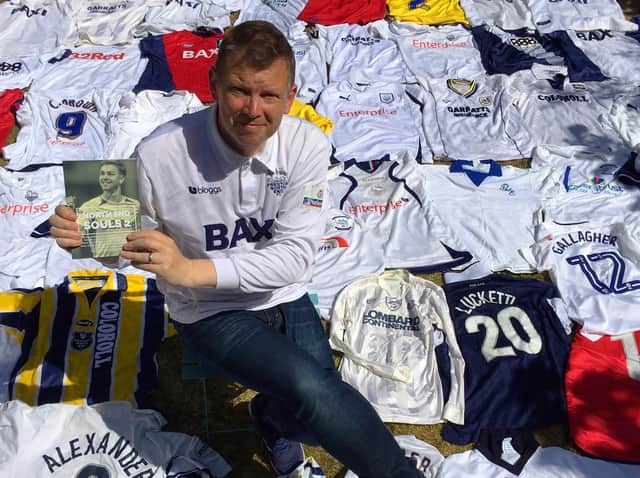 PNE fan and author Keith Harrison has written North End Souls 2
North End Souls 2 went on sale this week and is already capturing the imagination of Lilywhites supporters.
It features first-hand accounts of 16 big names from PNE's past and present about their time at Deepdale.
Tony Ellis, Brian Mooney, Alex Bruce, Mike Elwiss, Paul McKenna, Brian O'Neil, Gareth Ainsworth and Andy Saville are among former players who share their memories.
Gary Peters, who led PNE to the Third Division title in 1996, looks back on his time at Deepdale.
The foreword has been written by Simon Grayson, who spent more than four years in the Deepdale hotseat.
North End club captain Tom Clarke and Paul Huntington – the cover star – bring the book right up to the current era.
Harrison, who was brought up in Longridge and is a lifelong PNE fan, said: "There are some amazing stories in the book – it's been fantastic to put together.
"All the chapters are different, but some of my favourites are from Eric Jones and Peter Higham, who played with Sir Tom Finney in the 1950s.
"The stories of what life at Deepdale was like back then are absolutely fascinating, worlds apart from the modern era.
"Eric, for example, didn't make the team for the 1954
FA Cup final, so had to watch from the stands, just in front of the Royal Box.
"The lady behind kept dropping ash from her cigarette on to his best suit, but when he turned round to complain, it was Princess Margaret.
"So he said nothing and sat back down, perhaps wisely!"
The book is a limited edition of 2,000 copies and is available priced £9,99 from http://northendsouls.com.
Ten per cent of any profits will go to the Baby Beat Appeal.
Cathy Skidmore, from Baby Beat, said: "We hope North End fans enjoy these fascinating stories and we want to thank Keith for this wonderful gesture."
Harrison's first book sold stack upon stack of copies last year, Ricardo Fuller, Sean Gregan, Graham Alexander, and David Moyes among those who contributed to that.
North End Souls 2 is written in the same style, the players giving their accounts first hand.